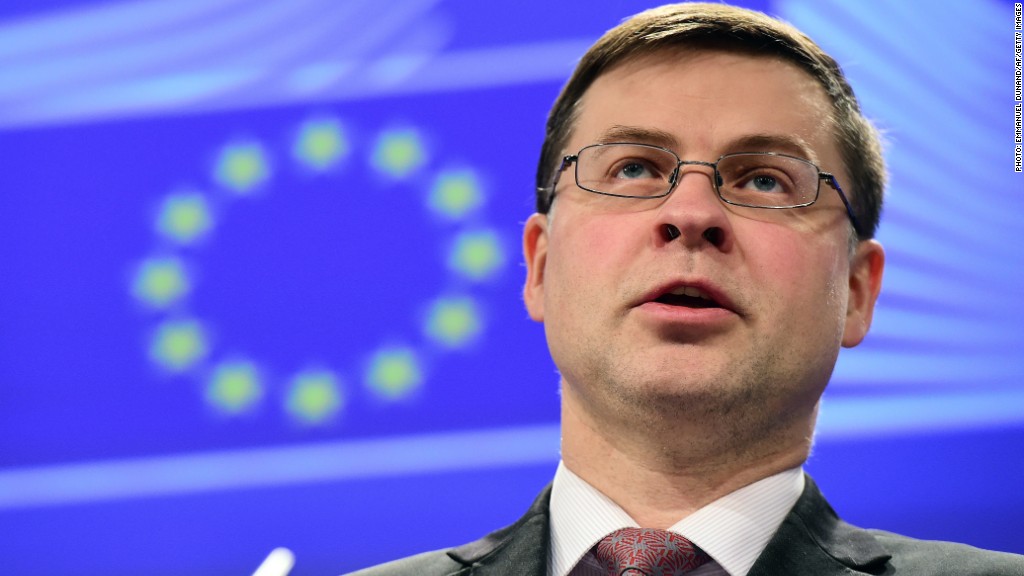 The Greek drama -- or soap opera -- is back.
Greece has some hefty loan repayments to make this week. They could drain its remaining reserves, leaving little to pay its bills until Europe releases more rescue loans.
Eurozone finance ministers agreed last month to extend Greece's bailout program, but they'll only hand over more cash once they're happy with its plans for economic reforms.
Athens repaid 584 million euros to the International Monetary Fund on Monday. But it needs to send the IMF another 350 million euros on Friday.
Data published by the Greek central bank shows just how desperate the situation has become.
Greece's budget surplus -- before debt repayments -- fell to 503 million euros at the end of February, down from 1.7 billion a year ago.
Tax revenues fell 1 billion euros short of the target in January. There was another shortfall of 121 million euros in February.
Opinion: The eurozone is broken. Will Greece pay the price?
Markets are once again getting nervous about the country's increasingly stretched finances. The yield on Greece 10-year government bond has shot up to 10.5% from 9.5% a month ago, and the price of buying insurance against a Greek default has risen sharply in recent days.
The Greek government is playing down these concerns. Finance Minister Yanis Varoufakis has called on Europe not to let "insignificant problems of liquidity" cause divisions within the eurozone.
He insists Greece has enough cash to meet its debt obligations.
But the country's biggest labor union has warned the government against raiding social welfare funds in order to plug the yawning gap in its finances.
Related: Greece wants tourists to spy on tax cheats
More crunch talks are due later this week, when Greece's prime minister will meet other European leaders.
Eurozone finance ministers are pressing Greece to get on with the economic reforms it agreed to deliver in exchange for the bailout extension in February. That deal saved Greece from accidentally stumbling out of the euro.
Progress has been slow, and Greece's anti-austerity government is struggling to reconcile promises it made to voters with pledges it made to Europe.
The tensions between Greece and the rest of the eurozone are rising. Greek leaders have accused Germany, the eurozone's paymaster, of undermining their government.