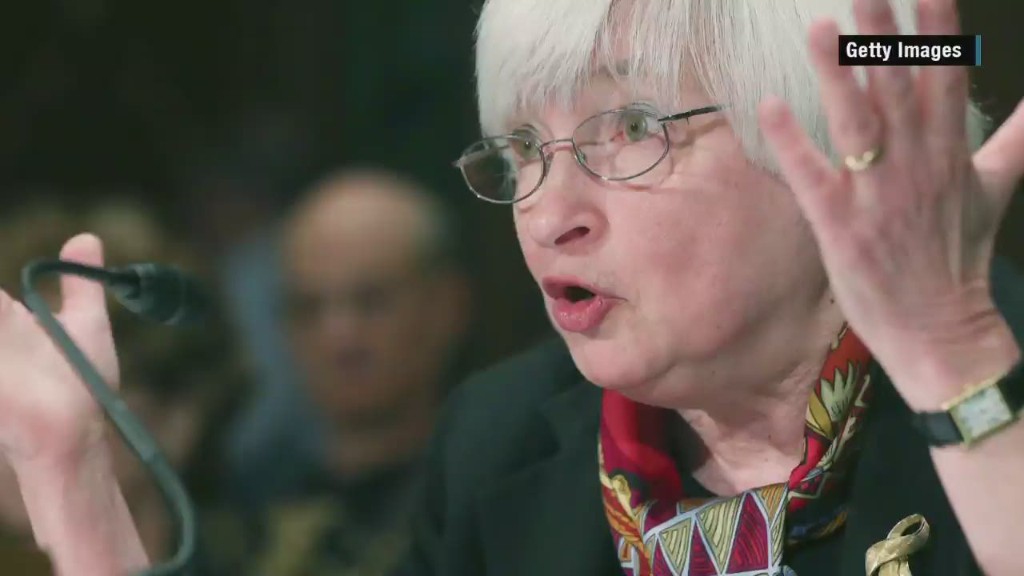 Jeffrey Gundlach believes Janet Yellen is about to rush into a very big blunder.
The Federal Reserve chairwoman is in the process of making the biggest decision of her life. She and her colleagues need to decide whether the U.S. economy is finally healthy enough for an interest rate increase.
Yellen is widely expected to signal that the economy is on track on Wednesday by removing the word "patient" from the Fed's official rate guidance. That would tell the financial markets to brace for the first rate hike in nearly a decade, possibly as early as June.
But at least some prominent investors believe the Fed is rushing things, especially given how low inflation is and recent stumbles in the U.S. economy.
"I'm afraid the Fed is intent on being a blockhead and raising interest rates against this backdrop," Gundlach said during a recent webcast.
Related: Should I bet it all on Buffett?
Dollar jitters: Gundlach, who has been crowned the "bond king," said such a move would further strengthen the "smoking hot" U.S. dollar, weaken the U.S. economy and hurt corporate earnings.
The greenback has skyrocketed recently -- its best stretch in 40 years -- due to the relatively stronger U.S. economy and signs the Fed may be ready to hike rates just as other central banks are lowering them.
While the strong dollar is great news for Americans traveling abroad, it hurts corporate profits by making U.S. goods more expensive to people living in other countries.
Gundlach, founder of DoubleLine Capital, said that if the Fed does raise rates later this year it will quickly regret it and be forced to lower them again. That's what happened in Australia, Denmark, Norway and a number of other countries.
"'Don't be a blockhead' is the message of other central bankers to the U.S. Federal Reserve," he said.
Related: The dollar is crushing other currencies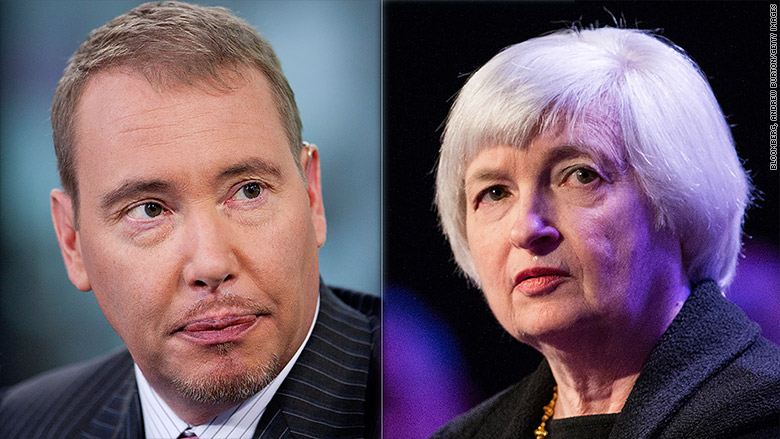 Flashback to 1937? This is not the first time the bond king has warned against a rush to raise rates.
In January, Gundlach said a rate hike "against the backdrop of global deflation" would send the dollar surging and "court deflation."
He also expressed concern the Fed may be repeating the mistakes of 1937, when it prematurely raised interest rates after a deep recession and send the U.S. spiraling into the second leg of the Great Depression.
Ray Dalio, the billionaire founder of the world's largest hedge fund, is also losing sleep thinking about 1937.
"We don't know -- nor does the Fed know -- exactly how much tightening will knock over the apple cart," Dalio and his colleague Mark Dinner wrote in a recent note to clients. "We think it would be best for the Fed to err on the side of being later and more delicate than normal."