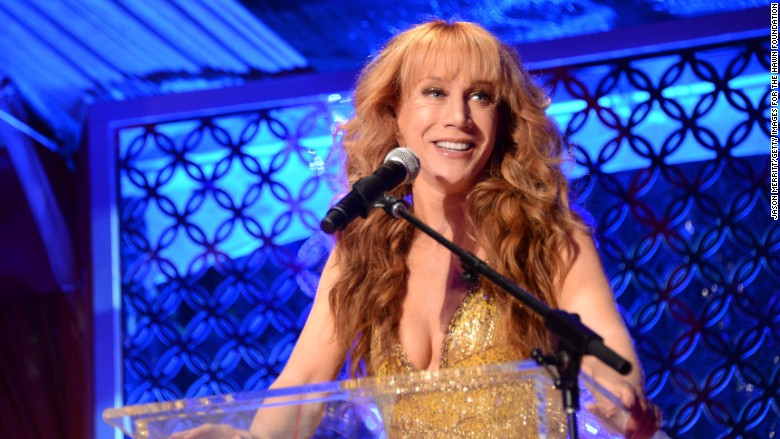 The E! channel's effort to keep the "Fashion Police" franchise going after the death of its host Joan Rivers is now on hold.
E! said Tuesday night that the show "is going on hiatus and will return in September," only a few days after Rivers' replacement in the host chair, Kathy Griffin, abruptly resigned and criticized the show.
That means this spring's planned episodes are getting scrapped, and E! is losing one of the staples of its broadcast schedule, at least temporarily.
"With the benefit of hindsight, we definitely brought it back too soon," Frances Berwick told The Hollywood Reporter.
Berwick is the president of NBCUniversal's lifestyle networks group, which includes E! and several other channels.
"Fashion Police" -- a tart talk show about celebrity fashion hits and misses -- had been on E! for five years when Rivers died last September. But E! decided to keep the show going with Griffin as the host.
Related: Red carpet knockoffs for a fraction of the price
The new iteration premiered in January, but did not last long. Longtime panelist Kelly Osbourne left at the end of February. Then, Griffin decided to leave, too.
"After 7 episodes of 'Fashion Police,' I discovered that my style does not fit with the creative direction of the show and now it's time to move on," she declared in a statement last Thursday.
E! says the two remaining panelists, Giuliana Rancic and Brad Goreski, will stay in the mix. Rivers's daughter, Melissa, will continue on the show as an executive producer.
Tuesday's statement from the channel portrayed the break as a chance to "refresh the show before the next awards season."
But speculation immediately mounted about whether the show will actually return.