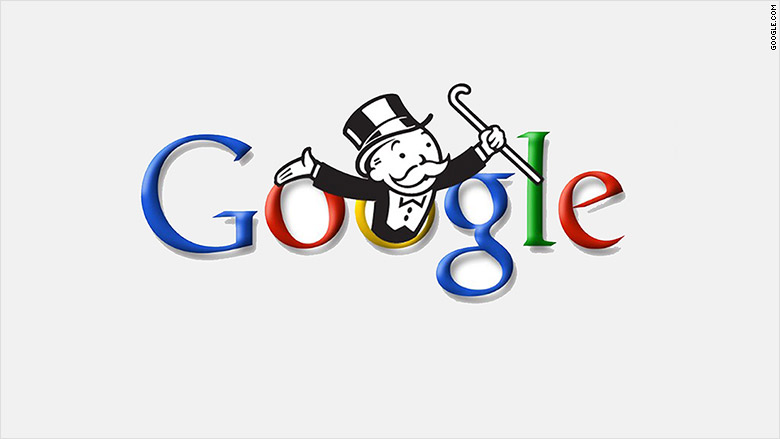 Google abused its monopoly power in ways that harmed Internet users and competitors. That was the conclusion drawn by experts at a federal regulatory agency back in 2012, according to The Wall Street Journal.
Google, however, avoided a massive antitrust fight because the Federal Trade Commission didn't pursue a legal fight based on those findings.
Back in 2013, the FTC wrapped up a two-year investigation into the company's online monopoly power and it looked odd when Google got away relatively unscathed.
Unlike European regulators, all five FTC commissioners decided to not sue.
But on Thursday, the Wall Street Journal revealed that FTC investigators did indeed conclude that Google abused its monopoly power. FTC staff found proof that Google used anticompetitive tactics that hurt competitors like Yelp and TripAdvisor, according to secret internal documents obtained by the Journal.
The FTC's decision not to sue Google contradicted those findings.
The staff did find that Google (GOOG) posed "real harm to consumers and to innovation." However, FTC Chairman Jon Leibowitz affirmed at a press conference that Google "doesn't violate the American antitrust laws."
In reality, the FTC likely didn't pursue a legal fight because it was going to be a tough case. After all, it had to be able to prove that Google was a monopoly power that was not only harming competition but also the public. Google was popular with the public, which could easily choose to use competitors that were just a click away like Yahoo (YHOO) and Bing.
Google general counsel Kent Walker said in a statement that the FTC staff reviewed 9 million pages of documents over 19 months and found that there was no need to take action on how the site ranked and displayed search results.
"Speculation about potential consumer and competitor harm turned out to be entirely wrong," Google said.
The FTC declined to comment.
At the core of why this is a problem is Google's power. Its vast, all-seeing machines capture information from many websites and display it on Google search results for everything ranging from local business listings to airline schedules and weather reports.
But over time, Google has weaved its own products into search results.
That bumps other websites further down the list of search results. And increasingly, you never need to leave Google's page to get the information you want.
That means you don't visit the websites producing the information. That hurts rivals and their advertising revenue.
It's why Europeans are so angry. Some folks on the other side of the Atlantic have even called for breaking up Google into smaller companies.
In the United States, the FTC did get Google to back off on some things. Google made voluntary concessions to end exclusive search deals with websites and stopped reposting reviews from other websites on its own search results.
But the Journal report shows that U.S. regulators were more worried than they led on.