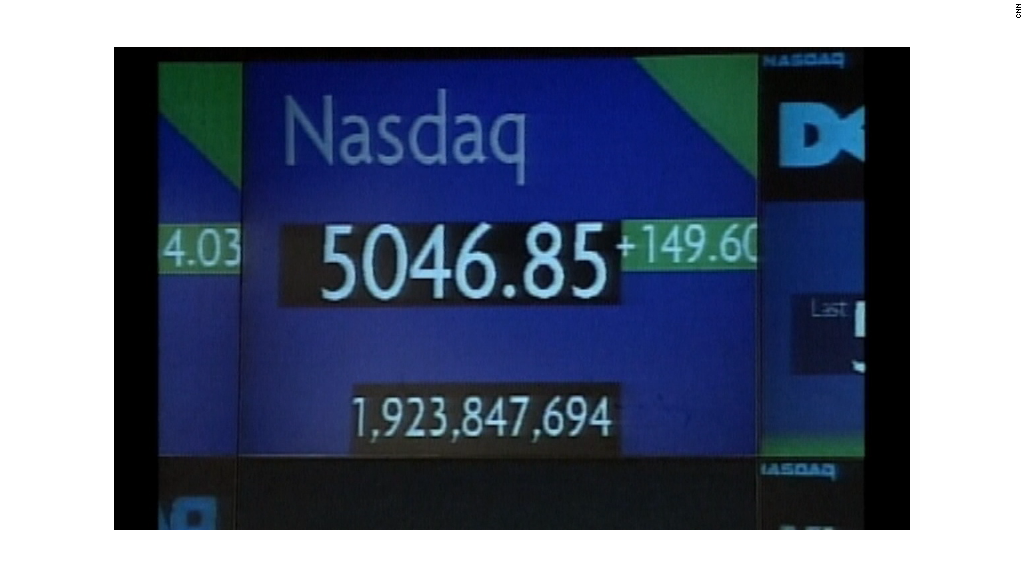 The Nasdaq surged above the 5,000 mark again Friday and is within striking distance of its all-time high.
The index, home to prominent techs like Apple (AAPL), Facebook (FB), Google (GOOGL) and Microsoft (MSFT), went as high as 5,042 in midday trading.
The Nasdaq closed at a record of 5,048.62 on March 10, 2000. It hit its highest level ever that same day: 5,132.52.
The surge in tech stocks and biotechs -- another prominent sector in the Nasdaq -- has raised concerns that the stock market may once again be too frothy just like it was 15 years ago.
Twitter (TWTR), for example, is one of the hottest stocks of the year. Shares are up more than 35%. And a popular biotech exchange-traded fund -- the iShares Nasdaq Biotechnology ETF (IBB) -- has shot up 20%.
Federal Reserve chair Janet Yellen conceded earlier this week that stock prices are at the high end of historical levels -- but she stopped short of warning of another market bubble.
Related: Why tech stocks are NOT at bubble levels
From a valuation standpoint, the Nasdaq isn't anywhere near where it was in 2000. At the peak of the dot-com bubble, the so-called P/E ratio for the Nasdaq was 175. Today it is it just under 32. That's not much higher than the average for the past two decades.
But there are worries that some hot private companies that could one day go public -- such as Uber, Airbnb and Snapchat -- may be way too pricey. Uber is valued at more than $40 billion right now. Investors are pouring money into these companies before they go public in the hopes they will be the next Facebook.
Still, stocks enjoyed one of their best weeks of the year this week -- largely due to the Fed hinting that future rate hikes will likely be small and gradual.
The Nasdaq led the way. It finished the week up more than 3%. The Dow and S&P 500 were both up about 2% this week and are not far from the all-time highs they hit earlier this year.