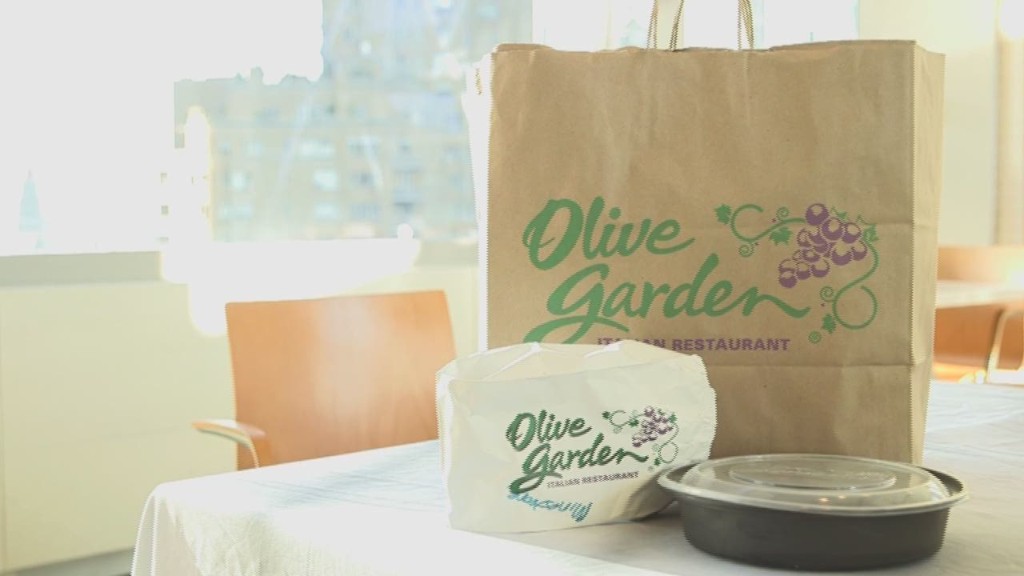 Not too long ago, investors and consumers were saying basta (Italian for enough) to the pasta at Olive Garden.
But the restaurant chain has staged a stunning turnaround in the past few months after a hedge fund took over and shook things up.
Darden Restaurants (DRI), the parent company of Olive Garden, reported solid earnings and sales Friday. The stock rose 4% to an all-time high on the news.
The stock is now up 40% since activist investment firm Starboard won control of the company's board in October and installed a new CEO.
Starboard took Darden to task last year for what it felt were financial and culinary sins.
In a scathing slide presentation, Starboard mocked the company's endless breadsticks as excessive and said they hurt profits. Starboard also complained about pasta being cooked in unsalted water and drowned in a river of gloopy sauce.
Related: How an activist fought Olive Garden and won
This prompted me and my colleague Cristina Alesci to do our own taste test. We were not big fans. And we openly wondered if Starboard could get the company back on track.
But Darden said Friday that Olive Garden reported a 2.2% increase in same-store sales in the quarter. It was its second straight quarter of growth -- something that hasn't happened since 2010.
The company's new management team is clearly doing something right.
It has made changes to the menu, including a $9.99 three-course dinner. Olive Garden is trying to emphasize value over sheer gluttony like its famous neverending pasta bowl.
Related: Olive Garden is red hot again
That helped offset some of the impact of higher food costs. During the company's conference call with analysts, Darden's CFO said that Olive Garden had cut back on food waste.
And Olive Garden customers also are apparently sticking around for even longer.
New CEO Gene Lee said that the company was seeing a pickup in alcohol and dessert sales at Olive Garden for "the first time in a very long time."
Part of that could be due to the pickup in the job market and economy. People may be willing to spend more when they go out for meals.
But consumers may also have room for more wine and tiramisu if they haven't gorged themselves on fettuccine Alfredo and bread sticks. Either way, Olive Garden benefits.
So Cristina and I may have to eat some crow about Darden and Olive Garden -- but we still won't touch those fried lasagna bites again.