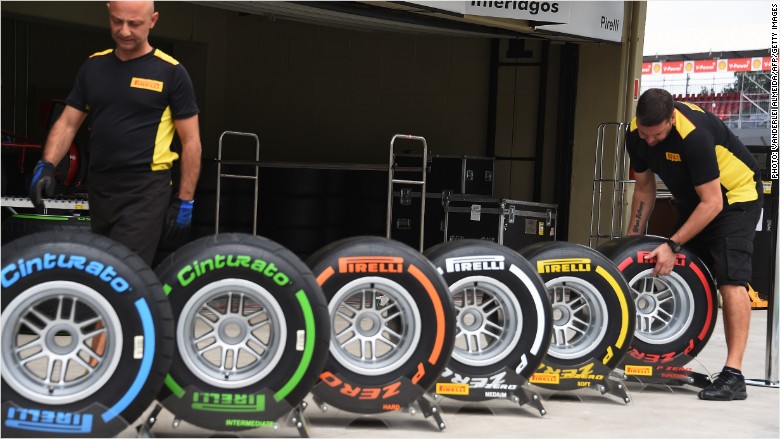 China is on a shopping spree in Europe, snapping up companies on the cheap thanks to the weak euro.
The latest big acquisition came Monday with news of an $8 billion bid for Italian tiremaker Pirelli (PPAMF).
The world's second largest economy poured more than $22 billion into deals in western Europe in 2014, according to global merger and acquisition tracker Dealogic. That's about four times as much as the previous year.
China National Chemical Corporation said it was buying a controlling 26.2% stake in Pirelli (PPAMF), which supplies the tires for Formula 1 racing. The Chinese company will then bid for the remaining shares as part of a consortium of investors.
That deal is China's third biggest acquisition in Europe, according to Dealogic, meaning 2015 is off to an impressive start.
With more than nine months of the year to go, Chinese buyers have already spent nearly $12 billion in western Europe.
Related: Obama crackdown fails to stop foreign mergers
France was the hottest destination for Chinese acquisitions last year, with Italy and the Netherlands rounding out the top three.
A weak euro and signs of an economic recovery have spurred China to step up its push into Europe. Analysts at Deloitte said depressed asset prices in the euro zone have created "vast opportunities for bargain seekers in China."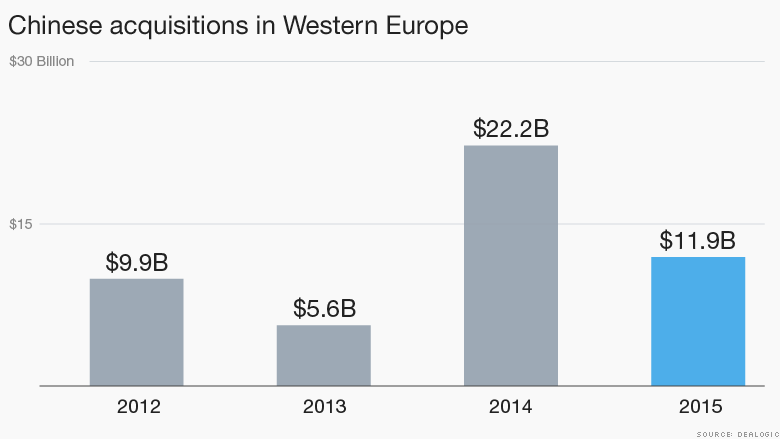 Now confidence in Europe's recovery is building. Growth is returning, cheap oil is helping consumers and the weak euro is giving exporters an edge. Plus massive stimulus by the ECB is giving markets a boost.
Deloitte said manufacturing and technology are the most attractive European sectors to the Chinese. Germany has plenty of appeal due to its strong industrial base, and the country's robust sector of medium-sized companies present attractive opportunities for investors, it added.
Outside the eurozone, the U.K. is another hot spot. So far this year it's drawn $1.3 billion in acquisitions from China. London's real estate market continues to attract steady investment flows from the country.