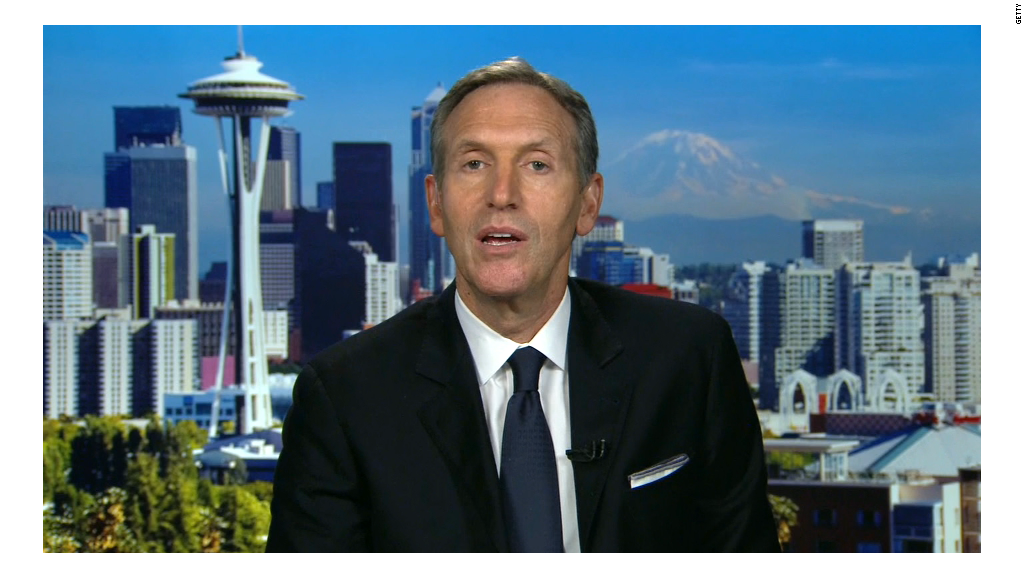 Starbucks baristas will no longer write the words "Race Together" on cups, but the coffee chain still wants to have a national conversation about race.
In a letter to employees, CEO Howard Schultz said Sunday the company had planned all along to end the cup writing phase of the campaign on March 22.
The cup writing part "was always just the catalyst for a much broader and longer term conversation" about racial inequality and diversity, he said.
Schultz thanked employees for participating in the effort and acknowledged that it wasn't easy for them to raise such "difficult topics."
The response to Race Together has been mixed, including some harsh backlash on social media. One Starbucks (SBUX) public relations executive temporarily deleted his Twitter account after he was personally attacked.
Related: Starbucks exec back on Twitter after #RaceTogether backlash
Schultz, who has been outspoken on social issues, maintains that spurring a conversation about race is the right thing to do.
"An issue as tough as racial and ethnic inequality requires risk-taking and tough-minded action," Schultz wrote. "And let me reassure you that our conviction and commitment to the notion of equality and opportunity for all has never been stronger."
While cups will no longer be labeled, Starbucks will continue to hold open forums for employees to talk about race. It also plans to encourage a dialogue with police and community leaders in the cities where it operates.
Schultz has a reputation for taking controversial stands. He asked Starbucks baristas in Washington, D.C. area stores write "work together" on cups in 2012 during a Congressional "fiscal cliff" drama. He has also spoken out about gun control, gay rights and affordable education.
Related: Starbucks is tackling racism one cup at a time
At the company's annual shareholder meeting last week, Schultz spent at least half the time talking about Race Together.
"Friends of mine and some people at Starbucks felt it wasn't an issue we should engage in and I rejected that," Schultz told CNN's Poppy Harlow last week.
"If we all continue to be bystanders on something that's dividing the nation, then where is this headed? We are better than this as a country," he said.