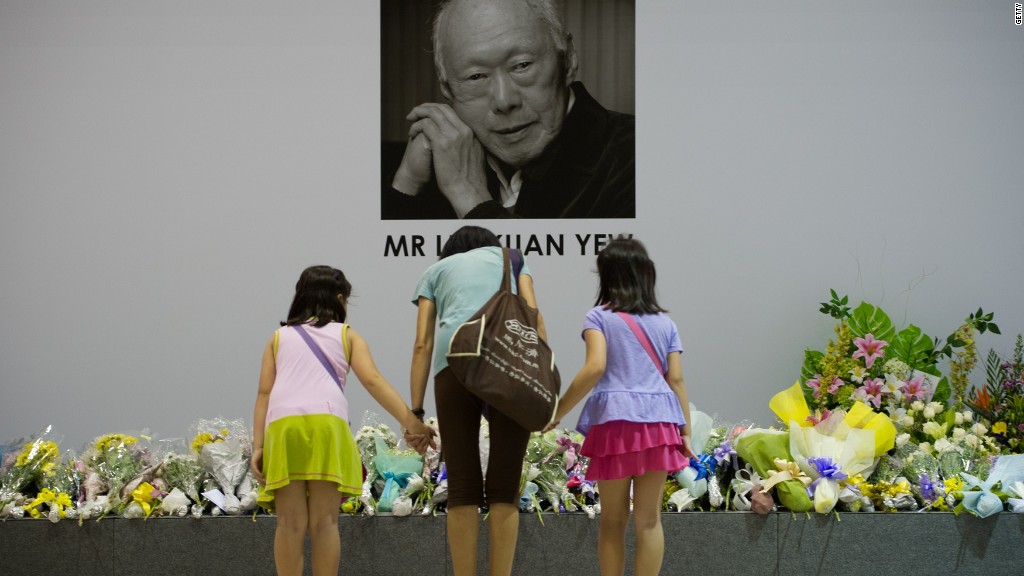 Lee Kuan Yew, who has died at 91, was one of Asia's greatest economic visionaries and his ideas helped inspire China's rise over the past 40 years.
The founding father of Singapore cultivated a deep understanding of China's closed political system, and developed connections with its top leaders, starting with his first visit to China in 1976 when he met Chinese leader Deng Xiaoping.
Deng later visited Singapore, leaving with such a strong impression of the thriving city state, that he's said to have counted Lee his only personal mentor.
Those meetings fostered a deep mutual respect between the two leaders -- Lee's economic advice influenced Deng's thinking, who later set in motion dramatic reforms that catapulted China into a period of modernization and growth.
Related: Lee Kuan Yew, Singapore's founding father, divided opinion
They also paved the way for continued relations between the two governments. Business connections between China and Singapore have remained strong, and senior Chinese leaders have long been interested in moving toward a Singapore-style model of "guided democracy."
Lee was "a uniquely influential Asian statesman, as well as a strategist with Asian values and international perspectives," said Hong Lei, China's foreign ministry spokesman, on Monday. "He created and laid the foundation for China-Singapore relations."
Over the years, Lee found himself continually reminding the world not to underestimate China's global influence.
"Every year they know they are growing stronger, they are closing the gap with the West, economically, technologically and industrially," he told CNN in 2008. "This is not a new power. This is an old power revived."
Video: Who was Singapore's founding father?
Lee's leadership and his legacy with Singapore stretched beyond China, and was an inspiration for other countries in Asia, and further afield, as well. Japanese Prime Minister Shinzo Abe described Lee "a great leader of Asia," and South Korea President Park Geun-hye said his achievement in transforming Singapore was "admired by not only South Korea but many countries in the world."
Lee "was a visionary statesman whose uncompromising stand for meritocracy, efficiency and education transformed Singapore into one of the most prosperous nations in the world," said International Monetary Fund managing director Christine Lagarde.
-- With reporting by CNN's Felicia Wong, Yoko Wakatsuki and K.J.Kwon