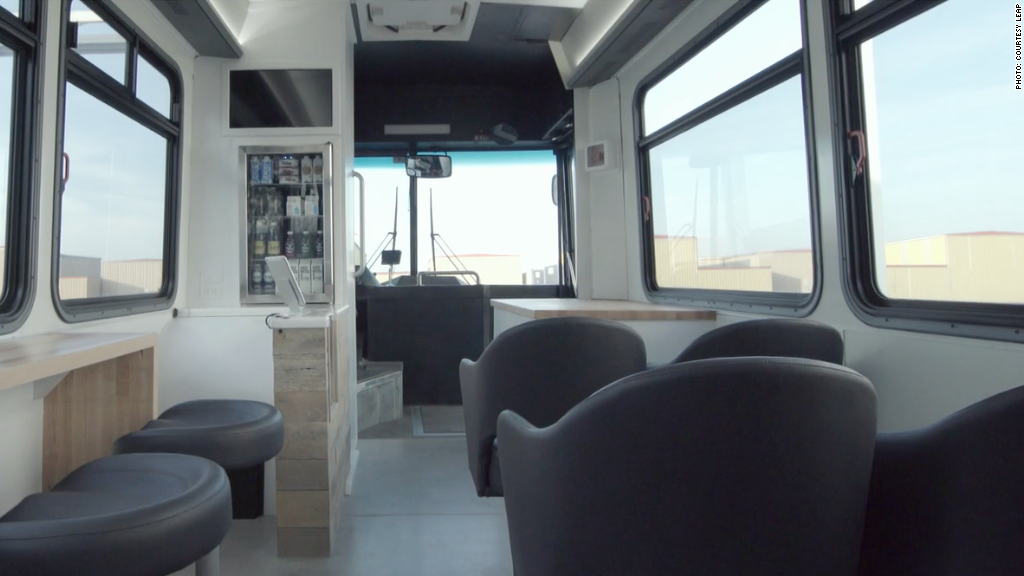 Would you pay $6 to commute in a bus that looks like a cafe crossed with a Virgin America plane?
A luxury-bus startup called Leap Transit relaunched in San Francisco last week, carting passengers from the wealthy Marina district to downtown. It's the latest company to offer a high-end alternative to public transit.
In just a week, Leap has drawn attention for its almost clichéd list of San Francisco amenities.
The five buses are decked out in creamy leather, blue LED lights and reclaimed wood. There's wifi on board (obviously) and outlets for your mobile devices. You can order food and drinks through the Leap app, which also lets you track and board the buses and see who the other riders are. There's iced coffee (Blue Bottle of course), small-batch yogurt, a box of purified water and some $7 raw organic juices.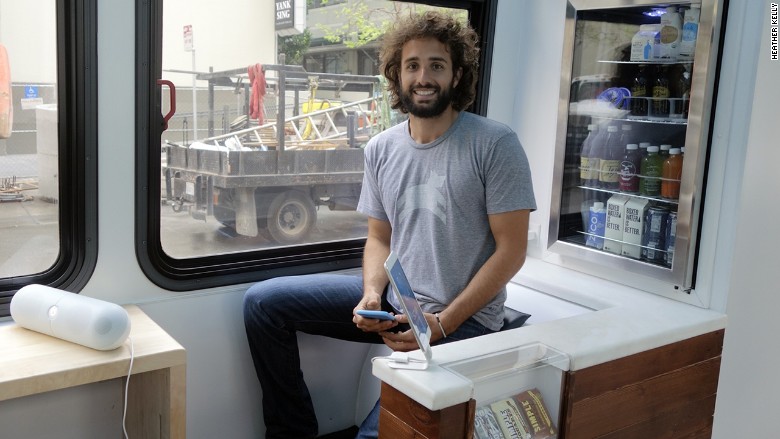 Each bus has a cheery attendant who mans the QR code scanner when people board, makes sure the temperature is just right, hands out refreshments, and chooses music to play over the Beats Bluetooth speaker.
The 25-seat buses only run during peak hours, heading downtown from 7 a.m. to 10 a.m. and back to the Marina from 5 p.m. to 8 p.m., a 30-minute route that makes four stops at each end.
Elizabeth Rice, who rode the bus Friday morning, was cautious about getting too attached to yet another transit startup. She used to take Loup, which used black cars to pick up multiple passengers along a set route, before it shut down. Similar startups still in business include Chariot and RidePal.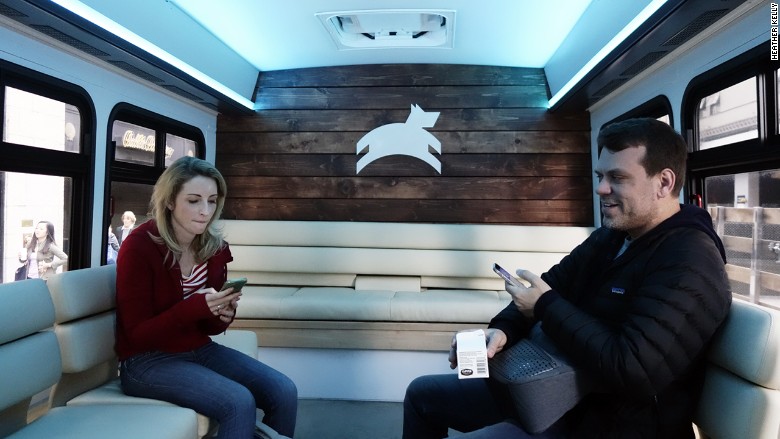 The posh shuttles could be an easy target for outrage in San Francisco, where public buses cost $2.25. Protesters have targeted private shuttles for Google (GOOG) and Facebook (FB) employees as symbols of the influx of wealthy tech workers and the Bay Area's skyrocketing cost of living.
But the new shuttle isn't necessarily bad, according to Susan Shaheen, co-director of UC Berkeley's Transportation Sustainability Research Center. Private options have the potential to reduce traffic and lesson strain on overcrowded public bus lines.
They also need to work with existing public transit. One major criticism has been that many of these shuttles use public bus stops, literally disrupting people's rush-hour commutes.
Leap made that mistake when it first launched in 2013 with $2 million from Andreessen Horowitz. The startup quietly discontinued service after four months.
Kyle Kirchhoff, Leap's 30-year-old CEO and cofounder, says the early run was a beta test to "see what would happen," and that the company has worked with San Francisco Municipal Transportation Agency (Muni) for the past year to design its current route, which only stops at white loading zones.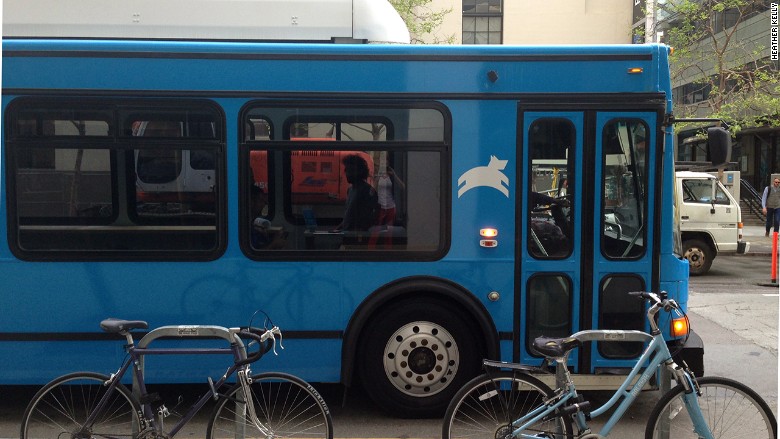 Instead of focusing on the luxury shuttles, private cars and tech buses, advocates should push to improve public transit, says Gabriel Metcalf, the CEO of SPUR, a nonprofit urban policy organization. To retain the wealthier customers who can afford their own car or a service like Leap, Muni has to improve and speed up its service.
"Otherwise the fear is it becomes like public housing, meaning a mobility provider for people with no other option," said Metcalf. "And that just cannot work. We cannot let that happen."