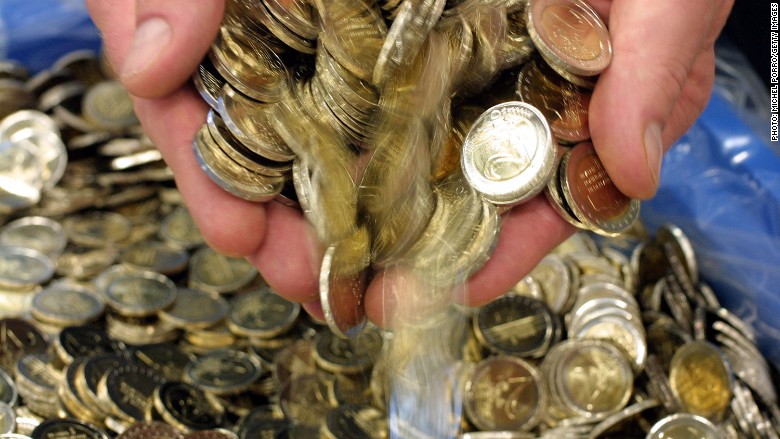 The euro is making a comeback, surprising trash-talking traders who had been predicting it would soon hit parity with the U.S. dollar.
It traded as high as $1.10 Tuesday, bouncing back from a 12-year low of $1.05 last week.
The euro's mini-surge is due almost entirely to Europe's economy finding its heartbeat again after the eurozone barely dodged a recession last year.
"Signs of improvement in the European economy and the weight of money flooding into European equity markets ... has triggered a savage correction," explained strategist Kit Juckes from Societe Generale. "Many of the euro short-sellers are running for cover."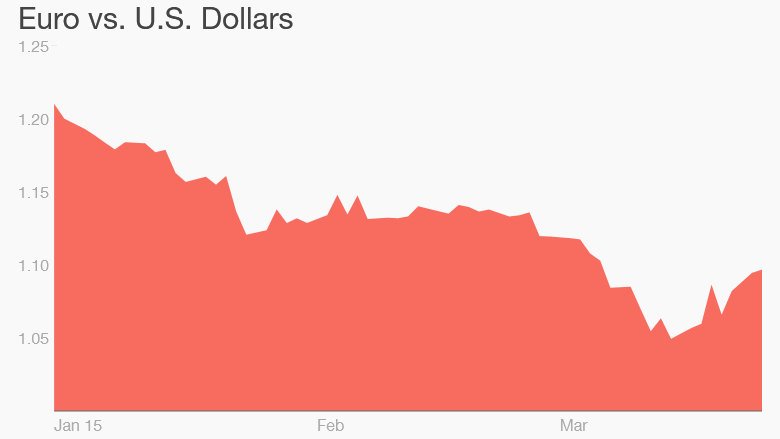 Fresh data from Markit on Tuesday showed that business activity in the eurozone grew by the most in nearly four years in February. The euro moved higher immediately after the release.
Related: China's factories slump amid growth concerns
Traders have been betting against the euro and buying the dollar for the last few months based on a combination of three factors that "are clear, and almost universally embraced," according to Juckes.
1. Expectations for further improvement in the U.S. economy.
2. Expectations for an upcoming rate hike from the U.S. Federal Reserve.
3. Expectations that the European Central Bank's money-printing program will severely devalue the euro.
But now expectations are shifting a bit -- or, at least -- hitting a pause.
Investors are widely forecasting that the Fed's rate hike plans will move at a tortoise's pace instead of hare-style speed, said Juckes. This is slowing the strong dollar rally.
Related: Europe is on sale for American travelers
Chief economist Simon Smith from FxPro also points out that foreign exchange traders are now coming to terms with the limitations of the ECB's stimulus program, which is scheduled to wrap up at the end of September 2016.
"The initial euphoria surrounding [the ECB's stimulus program] in the eurozone has died down," he said.
Related: Japanese stocks are one fire
But don't expect this euro rally to continue indefinitely. This should be viewed as a market correction.
Many expect the U.S. dollar and euro will eventually hit parity over the long run, possibly by the end of the year.