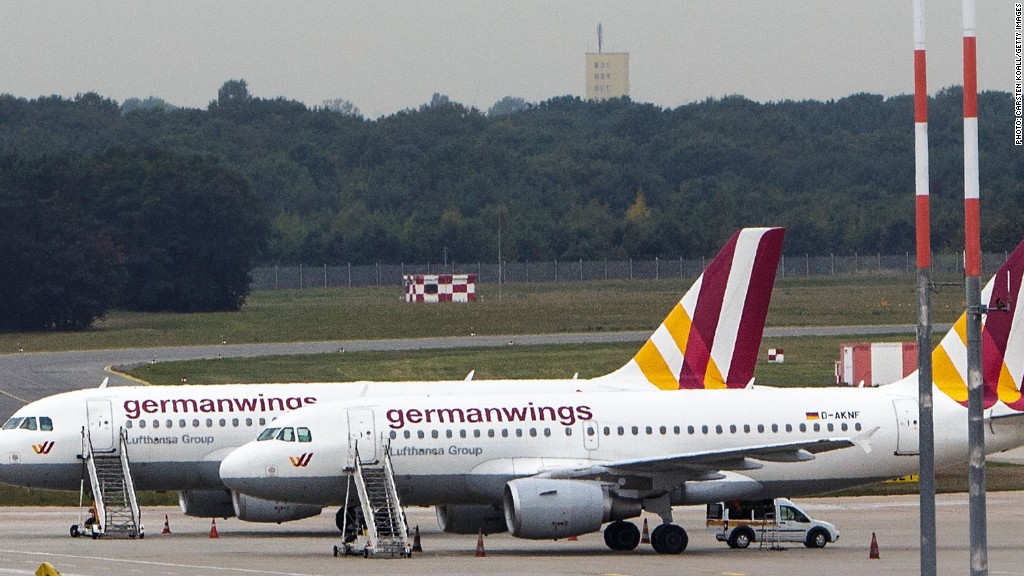 A large plane crash in Europe has shocked the world and shaken confidence in some airline stocks.
Here are the six things you need to know before the opening bell rings in New York:
1. Plane crash hits stocks: A Germanwings Airbus A320 plane carrying at least 148 people crashed Tuesday in a mountainous region of southeastern France.
French President Francois Hollande said no survivors are expected.
Shares in Germanwings' parent company Lufthansa (DLAKY) are dropping by 5% in Frankfurt and shares in Airbus (EADSF) are down by 2% in Paris.
Delta (DAL) and American Airlines (AAL) shares are also edging down premarket by about 0.6%.
A tweet from the official Lufthansa account said: "We do not yet know what has happened to flight 4U 9525. My deepest sympathy goes to the families and friends of our passengers and crew."
2. Stock market overview: European markets have come back down after rising earlier in the day.
U.S. stock futures are edging higher.
Asian markets ended with mixed results.
3. China slowing, Europe recovering: New data shows China's factory activity slumped this month, dropping to its lowest pace in almost a year. The HSBC report is "the latest in a string of disappointing data out of China," according to economist Julian Evans-Pritchard of Capital Economics. It has sparked talk of more stimulus by the Chinese government and central bank.
Similar data from the eurozone shows business activity in the region is growing by the most in nearly four years. Traders reacted by bidding up the euro.
4. Potential market movers -- Big banks, Facebook: The banking sector has some strength behind it this morning. Shares in Goldman Sachs (GS) and Bank of America (BAC) are pushing forward in premarket trading. Both are up by more than 1%.
Shares in Facebook (FB) could be on the move Tuesday after the New York Times reported that the social media giant plans to host news websites' content directly on its pages, allowing users to read stories on Facebook instead of clicking through to external sites.
Facebook refused to comment on the report.
5. Inflation expectations: The U.S. Bureau of Labor Statistics released inflation data Tuesday showing consumer prices rose by 0.2% in February.
In the U.K., inflation data released Tuesday showed consumer prices were unchanged in February compared to the same time last year.
"U.K. inflation has fallen to zero for the first time on record," said Chris Williamson, chief economist at Markit. "Rather than being a concern, the drop in inflation is a boon to the economy, providing households with greater spending power at a time when pay growth remains frustratingly weak."
6. Greek drama continues: Reports are swirling that Greece will submit a detailed list of economic reform proposals by Monday to its international lenders in a bid to secure the cash it needs to pay its bills.
Greece will run out of funds, and could drop out of the euro, if it fails to convince Europe to release the remainder of its mammoth 240 billion euro ($262 billion) bailout.