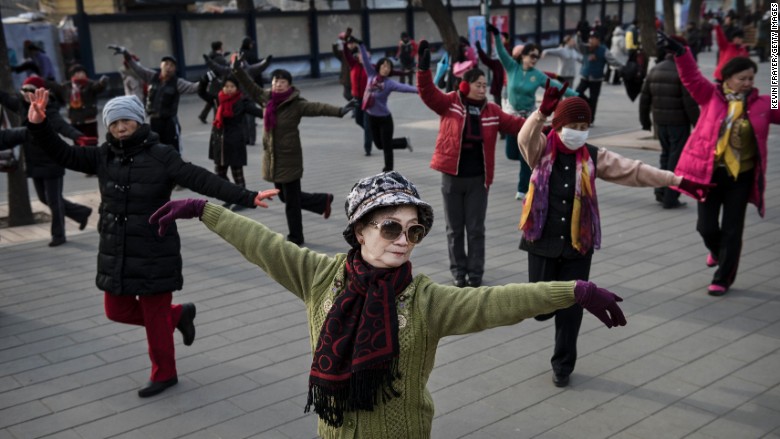 Nothing escapes the Chinese government's control -- not corrupt officials, not Facebook, and certainly not dancing grannies!
It's a common sight at dusk and dawn in China's public parks and plazas -- hordes of elderly women meet to exercise together, dancing synchronized routines while blasting loud music.
Mass public dancing to music of all styles has long been popular with retirees, with some even breaking out moves in international public spaces, from Moscow's Red Square to outside the Louvre in Paris.
But the raucous music and large groups have become a nuisance for many Chinese residents who live near popular sites. Some are so annoyed that they've reportedly dumped poop on the dancing grannies.
Beijing is eager to restore public order. So it has approved 12 dance routines developed by China's General Administration of Sports and Ministry of Culture, set to appropriate songs that the grannies must now pick up and learn if they want to continue shimmying their way through public spaces.
"From today, public dances will no longer vary by neighborhood, but will become nationally unified," state media reported.
The dances, choreographed by experts and accompanied by government-sanctioned pop songs, will be taught to the public by more than 600 approved trainers over the next few months.
Related: Dancing in the park: China's national hobby
This isn't China's first shot at trying to regulate cultural entertainment. Decades ago, under Mao Zedong, the Communist Party revised operas and ballets to fit government propaganda.
The crackdown on dancing in public is the latest in a string of government actions in recent years restricting everything from lavish spending on funerals to corruption among government officials.
The anti-corruption campaign has widened to hit luxury brands and retailers, and some experts believe that it's taken a bite out of economic growth.
China's Internet censors -- dubbed the Great Firewall -- also block material online, including foreign media sites and even Google.
Read next: China crackdown makes it harder to get around the Great Firewall