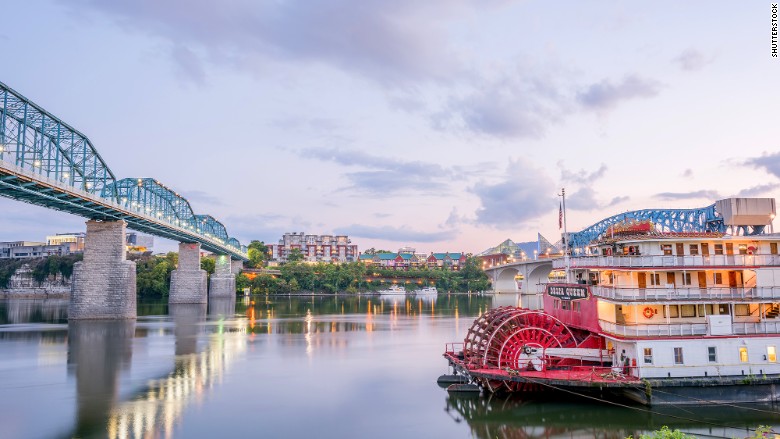 Chattanooga, Tennessee is one of those rare cities that offers super-fast Internet to its residents. It wants to sell that service to nearby towns. It even got approval from federal regulators.
But now Tennessee is suing to stop Chattanooga -- and strengthen the control that cable companies have in the state.
This is an Internet provider turf war.
Last month, the Federal Communications Commission stepped in to protect a city's right to provide high-speed Internet for its own residents.
On Friday, Tennessee attorney general Herbert H. Slatery III sued the FCC. He wants a federal judge to step in and limit the FCC's power.
What led to this? A few cities in the United States have gotten tired of waiting for improvements from big telecom companies. Chattanooga built its own super-fast, publicly-owned Internet, and others have followed.
Chattanooga laid down a fiber-optic network that offers speeds of up to 1 gigabit per second for just $70 a month. That's 100 times faster than most current high-speed Internet networks. You could download an entire music album in under six seconds and a feature-length movie in 38 seconds.
Naturally, it got popular. Many living just outside Chattanooga want it too.
But Tennessee state laws, which are supported by the cable industry, would not allow such an expansion.
On February 26, the FCC issued a rule that prohibits states like Tennessee from limiting the expansion of municipal broadband Internet. The FCC said such such laws only strengthened the monopoly power of cable companies.
"Some states have created thickets of red tape designed to limit competition," FCC Chairman Tom Wheeler said at the hearing. "You can't say you're for competition but deny local elected officials the right to offer competitive choices."
But political conservatives portray this as a federal intrusion on state law.
Tennessee's lawsuit, filed Friday, makes the argument that the FCC has "unlawfully inserted itself" in state matters.
An FCC spokesman said the agency expects its decision to be upheld in court.
This kind of high-speed Internet is more than just a convenience. In recent years, the fast Internet service such as Chattanooga's and others such as Google Fiber has created vibrant zones for high-tech startups, who benefit greatly from faster access.
This is only the latest fight involving the Internet, freedom and powerful companies that provide the service.
On Monday, cable companies sued the FCC over "net neutrality." In that instance, the government wants to enforce equal opportunity rules for the Internet -- like no fast/slow lanes. But AT&T (T) and Verizon (VZ) want to retain full control of the networks they built. Comcast has also threatened to sue.