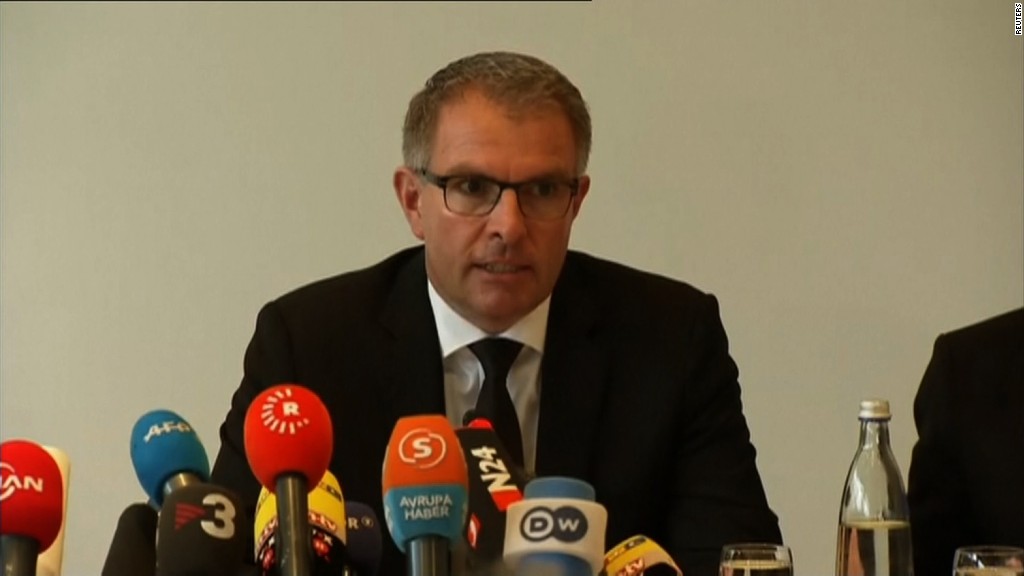 Lufthansa has been rocked by news that its Germanwings flight 9525 was brought down deliberately by the plane's co-pilot.
French prosecutors said Thursday that the co-pilot locked the captain out of the cockpit before crashing the Airbus A320 into the French Alps Tuesday, killing all 150 people on board.
"We at Lufthansa are speechless that this aircraft has been deliberately crashed by the co-pilot," Lufthansa CEO Carsten Spohr told reporters.
Germanwings is Lufthansa's (DLAKF) low-cost subsidiary.
The revelations about the likely cause of the disaster will deal a huge blow to Lufthansa's reputation as one of the world's safest and most reliable carriers. It was ranked among the world's top 10 safest airlines by Aviation website AirlineRatings.com in January.
Before Tuesday's crash it was also rated Europe's second safest major airline after Dutch rival KLM.
Shares in Lufthansa dropped 3% Thursday, extending their losses since the crash to about 8%.
The co-pilot -- 28-year-old German national Andreas Lubitz -- was "100% fit to fly" and had a spotless performance record, Spohr said. He declined to speculate on what could have prompted Lubitz to crash the plane.
And he fended off questions about the group's hiring and training practices, describing the horrific crash as an isolated tragedy.
"I continue to fully trust our pilots, they are and remain the best in the world, that's what we believe in Lufthansa." he said. "They are a very important part of our brand."
Germanwings operates nearly all of Lufthansa's short haul operations, with the exception of flights from its Frankfurt and Munich hubs.
Some Germanwings pilots were too distressed to fly Wednesday. The low-cost airline also had to cancel six flights on Thursday, as a number of its crew withdrew from service due to "emotional distress." The airline has chartered 12 aircraft from other companies to operate its flights.
Related: Germanwings pilots refuse to fly
Lufthansa is likely to face lengthy and expensive legal action from victims families. In addition, the company itself could face prosecution under French corporate manslaughter law. Prosecutors said Thursday that it was too soon to say whether they would press charges.
Lufthansa said it was providing immediate financial support to relatives of the victims but declined to comment further.
It has also offered passengers the chance to cancel or rebook their flights free of charge, a service they would normally have to pay for. The airline did not reveal how many passengers have canceled flights.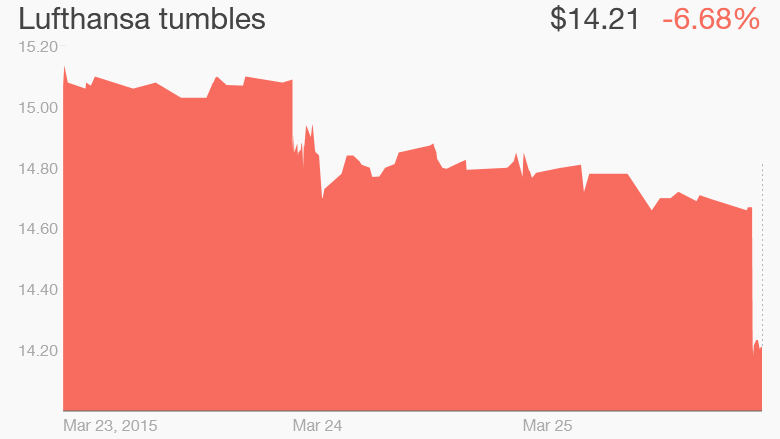 The disaster comes in the middle of a long-standing dispute between Lufthansa and its pilots over retirement policies. Its operations have been disrupted by the dispute in the past few months -- most recently last week, when strikes grounded around 1,600 flights carrying over 220,000 passengers.
The pilot's union has suspended the strike action for the time being due to the crash.