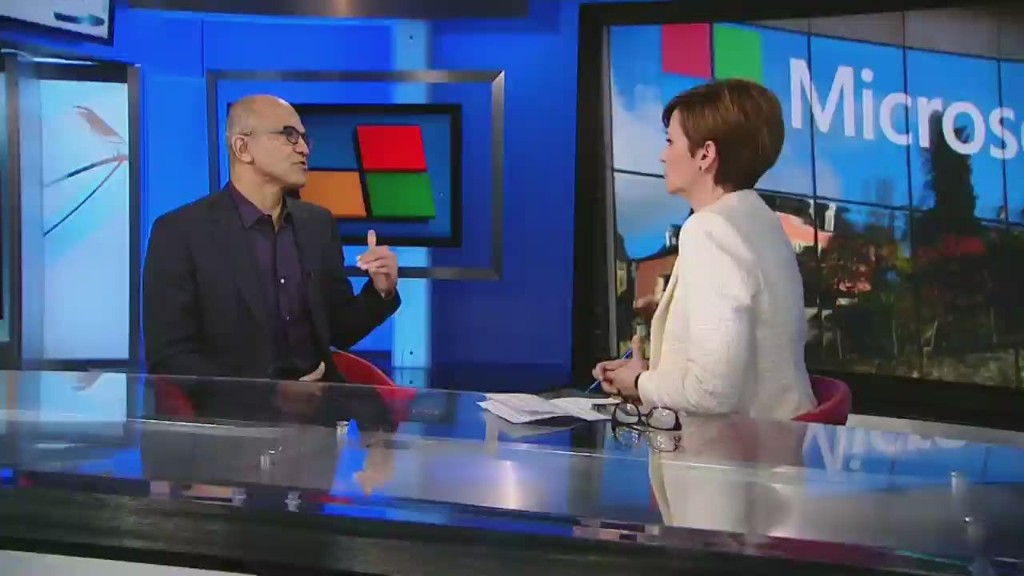 Microsoft wants its security guards, janitors and cooks to have paid time off.
The tech giant said Thursday that it will begin requiring many of its suppliers to give employees in the United States at least 15 days of paid leave each year.
Microsoft (MSFT) appears to be the first large company to take such a step, which comes amid a growing push to give workers the ability to take time off when they're sick without suffering financially.
The news comes one day after Labor Secretary Tom Perez announced plans to travel to Seattle, not far from Microsoft's headquarters in Redmond, to sit down with workers and employers to discuss "how flexible workplace policies can help support families and businesses."
"We are way behind the rest of the world on this," Perez said Wednesday in a video statement on LinkedIn (LNKD). "You shouldn't have to choose between the family you love and the job that you need."
Perez said only 12% of private sector workers have access to paid sick days.
It's a big problem for low-wage workers. Two thirds of workers at the bottom 25% of the pay scale -- the country's lowest earners -- do not receive paid time off for illness, according to the Labor Department. Three quarters of part time employees are not paid when they miss work due to illness. In some cases, they lose their jobs.
Related: Who doesn't get paid sick leave?
President Obama has directed federal agencies to give workers access to at least six weeks of paid leave when a new child arrives or to care for ill family members, and proposed that Congress offer six weeks of paid administrative leave as well.
However, any progress at the federal level seems unlikely given the current political climate.
Meanwhile, some states and cities have taken steps to require employers to give paid sick days.
Related: Sick days are a luxury many hourly workers don't have
Now, Microsoft could be setting a new standard for big companies to take up the initiative.
"We concluded that this is the right step for our business," said Brad Smith, Microsoft's general counsel, in a blog post. "We also hope that our experience -- and especially the feedback we receive from our suppliers -- will be valuable to others considering similar changes."
Under the new policy, Microsoft will require suppliers with at least 50 employees to offer employees either 15 days of unrestricted paid time off, or 10 paid sick days and 5 paid vacation days.
Microsoft works with a variety of businesses that supply goods and services, ranging from building maintenance and food service to management consulting and "software localization."
The new requirement will apply only to workers at suppliers who do "substantial work" for Microsoft and who have been with the supplier for at least nine months.
Related: Paid sick leave won't hurt businesses
Microsoft says some of its suppliers already offer employees paid time off, but it doesn't know exactly how many employees already receive the benefit.
The company said it will work closely with suppliers to implement the new rules over the next year.
"We appreciate that this may ultimately result in increased costs for Microsoft, and we'll put a process in place for addressing these issues with our suppliers," said Smith.
Smith said the move is in response to growing concerns about inequality and the challenges facing working families, particularly in the technology industry.
Microsoft, like most tech companies, offers its salaried employees a host of perks, including health and wellness programs for families, child care support, paid annual leave, paid sick leave, and paid times off for new moms and dads.
But the workers who clean Microsoft's headquarters or prepare food in its cafeteria do not receive the same benefits.
Smith said Microsoft concluded that mandating paid time off for suppliers would ultimately benefit the company and employees by contributing to "happier and more productive workforce."