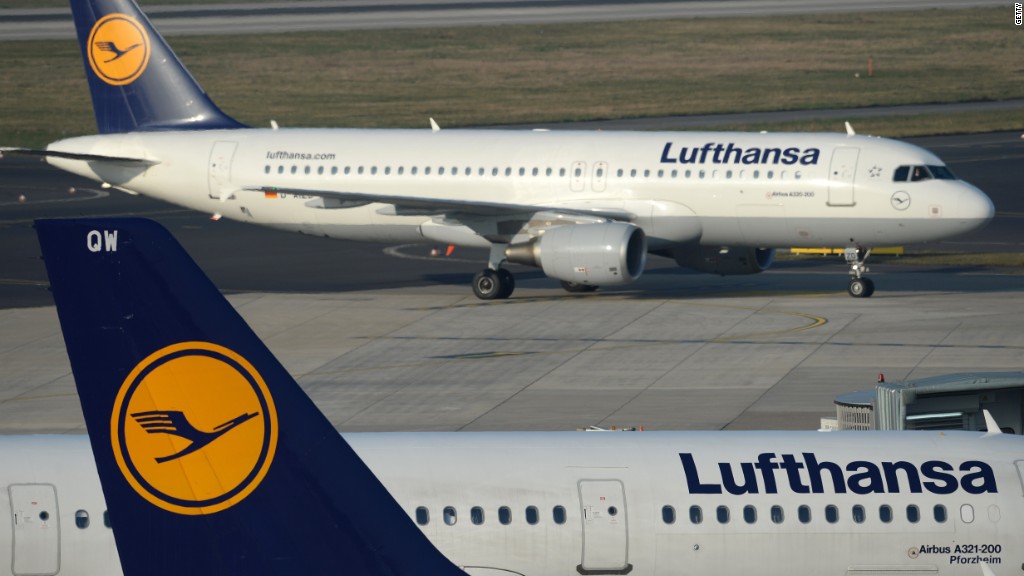 Lufthansa was forced to introduce new rules on keeping two crew members in the cockpit at all times after its Germanwings flight crash killed 150 people on Tuesday.
Lufthansa (DLAKY), the parent company of Germanwings, was among many airlines around the world tightening the rules after prosecutors said they believed the co-pilot of the Airbus A320 locked the captain out of the cockpit before deliberately crashing the plane into the French Alps.
The U.S. and Ireland already had rules before Tuesday's crash requiring their airlines to have two crew members to be present at all times during the flight. Many other countries allow airlines to set their own policies.
Related: What we know about Germanwings crash compensation
Canada said it would now force carriers to follow the rule. All German airlines will also adopt the rule. The U.K. Civil Aviation Authority said it was asking airlines to review their policies but has not yet enforced a change.
Later Friday, the European Aviation Safety Agency recommended that all airlines follow the rule in the light of the Germanwings disaster.
Several airlines have tightened up their procedures since the crash, which killed all 150 people on board.
EasyJet (ESYJY), Virgin Atlantic, Emirates and Air Canada (ACDVF) -- among others -- said they would adopt the "rule of two" immediately. British Airways declined to comment.
Related: "Deliberate crash" a huge blow for Lufthansa
Norwegian said it was looking into changing its procedures before the Germanwings crash, and would speed up the process so that two people from the flight crew would always be present in the cockpit.
"This means that if one of the pilots leaves the cockpit, one crew member must replace him/her during this time," the airline said.
Lufthansa's CEO Carsten Spohr told CNN earlier most airlines around the world allowed one pilot to leave the cockpit during phases of flight with a "low workload."
Related: Distraught Germanwings pilots refuse to fly
CNN's Zahra Ullah contributed to this article.