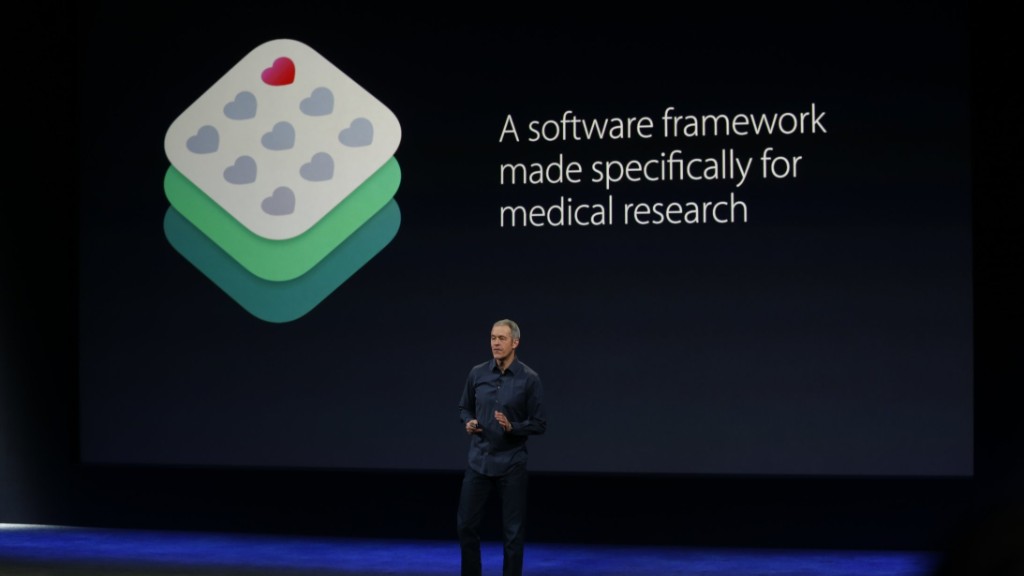 Your iPhone could save you time and money at the doctor's office. At least that's what doctors hope.
Apple's new health software platforms, HealthKit and ResearchKit, allow apps to track an iPhone owner's fitness level. HealthKit enables people to share that data with certain doctors and hospitals. Apps for ResearchKit, which Apple (AAPL) launched early in March, send data back to universities and clinics for large scale medical studies.
By making it easy for people to monitor, measure, and share their health information, doctors say health care will become more efficient and less costly down the road.
Recording information on daily activities like walking may not be valuable in isolation. But, by examining the change in how much someone walks over a period of time, doctors can determine certain things about a person's well being. They can identify risks and perhaps prevent issues -- and costs -- big (heart attack, stroke) and small (falls).
Chronic disease suffers in particular stand to benefit the most from health data collection.
High blood pressure patients, for example, only see their doctors three to four times a year on average, according to Dr. Richard Milani, chief clinical transformation officer at Ochsner hospital in New Orleans, Louisiana.
Proper care for a long-term illness requires more regular adjustments than those few times a year patients see a doctor, he says. But patients may not be able to come in more frequently, or afford to come in more frequently. If a patient's health changes between visits, doctors have no way of knowing or helping.
But via HealthKit apps, Ochsner's team has been monitoring some heart patients remotely. Doctors, nurses, and clinical pharmacists can track changes in a patient's health, and if fluctuations are abnormal, the medical team will call the patient and change medication levels if necessary.
HealthKit apps also put patients on equal footing with their doctors. An appointment no longer has to be a Q&A session. Those health records are your records, Milani says. You're entitled to access them, and you can control what goes in them.
"It's a better way to practice," said Dr. Milani.
Related: How iPhone apps could impact your insurance
Critics say the new technology is just another way for hospitals and doctors to deflect responsibility onto patients.
Proponents argue that gains will build over time. More data, interpreted the right way, means the right procedures will be performed at the right time. Patients who have information on their own health ask more informed questions. This leads to more productive visits, and possibly fewer of them.
Doctors and hospitals benefit similarly. Synchronized medical records can mean avoiding duplicate blood tests or X-rays. Fewer appointments reduce crowding and wait times, freeing schedules and rooms for bigger emergencies.
On the research side, experts are already saving time, money, and effort.
Dr. Alan Yeung, director of cardiovascular health at Stanford, is part of the team that developed the MyHeart Counts app, one of the first five ResearchKit apps.
He says researchers are excited to use Apple's newest platform because it allows them to measure physical activity objectively. Traditionally, that data has been reliant in part on participants' memories. Misremembering how much exercise a test subject performed can be avoided now, as well as redundant tests and additional costs associated with longer trials.
Yeung says he's also enthusiastic about the global scale and speed of software platforms like ResearchKit.
More than 35,000 people downloaded MyHeart Counts the first day it launched, he says. Of those who downloaded it, about 15,000 completed the consent process to participate. To find that many participants using paper enrollment would have taken six months to a year, he added.