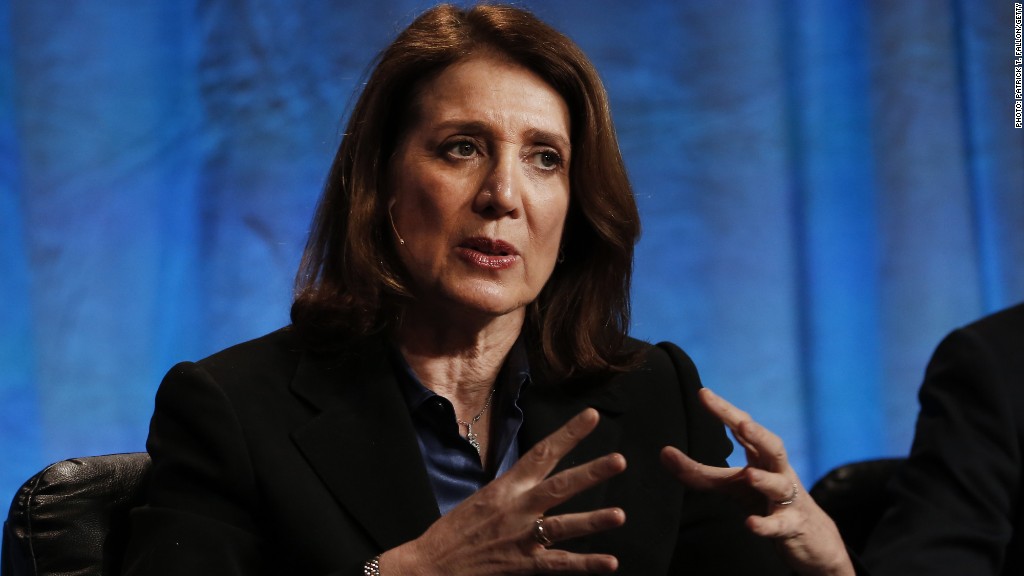 Google snagged a star to be its new chief financial officer, and will pay her like one.
Ruth Porat, formerly the CFO of Morgan Stanley, received a $70 million-plus cash and stock deal from Google for making the transition from Wall Street to Silicon Valley.
Porat's salary will actually be less at Google (GOOGL): $650,000, compared to the $1 million she made at Morgan Stanley, according to a filings with the Securities and Exchange Commission.
But she'll get a $5 million cash signing bonus after spending one year at Google and a special $25 million stock grant that she will receive incrementally over the next two years.
But wait, there's more! Starting next year, she'll begin receiving a $40 million stock grant every other year. That grant will vest over the course of four years.
She was paid well at Morgan Stanley (MS), but she'll make quite a bit more at Google.
Porat made an average of a little over $10 million in cash and stock at Morgan Stanley over the course of the past four years. At Google, she'll average about $18 million a year over the same amount of time.
As part of the announcement, Google said that all of its executives will start to get the same biennial stock grants that Porat is getting, rather than cash bonuses. That will tie their pay more closely to the company's stock performance, but it's not clear how that will impact the amount they get paid -- most senior executives had been eligible for cash bonuses of roughly twice their annual salary.
Porat's pay package is substantial, but not unprecedented, for Google. Her predecessor, Patrick Pichette, received $39 million in cash and stock in 2012 and $18 million in 2011. (Porat is being paid the same $650,000 salary that Pichette earned.)
Pichette will stay on at Google "until such time as Google determines that there has been a smooth transition to the new CFO," according to the filing. For his knowledge transfer to Porat, Pichette will get the biennial equity grants he was due to receive through 2018, prorated based on the amount of extra time he stays on at Google.
For Porat, Google's new hire orientation is held every Monday (or Tuesday if Monday is a holiday). Google noted that the number of spaces in each session is limited; so Porat's start date hasn't yet been determined.