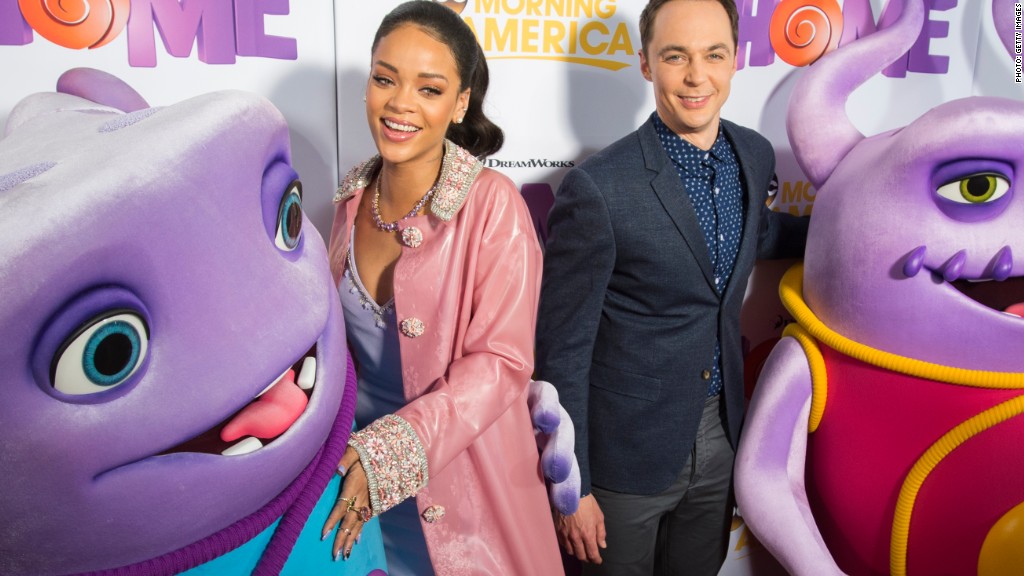 The nightmare for DreamWorks Animation may be over. The beleaguered studio can thank Rihanna and Sheldon from "The Big Bang Theory" for the turnaround.
Shares of DreamWorks Animation (DWA) surged as much as 10% Monday thanks to the surprise box office success of "Home" -- which features the voices of Jim Parsons as an alien and "Umbrella" singer Rihanna as the little girl who befriends him.
"Home" grossed $54 million in the United States during its opening weekend and another $47.5 million overseas according to movie industry site Box Office Mojo.
DreamWorks needed "Home" to be a hit. The studio, run by legendary Hollywood mogul Jeffrey Katzenberg, has had huge hits but also some notable duds in the past few years.
Related: Trevor Noah to replace Jon Stewart on 'The Daily Show'
Its inconsistency is in stark contrast to Disney's Pixar unit, which has churned out one success after another, and Disney (DIS) Animation Studios, which has its mojo back with "Frozen" and "Big Hero 6."
The goal for DreamWorks now is to turn "Home" into a true franchise, joining Shrek, Madagascar, Kung Fu Panda and How To Train Your Dragon.
Don't bet against RiRi and J. Lo. Although the movie didn't get fantastic reviews, it seems like critics underestimated the appeal of cute aliens. (I saw "Home" with my son. It's not "Toy Story." But it was amusing and well-done.)
It's also worth noting that so many animated movies have white protagonists. So having a black heroine was refreshing.
That -- plus music from Rihanna and Jennifer Lopez (who was the voice of Rihanna's mom) -- also probably helped bring in a lot more young girls and their parents. (Steve Martin and the guy who played Badger in "Breaking Bad" are also in the movie. I kid you not.)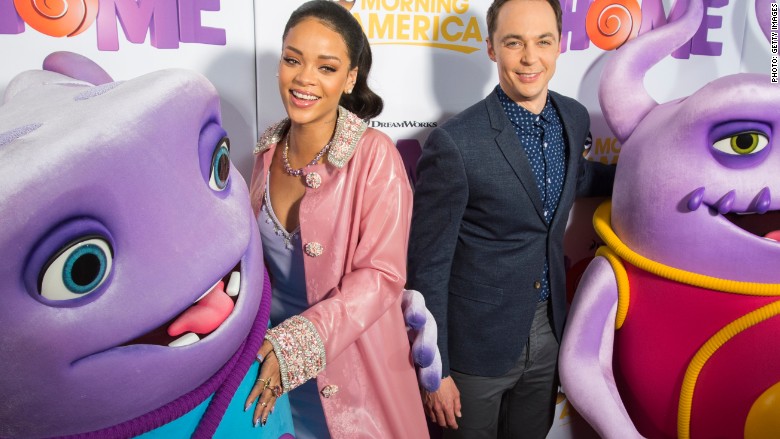 "Home" is the only theatrical release for DreamWorks this year. The studio announced in January that it was cutting the number of movies from three a year to two starting in 2016. It also laid off 500 employees, or nearly 20% of its staff.
Related: Big job cuts at DreamWorks Animation
Those cost cutting moves were done in response to a series of critical and commercial flops -- such as "Turbo," "Rise of the Guardians" and" Mr. Peabody and Sherman."
DreamWorks has lost money in three of its last four quarters and the stock fell more than 35% last year as a result.
Takeover talks dead for now. Things had gotten so tough that DreamWorks was even a rumored takeover target. There were reports that both Japanese tech giant SoftBank (SFTBF) and toy maker Hasbro (HAS) were thinking of buying the studio. But talks apparently fell apart on both deals.
There also has been speculation from time to time that Fox (FOXA) could be a natural acquirer of DreamWorks. Rupert Murdoch's media firm has a 5-year deal to distribute DreamWorks Animation movies that runs out in 2018.
Related: Will DreamWorks Animation get a new owner?
So what's next? DreamWorks doesn't have another movie in theaters until "Kung Fu Panda 3" a year from now. Even though the last movie came out in 2011, it seems like the third film is a safe bet. The first two grossed a combined $1.3 billion worldwide.
Small screen success is key. Po continues to fight bad guys and eat dumplings on a show called "Kung Fu Panda: Legends of Awesomeness" that airs on Viacom's (VIAB) Nickelodeon.
Television actually could wind up being the medium that helps keep DreamWorks relevant. The studio has a deal to create new shows for Netflix (NFLX). "All Hail King Julien" and "The Adventures of Puss in Boots" are two that debuted in the past few months. They are based on characters from the Madagascar and Shrek movies, respectively.
DreamWorks Animation has also done a good job so far with the purchase of YouTube video network AwesomenessTV. DreamWorks bought it for $33 million in 2013 and just sold a 25% stake in it this year to Hearst ... for $81.25 million.
But the formula is pretty simple for DreamWorks: If it can create more hits, then it should be able to return to profitability and no longer be named in takeover rumors.