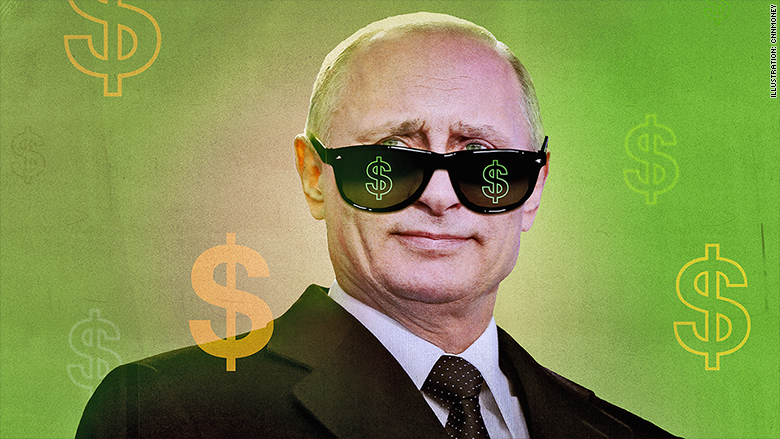 Is the worst over for Russia? Some brave investors seem to think so and are piling back into its markets.
The oil-dependent economy is on track for a deep recession this year, and there's a risk that the West may impose more sanctions over Ukraine.
Yet Russia's stock market, currency and bonds are all bouncing higher.
After a horror year that saw the ruble roughly halve in value, Russia's currency has gained about 4% since the start of 2015 to trade at about 58 to the U.S. dollar. That compares with the record low of 80 hit in late December.
Helping revive the currency's fortunes has been a halt in oil's recent slide. Crude futures are steadier, trading just below $50 a barrel as tensions in the Middle East stoke supply concerns. That's positive for the Russian economy, which relies heavily on oil revenues.
Related: Russia's economic misery deepens
Bond markets are also showing promise. Russia's 10-year government bond yields have eased to about 11.5% from 13.5% at the start of the year. Yields, which move in the opposite direction to bond prices, are still well above where they were a year ago but the drift lower is positive.
"That's a product of broader stabilization in financial markets," said VTB Capital chief Russia economist Vladimir Kolychev. "It seems that trend is sustainable."
Bank of America Merrill Lynch is also bullish on Russian bonds.
David Hauner, an analyst at the bank, recently picked ruble-denominated government bonds as his top bet in eastern Europe, the Middle East and Africa. Hauner said instability in Ukraine may be steering investors away from the "best [trade] of the year."
Russian stocks have brightened too. The MICEX index has rallied more than 14% so far this year.
Related: Carlyle Group CEO says oil is the best investment right now
Fund flows appear to support the view that sentiment is shifting. The stock market saw capital inflows of $6.6 million in the week to March 25, Russian media reported, citing data from EPFR Global.
That may sound small but it's a big swing from the previous week when the markets recorded an outflow of $57.7 million.
While Russia's financial markets are calmer than they were in December, the investment climate could sour again quickly if relations with the U.S. and Europe deteriorate further, or if oil prices resume their slide -- perhaps triggered by the lifting of sanctions on Iran.
A ceasefire deal reached in February between Ukrainian forces and pro-Russian separatists remains fragile. Violence in contested eastern Ukraine appears to be receding but an escalation of fighting could trigger additional sanctions.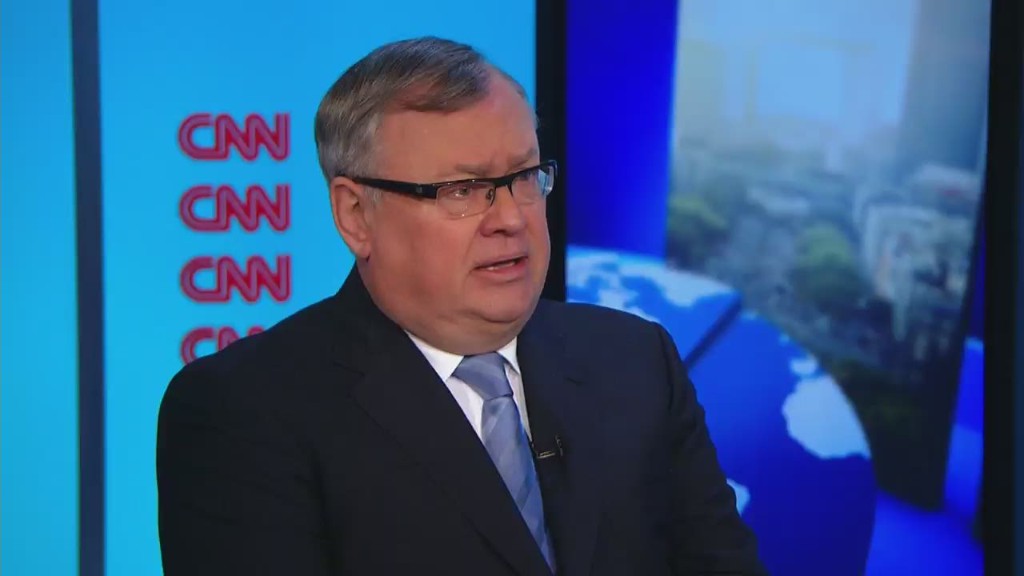 Andrew Risk, principal Russia analyst at London-based political risk firm GPW, said there is a "reasonably strong likelihood of more sanctions."
New trade restrictions would exacerbate Russia's economic problems. Still, ignoring Russia as an investment destination could be shortsighted.
"It's still a very large economy with potentially very interesting opportunities," Risk said. And past political tension between Russia and the West hadn't prevented successful investments in the past.