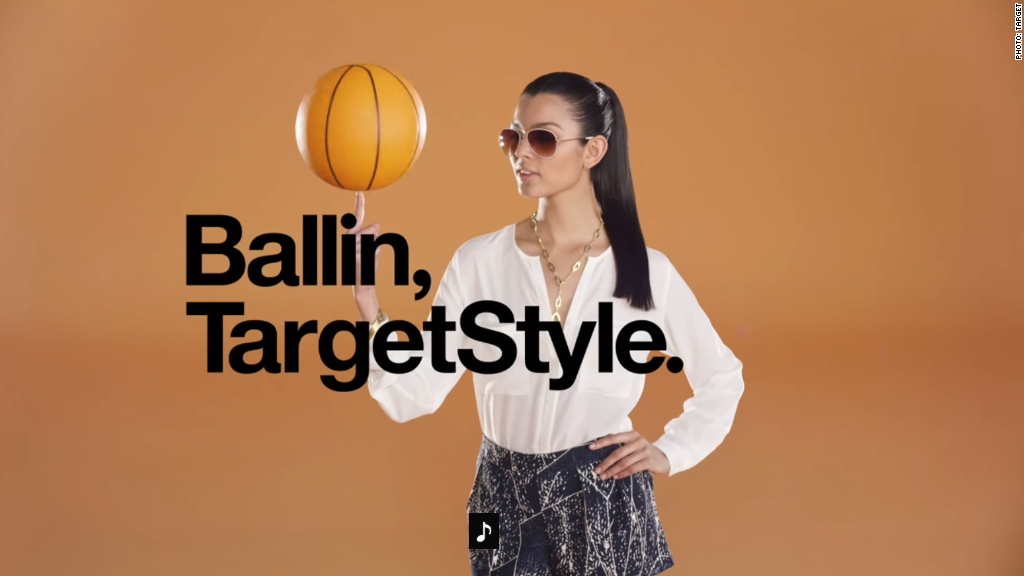 What data breach?
The massive theft of credit card records from Target (TGT) in late 2013 is now a distant memory for consumers and investors. Target's sales and earnings are growing. The stock is at an all-time high.
New Target CEO Brian Cornell, who joined the retailer from Pepsi (PEP) last August to clean up the cybersecurity mess and other problems at the company, has won raves from investors.
Cornell pulled the plug on Target's ill-fated Canadian expansion after realizing that it wouldn't be until 2021 that Target would eke out a profit in the land of maple leafs and hockey.
Related: Target Canada is going out of business
Target also recently announced layoffs at its Minneapolis headquarters. And while it's more than a bit perverse to see Wall Street cheer pink slips, Target is a company that clearly needed to cut costs.
The strategy seems to be working so far. Analysts have raised their earnings forecasts for this year by nearly 20% in the past three months.
Shares of Target are up more than 40% since Cornell took over while Wal-Mart's (WMT) stock has gained just 11%. Target has outperformed the broader retail sector as well: the SPDR S&P Retail ETF (XRT) is up 19%.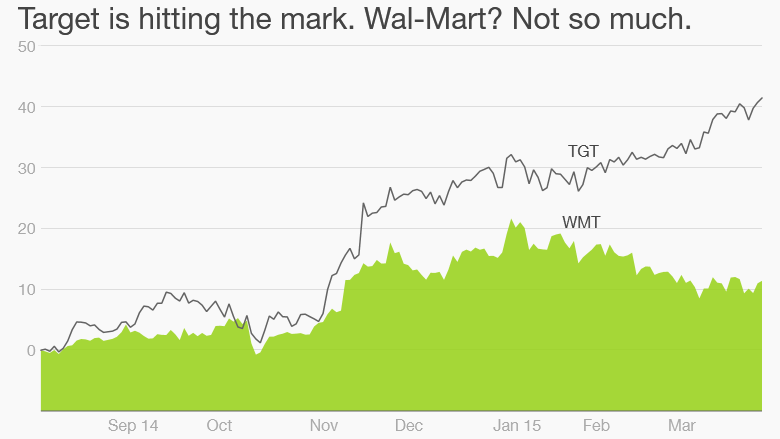 So what's next?
Cornell has decided to focus Target on four key merchandising areas -- style, baby products, stuff for kids and a category it dubs wellness. Target said sales from these four categories made up more than 25% of its overall revenue.
Target is heavily promoting the fashion and kids segments. It's been running ads for the past month featuring the 1990 Deee-Lite dance hit, "Groove Is In the Heart" as its theme.
The ads, in addition to the still infectious tune, also feature a lot of bold colors for spring. The company really seems to be trying to recapture the old Tar-jay image of affordable chic.
Related: Target could be next to hike minimum wage
The company is also looking to do more to boost its grocery business. Target, like many other retailers, has found religion in organic goods.
Whole Foods (WFM) may have started the healthier food revolution but companies like Target, Wal-Mart and Kroger (KR) are trying to bring it to the masses with cheaper products.
Cornell has stressed to investors during recent earnings conference calls as well as an analyst presentation earlier this month that groceries in particular will play an increasingly important role at Target.
He said this month that food makes up more than 20% of the company's total business and that customers are asking for even more natural and organic products.
Have you changed jobs twice this year? Tell us.
Investors are happy with Cornell right now. But his honeymoon period as a new CEO won't last forever. That means there will be added pressure on Target to deliver on all of its promises.
The company said earlier this month that it expects overall sales growth of 2% to 3% this year and that digital sales will be up 40%.
If Target stumbles, the market will not be pleased. Thanks to its rebound, Target now has one of its signature bull's eyes painted on its stock.