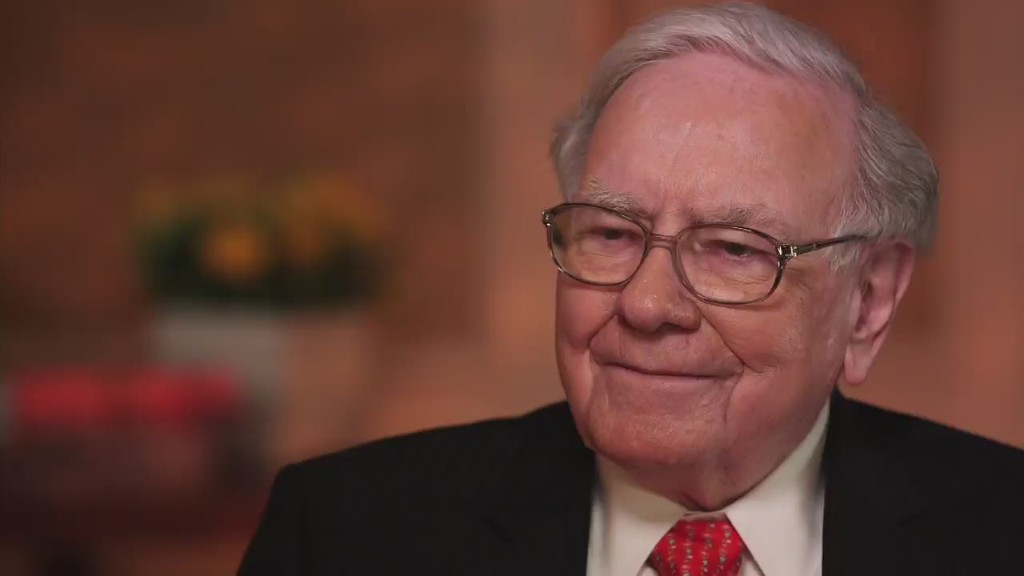 Billionaire investor Warren Buffett joined the voices against Indiana's controversial religious freedom law.
"I think if people can exercise discrimination based on sexual orientation, then it's wrong," Buffett told CNN's Poppy Harlow.
Also this week, NASCAR, which is set to hold a major race in Indianapolis in July, said it's disappointed by the law signed last week by Governor Mike Pence.
"We are committed to diversity and inclusion within our sport and therefore will continue to welcome all competitors and fans at our events in the state of Indiana and anywhere else we race," said NASCAR, which is based in Florida and North Carolina.
Related: What you need to know about the Indiana law
Critics say the law Pence signed last week ensures businesses have the right to refuse service to gay, lesbian and transgender people on religious grounds.
The governor and his supporters have said the law is designed to protect "religious freedom" and is not discriminatory.
Here is a roundup of elected officials, business executives and companies -- from Indianapolis to Silicon Valley -- that have spoken out:
General Electric (GE) CEO Jeffrey Immelt: He wrote to Pence Wednesday to say he was worried the law "could have a very negative impact on our employees and their communities."
39 tech execs: Leaders from 39 companies and organizations from tech and Silicon Valley signed a statement Wednesday condemning the Indiana law, and a similar one proposed in Arkansas.
The group, which features some people who had already weighed in, included Twitter (TWTR) CEO Dick Costolo and Laurene Powell Jobs, the widow of Steve Jobs and founder of the social entrepreneurship group Emerson Collective.
Group of 9: CEOs representing nine leading Indiana businesses wrote to Pence and legislative leaders to express their concern about the impact of the law on the "reputation" of Indiana.
"As we seek to attract and retain great talent from Indiana and around the world, it is critical that we make it clear that Indiana is the welcoming state we all believe it to be," they wrote. The letters was signed by top execs at Angie's List, Anthem, Cummins, Dow AgroSciences, Eli Lilly, Emmis Communications, Indiana University Health, Roche Diagnostics and Salesforce Marketing Cloud.
Starbucks: (SBUX) "We join with others opposing any state or federal legislation that permits discrimination based on sexual orientation or gender identity and encourage policymakers everywhere to embrace equality," Starbucks said in a statement.
Apple (AAPL) CEO Tim Cook: In an op-ed published Sunday, Cook said such laws are "very dangerous" and contrary to America's founding principles.
"On behalf of Apple, I'm standing up to oppose this new wave of legislation," wrote Cook, who came out as gay last year.
Angie's List (ANGI) CEO Bill Oesterle: The proposed campus expansion project in Indianapolis is "on hold" following the bill's passage.
Related: Brands that love LGBT the most
PayPal co-founder Max Levchin: Opposing the law is "a basic human decency issue," Levchin told CNN.
"I'm asking my fellow CEOs to look at how they're thinking about their relationship with the state and evaluate it in terms of the legislation that's getting signed into law," he said.
Yelp (YELP) CEO Jeremy Stoppelman: Yelp will "make every effort" to expand its corporate operations in states that do not have such laws on the books. "These laws set a terrible precedent that will likely harm the broader economic health of the states where they have been adopted."
Salesforce (CRM) CEO Marc Benioff: The law is an "outrage," he said, and that his company will "dramatically reduce" its investments in Indiana.
Eli Lilly (LLY): "We certainly understand the implications this legislation has on our ability to attract and retain employees. Simply put, we believe discriminatory legislation is bad for Indiana and for business."
Eli Lilly employs more than 11,700 workers in Indiana, mostly in Indianapolis.
After the legisalture "fixed" the bill a spokesperson for Lilly said, "We thank the General Assembly and the governor for taking prompt action to address RFRA. We can now once again demonstrate to the world what we know Indiana to be: a warm welcoming state and a great place to do business."
NBA, WNBA, Indiana Pacers and Indiana Fever: "The game of basketball is grounded in long established principles of inclusion and mutual respect. We will continue to ensure that all fans, players and employees feel welcome at all NBA and WNBA events in Indiana and elsewhere."
Related: Barilla goes from worst to first on gay rights
NCAA: "We are especially concerned about how this legislation could affect our student-athletes and employees."
Gen Con: The people that run the video game convention said the law would "factor into our decision making on hosting the convention in the state of Indiana in future years."
Gen Con brought 56,000 people to the state last year, according to CEO Adrian Swartout.