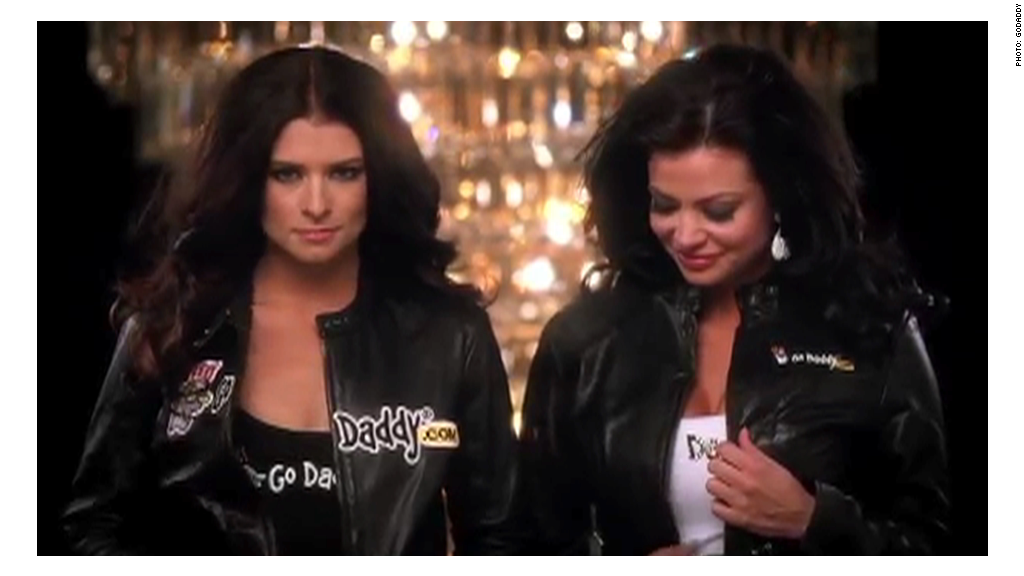 GoDaddy has taken it first lap around Wall Street. It's off to a fast start.
The stock popped over 30% on its initial day of trading on the New York Stock Exchange under the ticker symbol "GDDY (GDDY)."
The website hosting service known for its racy Super Bowl ads and sponsorship of NASCAR star Danica Patrick priced its IPO at $20 Tuesday night, compared with its expected range of $17 to $19. The stock commenced trading at $26.15 a share on Wednesday and closed at the same price.
Even though it hasn't generated a profit since 2009, GoDaddy is now valued at nearly $4 billion.
Related: NASCAR joins backlash over Indiana religious freedom law
'Elevated' financial risk: Investors want to know: Will GoDaddy shares be off to the races like Patrick's No. 10 car or will they crash and burn?
"I would say the caution flag is up," said James Gellert, CEO of Rapid Ratings, a firm that rates the financial health of public and private companies.
GoDaddy was founded 18 years ago, but it still looks like an immature Internet company in many ways. It's burning cash and is unprofitable. GoDaddy posted a loss of $143 million last year. While that's an improvement from prior years, the company lost $622 million in the past three years.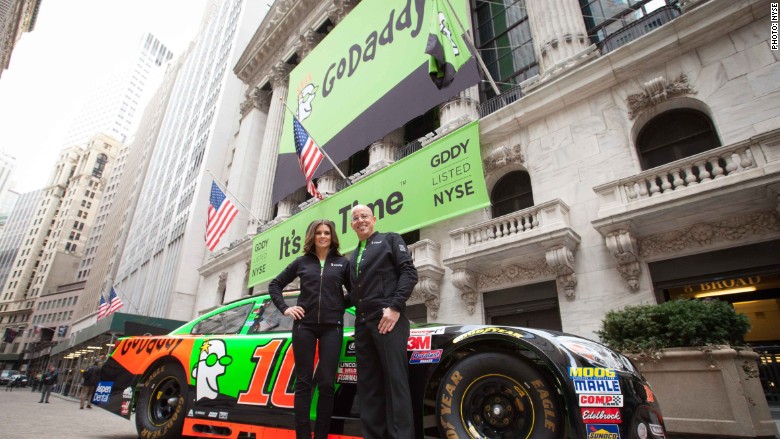 GoDaddy also carries lots of debt, most of it related to a 2011 leveraged buyout by private-equity firms that included KKR (KKR).
All of this explains why Rapid Ratings gives GoDaddy a financial health rating of just 26 out of 100, indicating an "elevated" risk of default. By comparison, burger joint Shake Shack (SHAK) was sporting a rating of 85 when it went public earlier this year.
GoDaddy has "good market share in its niche, a recognizable name and cool colors. Those are about the only good things you can say," said Gellert.
Related: McDonald's should take a lesson from Shake Shack
Focus on cash flow? Despite the risks, there is clearly demand on Wall Street to get a piece of GoDaddy. The IPO Tuesday night raised $460 million. Pricing above its expected range is a sign of high demand.
Rather than dwell on the red ink, investors need to focus on the company's strong free cash flow and stream of recurring revenue, said Kathy Smith, a principal at Renaissance Capital.
While it posted a loss last year, GoDaddy grew its free cash flow from operations by a healthy 18% to $181 million.
"This IPO works for investors looking for growth and cash flow," Smith said.
GoDaddy's valuation looks "reasonable," Smith said. She pointed to a ratio of its enterprise value -- debt plus equity -- and earnings before interest, taxes, depreciation and amortization, or EBITDA.
Related: Profitless IPOs are all the rage. Bubble alert?
Will GoDaddy rev up IPO market? Wall Street is hoping GoDaddy will wake up the sleepy IPO market, which had the brakes slammed on it during the first quarter. The $5.4 billion raised during the quarter was the lowest amount in more than three years, according to Renaissance Capital, which manages IPO-focused exchange-traded funds.
Two of the biggest IPOs at the start of 2015 have shown the best and worst of going public.
While Shake Shack is trading nearly 5% above its debut price of $47.21, online storage company Box (BOX) struggled early on and is still down over 2% from its opening price of $20.20.
How will GoDaddy compare?
"GoDaddy looks a lot more like Box in terms of its fundamental financial characteristics than a company like Shake Shack," said Gellert.