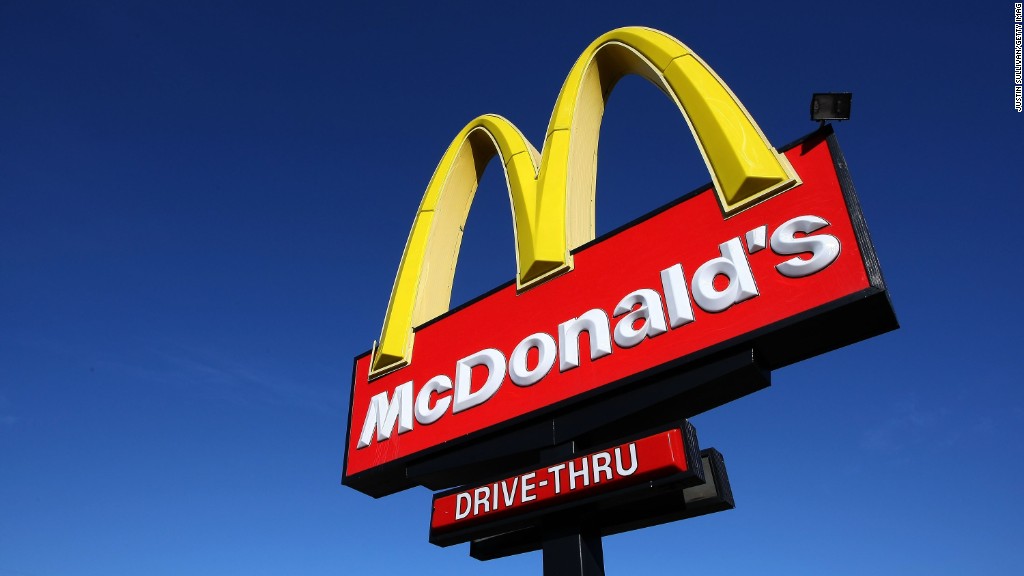 McDonald's is once again a target for criticism. This time for giving raises to 90,000 of its hourly-wage workers.
What gives?
Critics charge that the vast majority of McDonald's workers will not see the higher wages.
Effective July 1, starting wages at 1,500 McDonald's-owned restaurants will be at least $1 an hour more than the minimum wage set by local law. Employees up to restaurant managers will get a pay bump, and if they have worked at least a year, they will also receive paid time off.
But 90% of McDonald's (MCD) workers are employed by independently-owned franchises and the plan will not apply to those workers. Critics are now calling on McDonald's to offer all its workers better pay and benefits. Fast food workers in New York plan to protests the new pay policies outside a McDonald's location later Thursday.
McDonald's CEO Steve Easterbrook seemed to anticipate the criticism, writing an OpEd in The Chicago Tribune, and releasing a similarly worded full-page ad in several newspapers Thursday.
"I understand that some may believe it doesn't go far enough," writes Easterbrook. "These actions demonstrate meaningful progress, and this is what we can do right now, in our company-owned stores."
Easterbrook, who has been in the job for less than three months, described the plan to raise pay for workers at company stores as an "initial step." He said the company remains committed to "reviewing the total employment experience we offer our people."
Related: Low-wage workers plan major strike
Easterbrook said raising wages is part of a plan to make McDonald's a "modern, progressive burger company."
The company is also changing its menu, offering more healthy options, and revamping its stores.
While franchise workers won't get a raise or paid time off, McDonald's is extending some educational benefits to all 750,000 employees at its network of 14,000 U.S. restaurants. The company will pay for workers to obtain a high school diploma, provide tuition assistance for college courses and language training.
McDonald's and other fast food chains have been under pressure to give workers better pay and benefits for more than two years with low wage workers staging nationwide protests, demanding pay of at least $15 an hour.
Related: 100 students refuse to pay their loans
"The company needs to raise wages for all of its employees to $15 an hour and ensure paid time off for sickness and family needs is accessible to all of their workers," said Ellen Bravo, executive director of Family Values @ Work, a group that has advocated for paid sick days.
Other big companies have responded to the push. Walmart (WMT) announced plans to boost pay for 500,000 full-time and part-time associates and give them more control over their schedule.
McDonald's has claimed that its franchise-based business model means the corporation is not responsible for wages or any workplace violations at independently-owned stores.
But a federal labor watchdog has challenged that argument.
The National Labor Relations Board in December named McDonald's along with several franchise owners in complaints alleging "discriminatory discipline" against workers who took part in protests calling for higher wages.
The NLRB has yet to issue a final ruling. But by naming McDonald's along with its franchise owners as violators, the group could set a precedent that would open McDonald's up to greater responsibility for the conduct of franchise owners.
Are you a McDonald's worker? Could these education benefits come in handy? Will you get a pay raise? Share your story with us and you may be featured in a CNNMoney story.