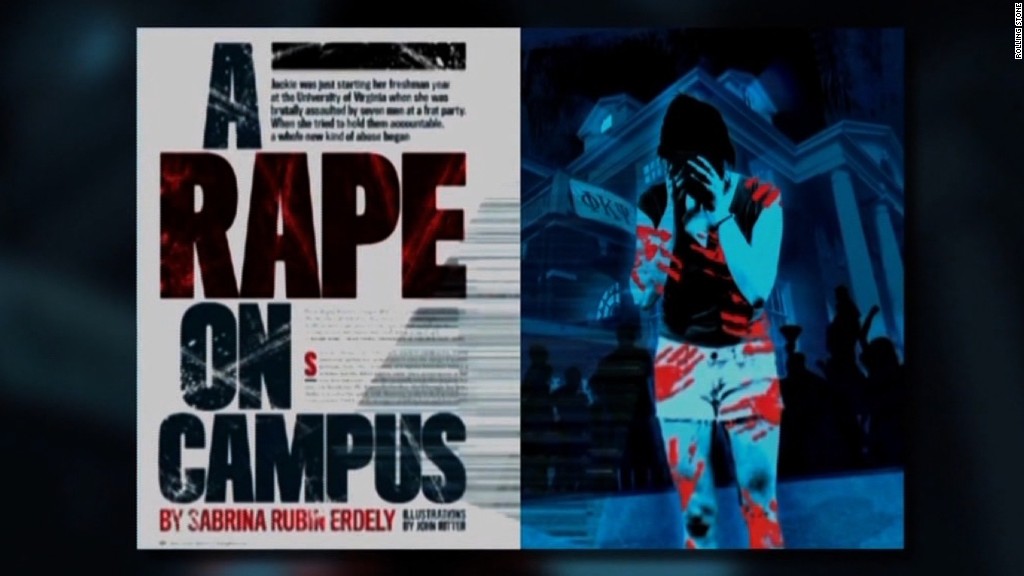 Sabrina Rubin Erdely, the author of Rolling Stone's discredited story about an alleged gang rape at a UVA fraternity house, apologized for reporting mistakes that have tarnished the magazine's reputation.
The apology from Erdely, a contributing editor at Rolling Stone, represents her first public comments in months.
"Reporting on rape has unique challenges, but the journalist still has the responsibility to get it right," she said. "I hope that my mistakes in reporting this story do not silence the voices of victims that need to be heard."
Erdely's statement was released in conjunction with a damning report from the Columbia Journalism School, which conducted a three-month review of the story.
In her statement, Erdely said the past few months "have been among the most painful of my life." Reading the review, she said, "was a brutal and humbling experience."
Erdely will continue to write for the magazine, a spokesperson for publisher Jann Wenner told CNN.
Her 9,000-word story, titled "A Rape on Campus," centered on claims from a woman identified only as "Jackie" who alleged that she was the victim of a horrific sexual assault at the Phi Kappa Psi house at the University of Virginia. The explosive claims reverberated around the country and on the Charlottesville, Virginia campus, where the university's president suspended all fraternity activities.
It didn't take long for some people to question the story after it was published by Rolling Stone in November, and by December it had completely unraveled.
On Sunday, Erdely apologized to "Rolling Stone's readers, to my Rolling Stone editors and colleagues, to the UVA community, and to any victims of sexual assault who may feel fearful as a result of my article."
Erdely had been silent since the magazine apologized in December for failures in her reporting.
Her last tweet came in late November: "The Washington Post wrote an article about me, and how my UVA article came to be," she tweeted, adding a link to the profile.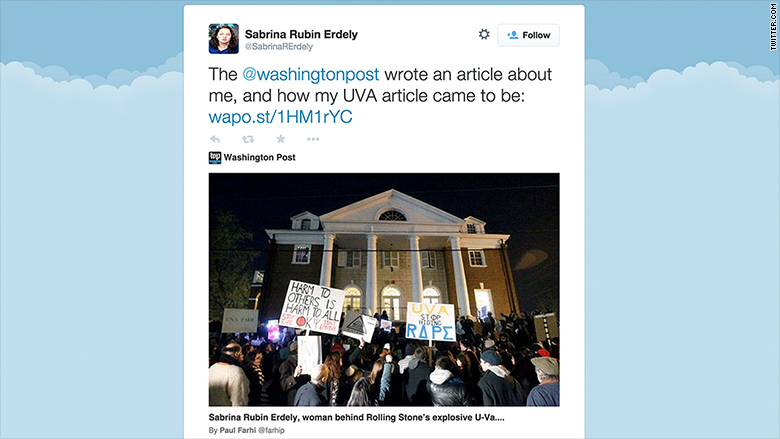 Over the next several days, Erdely would be thrust into professional turmoil as her story quickly fell apart.
She hasn't responded to interview requests (including one for this story), and her Twitter feed has gone dormant.
Related: How Rolling Stone's UVA rape story unraveled
Columbia Journalism School's review was not kind to Erdely. It identified multiple instances when she and her editors failed to do enough to try to corroborate Jackie's claims. Had Erdely been more rigorous in her reporting, the review found, she may have reconsidered the story.
Erdely herself contributed to some of the initial doubts raised about the story.
In her interview with the Washington Post, the story she tweeted, Erdely wouldn't say if she knew the names of seven alleged assailants, claiming that Jackie "is very fearful of these men," namely the alleged ringleader who was identified as "Drew."
Red flags were similarly raised in an interview with Slate, during which Erdely acknowledged that she did not speak to the accused fraternity members because they were "kind of hard to get in touch with."