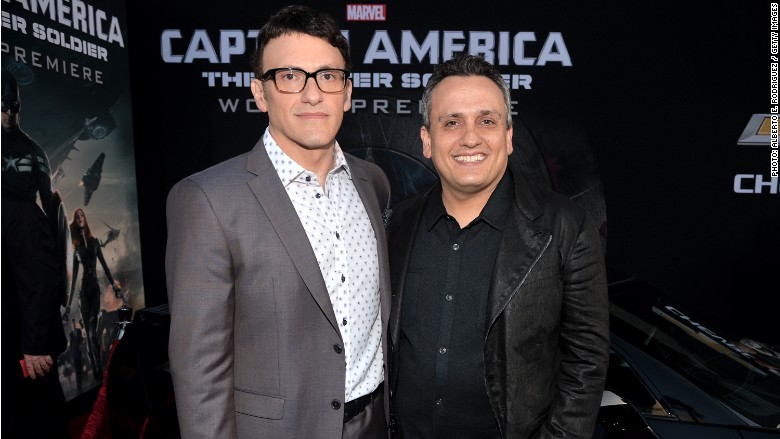 Captain America, Iron Man, and the Hulk will have new directors for their next film.
Marvel announced on Tuesday that Joe and Anthony Russo would be taking over the biggest franchise in the Marvel universe, "The Avengers."
The directors will handle both the third film in the series, "Avengers: Infinity War -- Part 1" in 2018, and the fourth film, "Avengers: Infinity War -- Part 2" in 2019.
The two will be taking over the series from current "Avengers" director, Joss Whedon, who is preparing for the series second installment, May's highly anticipated "Avengers: Age of Ultron."
The Russo brothers, while new to "The Avengers," are not new to directing Marvel superheroes.
Related: Downey Jr. may be 'Captain America's' hero
The pair directed last year's "Captain America: The Winter Solider," which made $714 million at the global box office.
They are also currently prepping to direct the next film in the "Captain America" saga, "Captain America: Civil War."
"Civil War" will pit Chris Evans' Captain America against Robert Downey Jr.'s Iron Man in what some analysts are predicting to be a box office smash when it's released in the summer of 2016.
"The Avengers" series is not just one of the biggest box office brands for Marvel, but also one of the biggest in Hollywood.
The first film in the series, 2012's "The Avengers," made $1.5 billion at the worldwide box office.
Related: Sony makes deal to bring Spider-Man to Disney's Marvel
The Russo brothers may also get the chance to be the first directors in the Marvel universe to direct a whole new superhero.
Marvel and its parent company Disney (DIS) announced in February that Spider-Man would be joining the studio's cinematic universe.
And while Marvel has been mum about what role the web-slinger will play, there's a good chance he may show up in the "Infinity Wars" sequels. Especially if the films follow the plot of its preceding comic books.
The next film in the Marvel universe, "Avengers: Age of Ultron," premieres May 1.