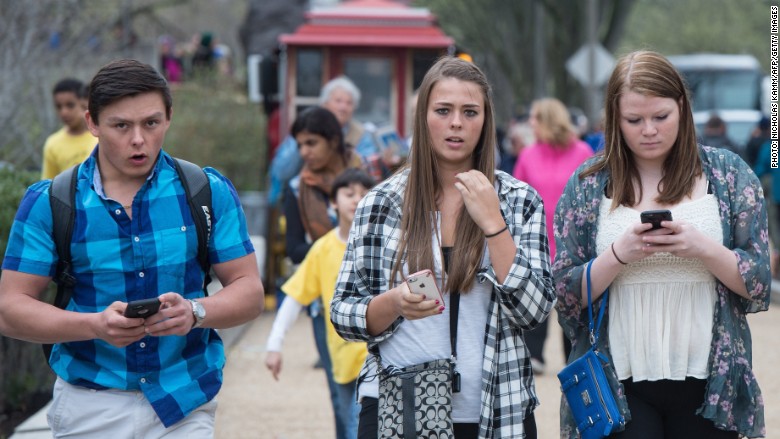 Here's a shocker: Teens go online a lot. Like, "almost constantly."
But a new report by the Pew Research Center reveals that black and Hispanic teens are more active internet users than white teens.
The study found that 34% of African-American teens and 32% of Hispanic teens report going online "almost constantly." By contrast, 19% of white teens say they go online that often.
Overall, the vast majority of teens (92%) report they go on line every day and more than half (56%) do it multiple times a day. The report defines teens as those between the ages of 13 and 17 years old.
Most teens are using mobile devices to get online. The report says about three-quarters of teens have their own smartphone or have access to one. Another 30% have a "basic phone," while only 12% of teens have no cell phone at all.
Related: Facebook Messenger is now a standalone web app
In terms of race, black teens are the most likely to have a smartphone. A full 85% of black teens report having access to a smartphone, while 71% of Hispanic and white teens have one.
The report also confirms what many already know about teens. They like to send text messages. A typical teen sends and receives 30 texts per day, according to Pew.
It's also no secret that teens are big fans of social media. But the report says girls are by far the biggest users of social media, particularly "visually-oriented" networks such as Instagram, Snapchat, Pinterest and Tumblr.
Facebook (FB) is the social network of choice for teen boys. Likewise, boys are much more likely to play video games. A full 91% of boys have access to a video game console, compared with just 70% of teen girls.
Pew questioned 1,060 teens across the country in English and Spanish for the survey - which, it was also noted, was done online as opposed to the usual phone interviews.