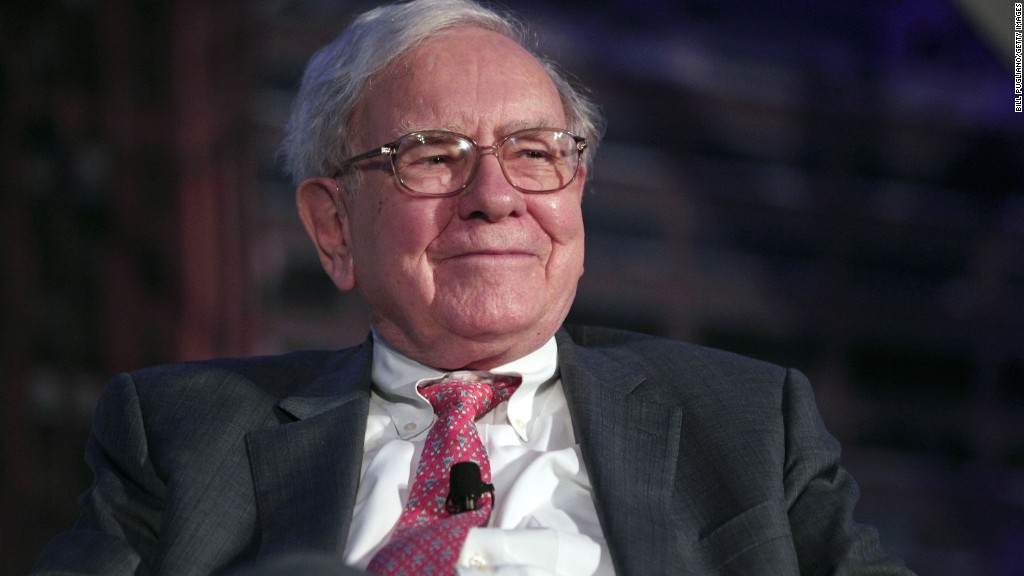 More American adults drink coffee daily than have money invested in the stock market.
Less than half, or 48%, of American adults have money in stocks, according to Bankrate's Money Pulse survey. Compared to that, about 61% of adults have at least a cup of coffee daily, according to the latest National Coffee Drinking Trends.
The stock-owning Americans include anyone that has money invested in pension funds, 401(k) retirement plans, IRAs, mutual funds, ETFs or those owning individual stocks like Apple (AAPL), Ford (F) and Tesla (TSLA).
The low number is an alarming trend for America's financial future.
Daily coffee consumption has been growing in recent years, while stock ownership peaked in 2007 -- just before the worst of the financial crisis and Great Recession, according to data from the Federal Reserve.
Related: Who's getting rich off the stock market?
Missing out on the bull market: Americans who have kept their money on the sidelines are likely regretting it.
The U.S. stock market is in the midst of one of its longest surges in history. The popular S&P 500 Index, which tracks the 500 biggest and most well known publicly traded America companies, has risen over 200% since it bottomed out in March of 2009.
To put it another way, if you took roughly the $1,200 a year spent on buying a daily Starbucks (SBUX) grande caffe latte and put it in the stock market in March 2009, you would have $3,600 today.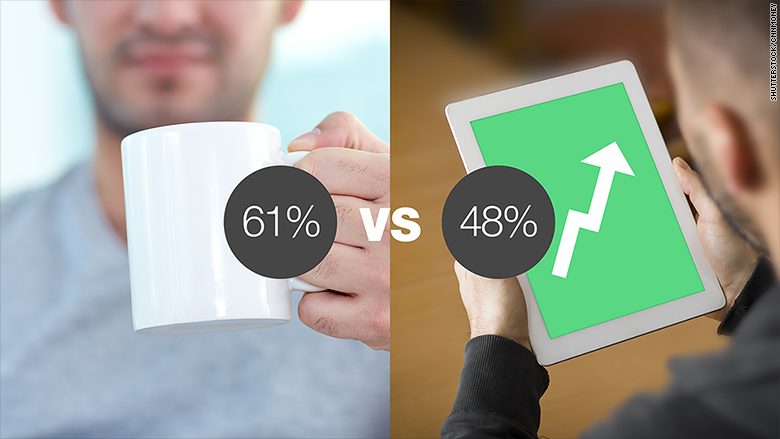 "Despite the market hitting record highs, retail investors have dramatically increased their allocation to cash," says Suzanne Duncan, global head of research at State Street's Center for Applied Research.
The stock market gains are only making the rich richer, exacerbating the nation's inequality problems.
Related: Apple stock is making regular Americans rich
Why people don't invest: The Bankrate survey identified a number of factors that keeps people from investing. The biggest problem by far is that people don't have enough money to invest.
As CNNMoney has reported, median household income in America isn't much higher than where it was in 1995. Many families simply aren't seeing their finances improve enough to feel comfortable investing in stocks.
Related: Half of Americans are saving next to nothing
It's particularly problematic among young adults. Just over a quarter of adults under 30 reported having any money in stocks or in funds that invested in stocks, according to the Bankrate survey. Young people have the most to gain by investing in stocks since research shows that they the market is likely to rise a lot in the decades before they retire.
The next largest barriers are that people don't feel educated enough about the stock market, they don't trust stock brokers, and they think it's too risky to be in equities.
Randy Frederick, managing director of trading and derivatives at Schwab's Center for Financial Research gets a lot of inquiries from fearful investors who aren't sure they want to get into stocks or get back in.
"People often call and ask me: 'What about the flash crash?'" Federick told CNNMoney. "I tell them that's only happened once and the market came back. Let's focus on the other 99% of the time."