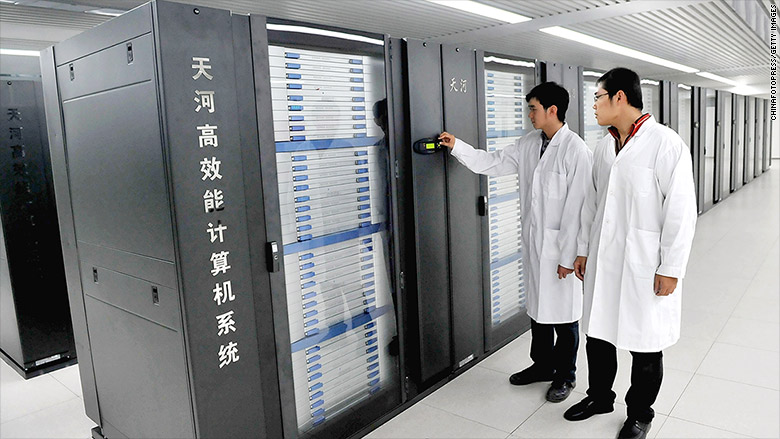 Intel and Nvidia have been blocked from selling chips to four Chinese supercomputer centers because the U.S. government has determined those computers are used for "nuclear explosive activities."
TianHe-1A and TianHe-2 are among the world's fastest supercomputers. They both run almost entirely on Xeon processors made by Intel. TianHe-1A also uses chips from Nvidia.
But now neither Intel nor Nvidia may sell their chips to four institutions in China that run these colossal machines.
The U.S. government has concluded that four Chinese supercomputing centers -- including one at the National University of Defense Technology in Changsha City -- were "acting contrary to the national security... interests of the United States."
Supercomputers are typically used for predicting scenarios because of their incredible power to crunch numbers. They can create precise models of complex environments, such as simulating weather -- or nuclear explosions.
In its new rule, the U.S. Department of Commerce says "the TianHe-1A and TianHe-2 supercomputers are believed to be used in nuclear explosive activities." The agency would not say how it came to that conclusion.
China has an estimated 250 nuclear warheads, compared to the United States' 1,642 and Russia's 1,643.
The agency now requires any American company to first apply for a special permit before exporting any products to these supercomputing centers.
In reality, any products powering those supercomputers "would almost certainly mean a denial," said Kevin Wolf, assistant secretary of commerce for the agency's Bureau of Industry and Security.
The new federal rule was made official in February, but news media did not learn of it until this week.
Intel (INTC) declined to comment in detail, but a spokesman said the company remains in compliance with U.S. laws.
Nvidia (NVDA) declined to comment.
It's unclear what the effect of these lost sales could have on either company, if any.
TianHe-2 already houses 32,000 Intel Xeon E5 chips, worth roughly $48 million at retail prices. But Intel and Nvidia may still sell their high-power computer chips elsewhere in China.
It's possible these four Chinese supercomputing centers could buy the chips through third parties anyway. The Commerce Department noted that would be illegal, however.