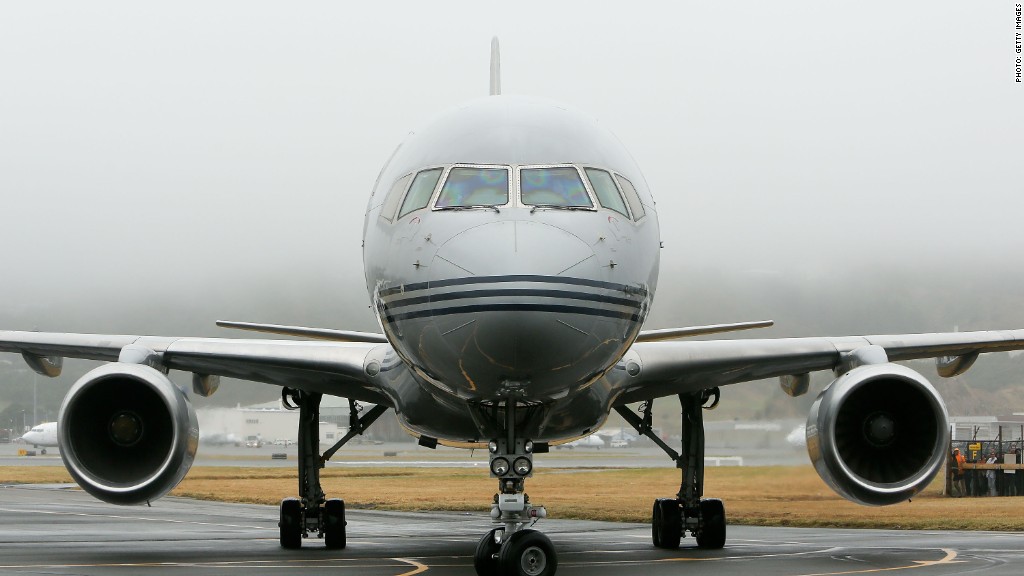 If you think airline travel is getting worse, there are now numbers to back that feeling up.
U.S. airline quality declined in 2014 according to the latest ranking from Embry-Riddle Aeronautical University, which looks at on time performance, lost bags, customer complaints and bumped passengers.
The ratings for most airlines fell, but Virgin America (VA) took the top spot as it has for each of the last two years.
Best on-time performance: Hawaiian Airlines (HA) was tops in the category, thanks to relatively few weather delays. But Alaska Air came in second despite the fact that it has much more difficult weather to deal with.
Fewest customer complaints: Alaska Airlines had the fewest number of complaints about things like ticketing and baggage problems.
Fewest lost bags: Virgin America. Virgin also bumped almost no passengers from their scheduled flights.
Biggest decline in quality: Envoy, which used to be known as American Eagle, took the biggest hit in this year's rankings. It also suffered the worst in the overall score out of the dozen airlines that were ranked. It had the highest rate of lost bags and the worst on-time performance.
Bringing up the rear in the 2014 rankings are ExpressJet and SkyWest (SKYW), which like Envoy both provide feeder services for the major carriers.
Related: Why flying stinks and you're still paying more
Most complaints: Frontier Airlines. The industry's overall complaint rate jumped 22% from 2013.
"Things are going in the wrong direction, that's for sure," said Wichita State professor Dean Headley, one of the report's authors.
The study's authors don't expect to see an improvement any time soon, since more people are flying.
"I think it comes from a decision to not reinvest in customer service," said Embry-Riddle professor Brent Bowen.
Related: Legroom - How the airlines compare
Airline customers had plenty of problems in 2014, but airline investors did very well as the industry posted record profits. Shares of the four major airline - American Airlines (AAL), United Continental (UAL), Delta Air Lines (DAL) and Southwest (LUV) - were all among the market's top-performers. Shares of Southwest more than doubled, posting the biggest gain in the S&P.