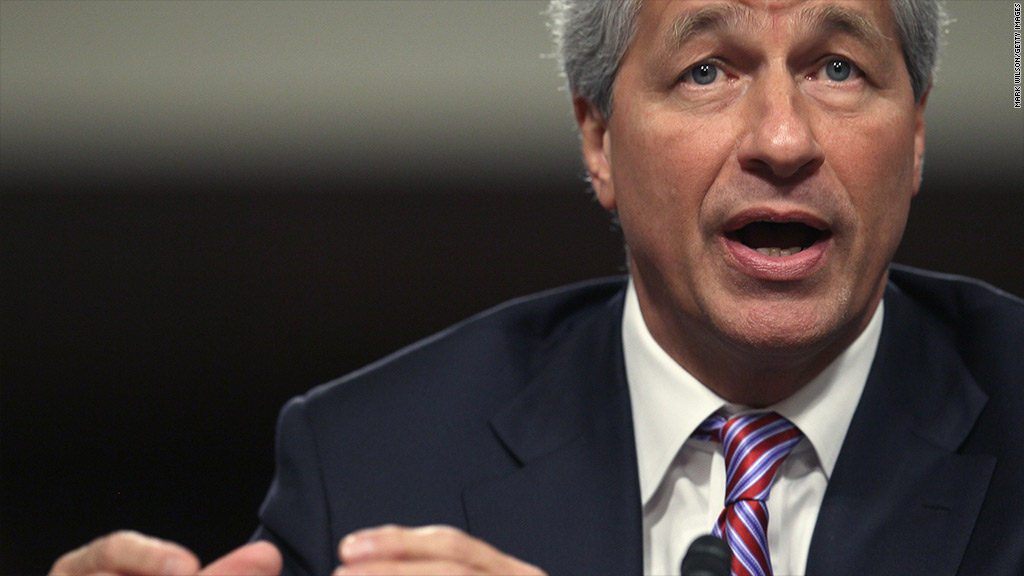 JPMorgan Chase CEO Jamie Dimon may finally have nothing to complain about. His bank just reported a better-than-expected quarterly profit of nearly $6 billion.
Shares of JPMorgan Chase (JPM), the first major bank to report its first quarter results, rose more than 1% Tuesday and hit a new all-time high.
The bank reported earnings of $5.9 billion, or $1.45 a share. That topped Wall Street's forecasts for a $1.40 per share profit. JPMorgan Chase also reported revenue of $24.8 billion, surpassing the consensus analyst estimate of $24.5 billion.
Profits were up 12% from a year ago while revenues increased by 4%. JPMorgan Chase reported strong growth in its investment banking, asset management and mortgage lending divisions.
Dimon said in a statement that the bank is "getting safer and stronger, and is gaining market share over time."
Despite the good news for the first quarter, JPMorgan Chase and other big banks have had a more difficult time making as much money as they used to before the financial crisis.
Several new rules have been put into place that force banks to take on less risk and bulk up the amount of capital they hold. The nation's largest banks are all subject to annual stress tests by the Federal Reserve.
Dimon said in January that he thought the bank was "under assault" by regulators.
And last week, Dimon wrote in his annual letter to the bank's shareholders that he was worried that too many new rules could actually make it tougher for banks to respond to another financial crisis.
Dimon declined to elaborate any further when asked during a conference call with reporters if he had anything more to say about regulations.
Related: Dimon complains about bank regulations ... again
JPMorgan Chase and many other big financial firms have also been dealing with several legal headaches tied to practices during and just after the credit crisis. To that end, JPMorgan Chase took a $487 million charge for legal expense in the first quarter.
One big legal hurdle remains though. JPMorgan Chase is one of several banks being investigated by the Department of Justice for possible currency manipulation in its foreign-exchange trading businesses.
During the conference call with reporters, JPMorgan Chase chief financial officer Marianne Lake said that the bank was in active discussions with the DOJ and hoped to resolve the matter in several weeks.
Big banks are also dealing with low interest rates, which makes it tougher for banks to profit on their lending operations. The Fed is widely expected to raise interest rates at some point later this year though.
It's a busy week for bank earnings. Wells Fargo (WFC) also reported profits and revenue that beat analysts' forecasts Tuesday morning. Bank of America (BAC) is on tap to issue its latest report card on Wednesday while Citigroup (C) and Goldman Sachs (GS) are on deck for Thursday morning.