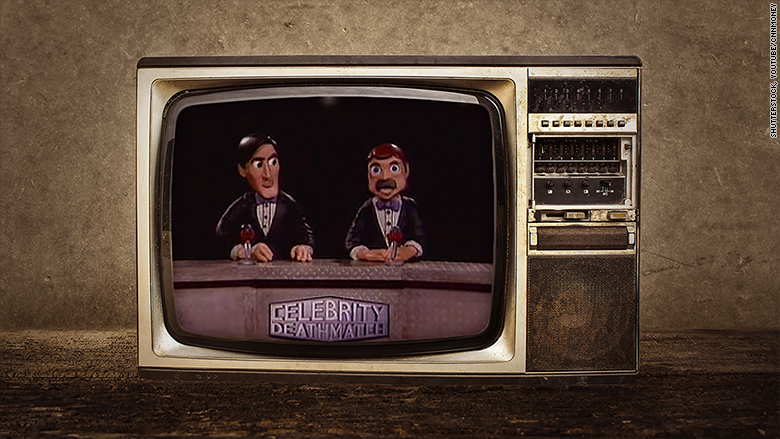 Let's get it on... again!
MTV2 announced on Tuesday that it's bringing back the classic MTV claymation series, "Celebrity Deathmatch," greenlighting a pilot order for the celebrity vs. celebrity comedy program.
"Celebrity Deathmatch" -- one of MTV's more absurd if not entertaining animated series from the late '90's -- pitted clay versions of Hollywood's biggest stars against each another until only one left the ring standing.
This latest version of the series looks to follow in the same bloody footsteps of its predecessor, but could also contain a social media element.
"The classic animated series returns, featuring no-holds barred fantasy fights between infamous figures from the worlds of entertainment and pop culture, reimagined for a world of social media and hourly Twitter wars," the network said in a statement.
The series, which ran from 1998 to 2002 on MTV and then on MTV2 in 2006, has held classic matches between the clay stand-ins of Madonna and Michael Jackson, Kid Rock and Eminem, and even Ozzy Osbourne and Elton John.
The Hollywood Reporter first reported the news Tuesday morning, and soon after MTV2 began retweeting reactions from fans who were pumped to have the battling pieces of celebrity clay back in action.
Some fans even suggested who should fight in the newest "Deathmatch."
"Loving all these match up suggestions. Keep 'em coming!" tweeted MTV2's official Twitter.
The show's original creator, Eric Fogel, will be the show's executive producer.
The Viacom (VIA) owned network also announced that the first quarter of 2015 was its highest-rated quarter in its almost 20-year history.
"After scoring our highest-rated quarter in history and continuing seven straight quarters of growth, MTV2 continues to outpunch its weight class," Chris McCarthy, general manager of MTV2, said in a statement.