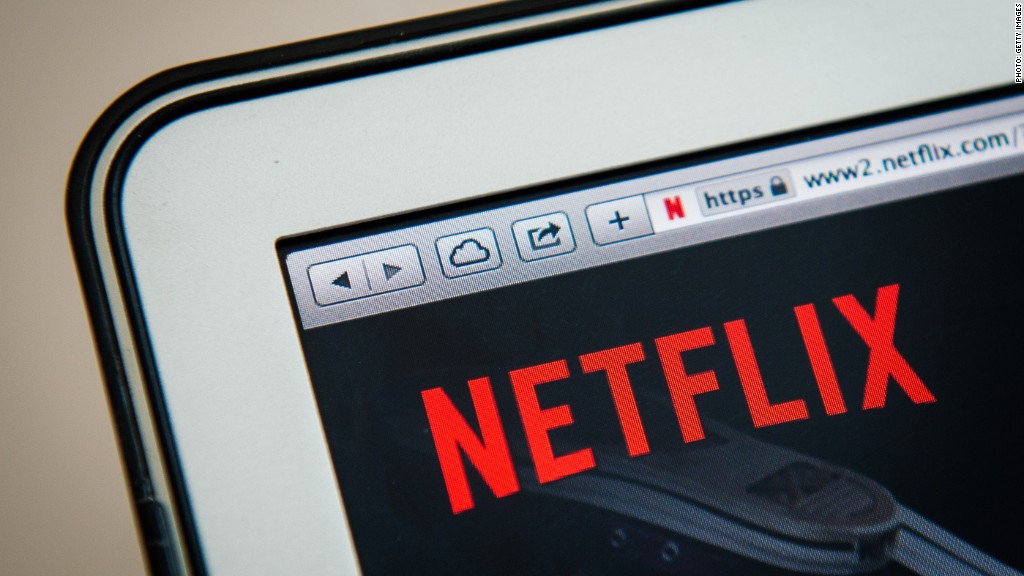 Visually impaired audiences will soon be able to hear what scenes look like on Netflix shows like 'House of Cards.'
The streaming video platform launched a new audio descriptions feature beginning with episodes of its original series 'Daredevil' on Thursday. The main character of the show is a blind lawyer who is secretly a superhero.
When Netflix (NFLX) audio descriptions are turned on, a narrator explains what's happening on screen.
For example, during the opening credits of 'Daredevil,' a male voice says: "In the middle of flickering pages of action comics, appears the logo 'Marvel' in bold letters."
Once the show begins, the same voice reports on the commotion of a traffic accident, and a man rushing through a crowd to reach an injured boy with wounds on his head.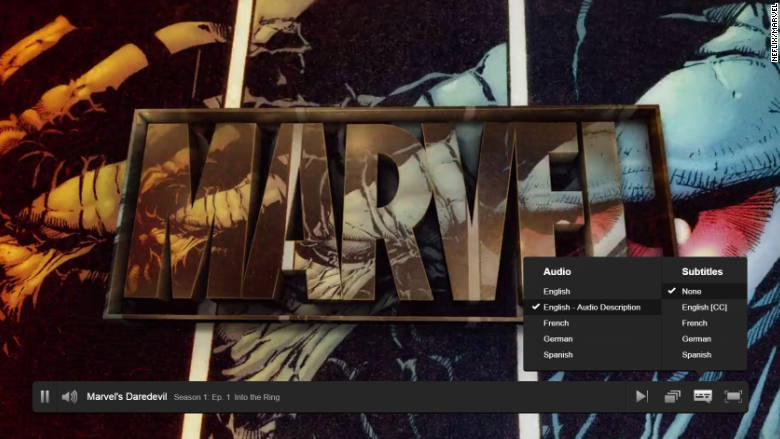 Facial expressions, costumes, and changes in settings will also be included in narration tracks, according to Tracy Wright, director of content operations at Netflix, writing in a company blog post.
She says the feature will be added to "major Netflix original series," including current and past seasons of 'House of Cards,' 'Orange is the New Black,' 'Unbreakable Kimmy Schmidt,' and 'Marco Polo.'
Wright added that Netflix is also working with external studios to provide audio descriptions for other shows and movies, and translating narrations into other languages.
Related: 'House of Cards' season four confirmed
Disability advocates welcomed the news that 'Daredevil' now has audio descriptions, cheering on Twitter with tweets tagged #dare2describe.
"Thanks @netflix for adding audio description!! Don't forget to add it to children's shows and movies," tweeted one user, ThomasDoesItAll.
The hashtag campaign seemed to have launched last week with a Change.org petition which called Netflix out on the irony of producing a disability-unfriendly show about a main character who is visually impaired.
"It seems unfair that if he were a Netflix subscriber, he wouldn't even be able to enjoy his own show!" the petition reads.
According to company spokespersons, Netflix had been working on its audio descriptions feature for months.
"Although we didn't invent this functionality and aren't the first to implement, we are, however, the first streaming service to have it," they told CNNMoney via email.
Related: Netflix movie shut out by big theater chains
Four in ten American households with traditional television now also subscribe to some form of streaming service like Netflix or Amazo, (AMZN) according to a new Nielsen report on audience behaviors.
Some families subscribe to Netflix, Amazon and Hulu Plus, but most have just one of the services: Netflix. In fact, Netflix is in 36% of all American TV households, while Amazon is in 13% and Hulu Plus is in 6.5%, according to Nielsen.