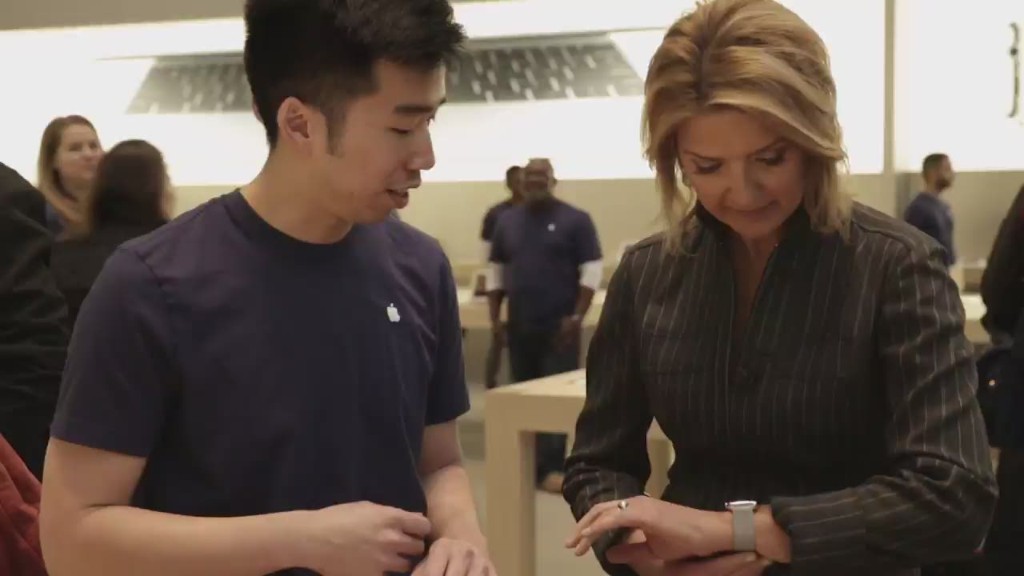 Ownership is passé.
Everything from jewelry and watches, to toys and clothing can now be rented.
It's a growing service model catered to people who want to keep up with trends, and those who love an automated buy-and-return shopping process.
Come June or July, these consumers will be able to add another just-want-it-for-a-little-while product to their lists -- the Apple (AAPL) Watch.
Zak Kidd, creator of Apple Watch Lease, says his company acquired "more than a dozen" 42mm Apple Watch Sport devices this past weekend, when Apple's newest gadget went on sale for the first time.
Why would you rent an Apple Watch instead of buy one? With reviews saying version 1 is only so-so, some people might not want to spend $350 or more for a device they'll want to upgrade a year later, after Apple releases the Apple Watch 2 in 2016. But the current Apple Watch might be just good enough to borrow for a while.
Kidd wouldn't go into detail about leasing terms. He would only say that each rental period would last less than a year, with monthly rates most likely less than $50.
There would be a "significant" security deposit as well, and only U.S. residents would be eligible to lease the watches.
When the business finally gets going, it could be possible, he says, to pay $150 to have the device for 10 ten months, rather than $350 for a watch you might want to trade up after a year.
"We're not trying to make the watch more affordable, or more available," he said. "We [just] don't think the watch will be valuable a year from now."
The success of Apple Watch Lease depends on the watches being returned in good condition and in a timely manner. Otherwise, Kidd and his company lose money -- the difference between the cost of the watch and the security deposit.
The fundamental flaw in Kidd's business would seem to be the resale market. Apple products notoriously maintain a high resale value -- two-year old iPhones can still fetch a few hundred dollars on eBay, Amazon and elsewhere.
Why can't the same be true for an Apple Watch? If you buy one for $350, could you get a couple hundred bucks for it next year -- negating the need to rent one?
Kidd doesn't believe so.
"We don't think that $350 watch will be able to sold for more than $200 a year from now," Kidd said.
The 38-year-old Washington-based entrepreneur believes the specs on the next iteration -- longer battery life, a trimmer body, waterproof casing -- will render the first product line obsolete.
The other potential hiccup is the "significant" security deposit. The people who can afford to pay that are likely not the type of people who are going to rent an Apple Watch anyway.
Xavier Dominicis, spokesperson and VP of public affairs for Rent-A-Center, (RCII) would agree. He sees Apple Watch Lease as a business aimed at high net worth individuals.
"[The watch] is not something you absolutely need," Dominicis said. "So I would think that these are folks who are not struggling."
Maybe best known as the original furniture-on-demand business, Rent-A-Center, also rents out electronics, including tablets and smartphones. But, in contrast to Apple Watch Lease, its target consumer tends to have poor or no credit.
When asked why Rent-A-Center doesn't start going after the same wealthy demographic, given the rise in technology rental businesses, Dominicis replied: "More affluent people can acquire the merchandise more affordably."