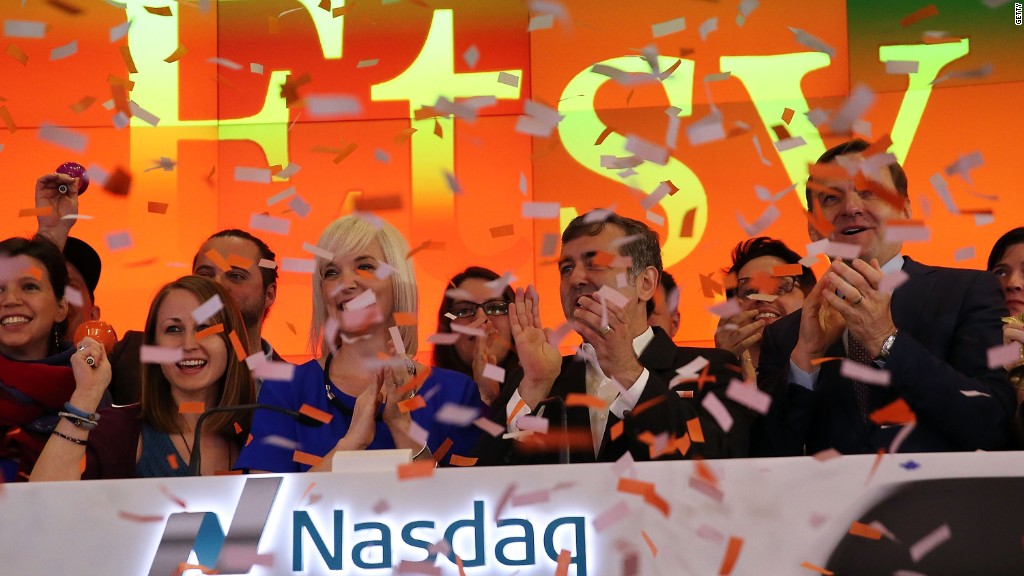 Capitalism, meet your "crafty" conscience.
Etsy is now the largest certified socially-responsible company, or B Corporation, to go public in the U.S.
It began life as a public company on Thursday with a bang: Etsy shares closed at $30 a share, a whopping 88% surge from its initial public offering price.
Wall Street seems to love crafts. The company is now worth $3.3 billion.
Fans of Etsy's crafts and other handmade items can now buy and sell shares of the company on the Nasdaq, where they are trading under the ticker symbol "ETSY."
So far, investors don't seem worried at all that Etsy's focus on long-term sustainability will clash with Wall Street's focus on short-term profitability. Etsy priced its initial public offering at $16 a share on Wednesday evening -- the high end of its expected range. The deal raised a total of $267 million and valued the company at nearly $1.8 billion before it started trading.
Related: Let's get this party started: Party City goes public
Can it scale? The biggest question facing Etsy is how the e-commerce company can ramp up in size while maintaining its identity as a place where customers can find unique goods that are not mass produced. Losing that niche identity could do real harm to Etsy's business, which has thrived thanks in part to its fiercely loyal base of buyers and sellers.
Investors need to assess "the confidence that this company can scale without going to the dark side of full commercialism," said Kathleen Smith, a principal at Renaissance Capital, which is a manager of IPO exchange-traded funds, or ETFs.
Related: Can a do-good company jive with Wall Street?
Competing interests? In its IPO prospectus, Etsy acknowledged a key risk facing potential investors is that the company's "focus on long-term sustainability may negatively influence our short-or medium-term financial performance."
In other words, Etsy may want to do things that won't please investors who mostly care about the stock price. For example, Etsy said it could invest in alternative forms of shipping that reduce the impact on the environment but are most expensive.
"We investors want sustainable results," said Smith.
Etsy's ability to manage these competing interests will be key.
"Public companies are held to a different standard, and Etsy needs to be prepared for public market scrutiny, regardless of how artisanal they are," said James Gellert, CEO of Rapid Ratings.
Related: Starbucks should join Etsy as a B Corporation
Crafting a profit would be a start: That scrutiny will eventually call for a path to profitability, something that's been missing from the online marketplace. Etsy has posted net losses in each of the past three years.
"Considering the company's lack of profitability and capital structure inefficiency, Etsy has a long way to go before they're a long-term sustainable business," said Gellert.
Related: GoDaddy races onto Wall Street with IPO
Is Etsy a bargain? However, its revenue has been on the rise amid the site's growing popularity. Sales jumped 56% last year to $195.6 million.
Smith said Etsy's IPO range doesn't look expensive, at least compared with the sales multiples placed on other fast-growing e-commerce companies that have commission models such as eBay (EBAY), Alibaba (BABA), GrubHub (GRUB) and Yelp (YELP).
"It's possible this (stock) could have a real cult following. They already have a cult following as a community," said Smith.
Etsy has already shown a willingness to do things differently than Wall Street is used to. It created a program that gives vendors and other mom-and-pop investors the chance to buy as much as $2,500 in stock before its public debut. Normally those early purchases are exclusive to rich investors.
"That's caused some angst among institutional investors," said Smith.
It probably won't be the last thing Etsy does that makes Wall Street nervous.