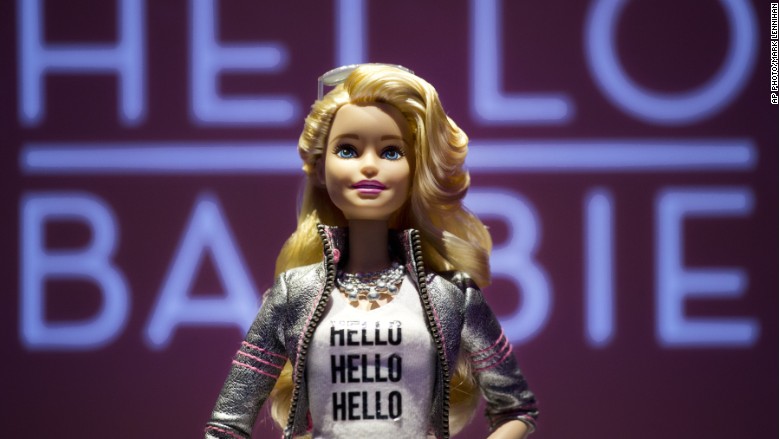 There are few plot details about "Toy Story 4" -- which is coming out in 2017. But if Disney and Pixar want the movie to be realistic, they should get rid of Barbie, Ken and the Fisher-Price Chatter Phone.
Mattel owns those brands. And demand for them is slipping. Kids just aren't playing much with those toys anymore.
Barbie sales plunged 16% in 2014. Fisher-Price sales were down 13%.
Even American Girl, the brand that's supposed to help soften the blow from the decline of Barbie, may have peaked. Its sales were down 3% last year.
The only major Mattel brand to report growth last year was Hot Wheels -- and they only rose 3%.
How much worse can it get? But there may be some signs of hope. Mattel reported its latest quarterly earnings after the closing bell Thursday.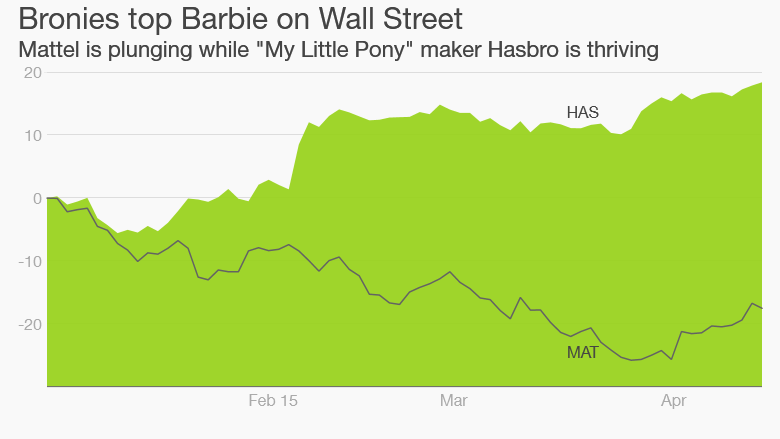 Although revenue fell from a year ago and Mattel (MAT) posted a loss, sales topped forecasts and the loss wasn't as big as expected. Barbie sales stabilized and Mattel shares soared 8% in after hours trading.
But Mattel's stock is down nearly 20% this year and has fallen almost 40% from its high in the past year.
Related: Mattel CEO Bryan Stockton out as Barbie sales falter
The company's CEO was canned in January and his interim replacement, Christopher Sinclair, was just named as the permanent CEO earlier this month.
Can he turn things around? Sinclair's got a tough job ahead of him ... and little experience in the toy business. He spent more than a decade at Pepsi (PEP) before moving on to the world of private equity and venture capital.
It's tempting to say that Mattel is hurting mainly because children have moved on from "analog" toys to high-tech gadgets and interactive smartphone and tablet apps. Heck, my youngest son (not yet 2) has already figured out how to swipe on my iPhone.
Mattel is trying to stay current. It recently announced plans to sell a version of Barbie that records voices and can connect to the cloud via Wi-Fi so that it can actually learn about and talk back to you. (Sounds like one step away from evil Chucky if you ask me!)
Related: Talking Barbie is too 'creepy for some parents
It also is partnering with Google (GOOGL) on a smartphone update of the classic View-Master, Mattel's stereoscopic 3-D projector toy. (Side note: This packet of "Dukes of Hazard" reels from 1982 is on sale on eBy for $7.95!)
The real problems: But the issue may not be that Mattel is too low-tech for today's generation of tots. There is a bigger problem that can't be fixed by embracing digital. Mattel's brands are stale.
The hottest toys tend to be ones with ties to popular movie and TV franchises. And Hasbro (HAS) has almost all the best licenses.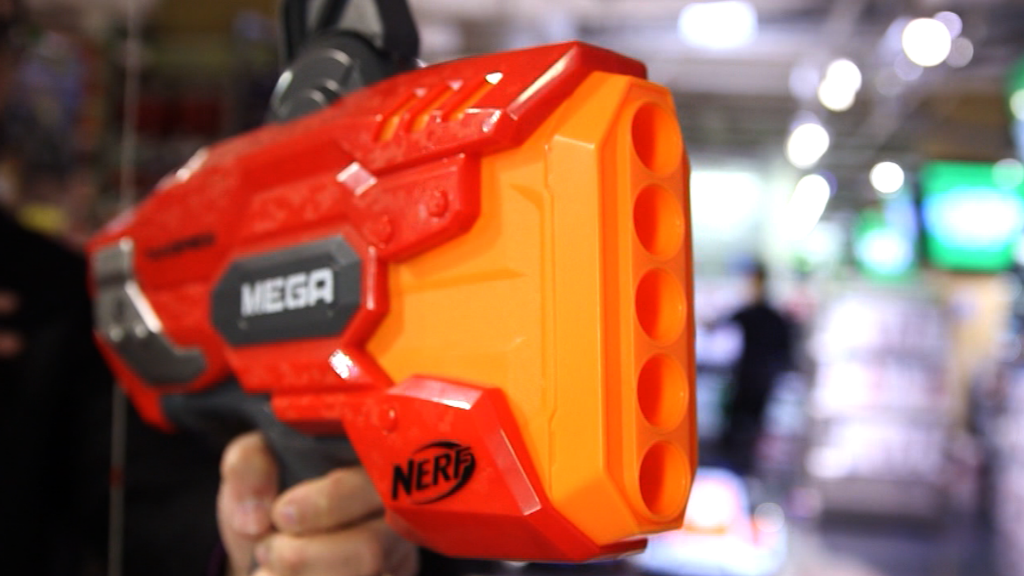 Hasbro owns Transformers. It has the rights to Star Wars toys and also the Marvel line. This should be a great year for both franchises as the next "Avengers" movie comes out on May 1 and the seventh in the Star Wars saga hits theaters in December. Disney (DIS) owns both Marvel and Star Wars creator Lucasfilm.
Related: Virtual reality for kids: The View-Master is back
And Hasbro is going to become an even bigger part of the House of Mouse's magical toy kingdom next year when it starts to sell toys tied to the Disney Princess series. You may have heard of some of them. Elsa and Anna from "Frozen." If you want to go old-school, there's Cinderella and Ariel from "The Little Mermaid."
Hasbro won the rights to the Disney Princesses last year. It is replacing ... drum roll please ... Mattel.
Even Hasbro's non-movie brands are doing well such as NERF, Play-Doh and My Little Pony.
Wall Street gets it. Hasbro shares are up nearly 20% this year and the stock is near an all-time high.
Hasbro, which will report its first quarter results on April 20, is profitable. And its earnings are expected to increase by nearly 11% a year for the next few years compared to growth of just 5% for Mattel.
So newfangled updates of older brands isn't the answer for Mattel. It needs to come up with fun new toys -- or partner more with the media companies churning out popular cartoons and action movies.