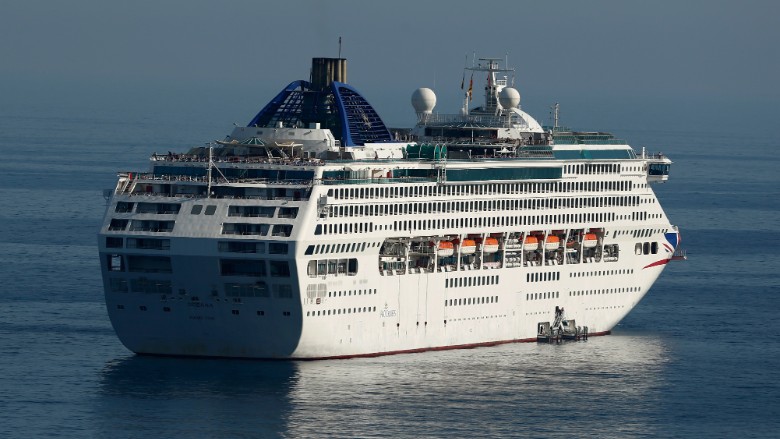 Kansas Governor Sam Brownback signed legislation Thursday that will make it illegal for welfare recipients to spend public assistance dollars in movie theaters, tattoo parlors, lingerie stores, and dozens of other places deemed inappropriate by the state - like on cruise ships.
The new law - believed to be the strictest in the country - concerns the Temporary Assistance for Needy Families program in Kansas, which is designed to help families struggling with short-term financial hardships.
The TANF program provides families with benefits cards that can be used like a debit card to purchase groceries and gas or pay for things like rent and day care.
Under the law, recipients will be unable to use the card to purchase alcohol, tobacco and lottery tickets. They will also be barred from using the card in nail salons, in swimming pools and for fortunetellers. (See full list below).
"These welfare-to-work policies allow us to help more Kansans find a new path and career as they experience the dignity, independence, and economic security that lead to a brighter future," Brownback wrote on Facebook, adding that the law would help "break the cycle of generational proverty."
It is difficult to track how much cash assistance is spent on items that will be banned, but a federal report last year found that less than one percent of total aid was used at liquor stores, casinos or strips clubs, according to the Associated Press.
The federal government already requires states to restrict TANF recipients from using their cards in liquor stores, gaming or gambling establishments or adult entertainment venues.
At least 23 other states have passed laws restricting how benefits cards can be used, according to the National Conference of State Legislatures.
In Alabama, for example, the cards cannot be used to pay for psychics or for body piercings. Indiana prohibits the cards on riverboats and other gambling facilities, as well as in gun stores.
TANF recipients in Kansas will still be able to use their cards in gun stores.
Related: Student loans forgiven for daughter of fallen vets
The legislation, called the HOPE Act, enshrines in law various changes the Brownback administration has made to the program over the past few years. Supporters said putting those changes into law will make the harder to repeal down the road.
Brownback's office says the changes have helped 6,100 recipients find jobs and transition out of the program last year.
In one of its more controversial aspects, the law limits the amount of money TANF recipients can withdraw from the ATM to $25 per day. Previously, there was no limit on how much cash could be taken out. On average, TANF families receive about $400 per month.
TANF recipients will still be able to obtain money orders using their TANF dollars, which can be used to pay for rent or other bills that cannot be paid by card.
Related: Will Hillary Clinton support a $15 minimum wage?
Supporters of the measure have acknowledged that policing how recipients spend their $25 will be difficult, if not impossible. But the goal, they say, is to prevent people from gaming the system, rather than punishing families that have fallen on hard times.
Still, critics say the legislation mischaracterizes the majority of TANF recipients, who are largely single parents who don't earn enough to pay all their bills.
Kansas Action for Children, a local advocacy group, said in a statement that the law will make it harder for poor families to access other support programs, including the Supplemental Nutrition Assistance Program, or food stamps.
"By signing this bill into law, Gov. Brownback has added to the burden that the poorest Kansans already carry," the KAC statement said. "It's always been hard to be poor in Kansas. Now, it's going to be a lot harder."
In Kansas, here's a list of what would be off limits:
Alcoholic beverages
Casinos
Gaming establishments
Jewelry stores
Tattoo parlors
Massage parlors
Body piercing parlors
Spas
Nail salons
Lingerie shops
Tobacco paraphernalia stores
Vapor cigarette stores
Psychic or fortune telling businesses
Bail bond companies
Video arcades
Movie theaters
Swimming pools
Cruise ships
Theme parks
Dog or horse racing facilities
Parimutuel facilities (off-track betting)
Cigarettes and tobacco products
Lottery tickets
Concert tickets
Tickets for professional or collegiate sporting events
Tickets for other entertainment events intended for the general public
Sexually-oriented businesses
Strip clubs
Any business or retail establishment where minors under age 18 are not permitted.