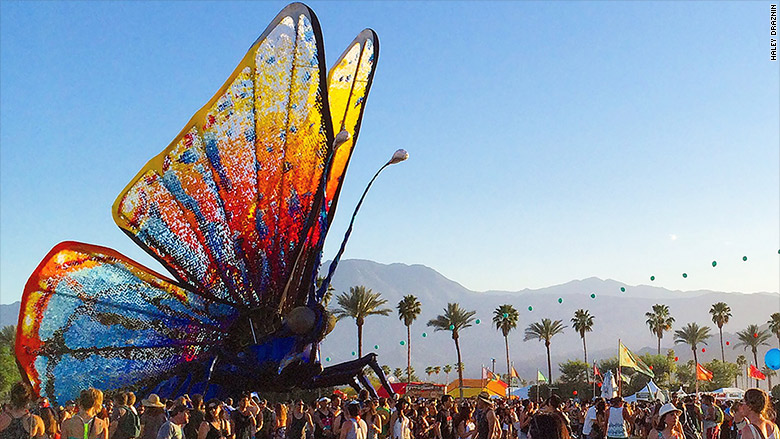 Millennials are flocking to the world-famous music festival in the desert. But the hottest ticket in town doesn't come cheap.
Heading into its second weekend, Coachella Valley Music and Arts Festival is attracting a young and hip crowd. Nearly 600,000 festivalgoers from around the world descend on the grounds of the Empire Polo Club in Indio, California, for two back-to-back weekends.
Music festivals have become an oasis for millennials. According to a new Nielsen report, about 32 million people attend at least one music festival in the U.S. each year, and nearly half, of festivalgoers are between ages 18 and 34.
"The millennial generation craves the experience that festivals like Coachella gives them," says Paul Greenberg, CEO of NYLON Media Inc. "Millennials are unapologetic about their desire to get the most out of life."
Coachella has grown into one of the world's most desired -- and expensive -- among them. Last year, the festival grossed $78.3 million, according to numbers reported to Billboard Boxscore.
Here's what a weekend trip out to the desert festival might cost you:
Getting in: A general admission three-day pass runs $375, while a VIP pass costs $899. Tickets typically sell out for both weekends in less than three hours, forcing festivalgoers to rely on a secondary market to buy tickets that range from $550 to $2,000.
Getting there: Festival goers not local to the area will have to spring for a flight into L.A.X. or Palm Springs, which typically cost out-of-staters at least $400 round-trip, even from west coast destinations, said Lois Anderson of Anderson Travel Palm Springs.
The festival itself is 45 miles from Palm Springs. If not carpooling, a shuttle to the festival grounds is $80, while a shuttle pass around the festival grounds for the weekend is $60.
Staying there: Camping is an option, but the Coachella cool factor is staying at posh hotels or renting large homes. Hotel rooms in the Palm Springs area typically rent for at least $400-$500 per night, according to Anderson.
"If you can get a hotel you're really lucky. No matter what the price," Anderson said.
The most affordable option is BYOB (bring your own bed) -- camping on the festival grounds, which will run you $85 per weekend for a 10X15 grass spot. A limited number of exclusive "Safari Tents" are available on-site for two in a secluded area for $7,000.
Dining: Then there's the food. Festival-goers can pony up for gourmet meals featured in air-conditioned tents on the grounds. Menus are illustrated by a roster of known, out-of-town chefs. Nabbing a seat for one at an exclusive dinner in the VIP Rose Garden is $225 for a four-course meal. Pop-up dinners with prix-fixe meals from L.A. hot spots cost at least $50.
Shopping: The Coachella crowd may be there to listen to music, but large global brands are taking advantage of this coveted demographic. Uber, H&M, Adidas, and Heineken are just some brands that set up shop around the festival grounds or at the trendy hotels nearby, throwing parties with celebrity guests and selling merchandise in attempts to lure young consumers.
"We're finding this is the right way to organically talk to the audience," says Lisa Sugar, CEO of PopSugar, a digital content and commerce site for millennial women. "Plastering a brand's logo everywhere is not going to get through to them today."