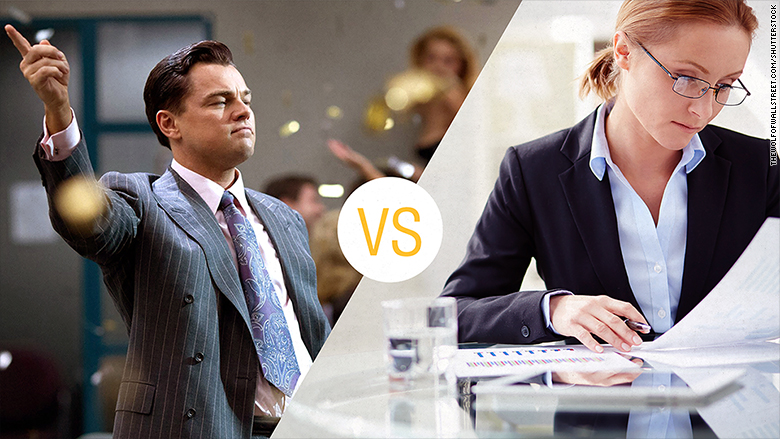 Hollywood brought us cigar-smoking Gordon Gekko in the 1987 film "Wall Street" and party animal Jordan Belfort from "The Wolf of Wall Street" in 2013.
Now prepare to meet Naomi Bishop, the first female Wall Street banker to hit the big screen. Bishop is the lead character in a new feature film called "Equity" that is set for release later this year or in early 2016. She's a senior investment banker who's taking a company public, much like the Facebook (FB)and Twitter (TWTR) IPOs.
The script is based on scores of interviews with women -- and men -- working at big banks. There's dealmaking, corruption and yes, some sexism.
Related: The Wolf of Wall Street wants redemption
Power women: "It's lovely for someone like Sheryl Sandberg to say 'Lean In,' but what I found in interviews [with women on Wall Street] is that if they do lean in, then everyone thinks they're a bitch," producer Alysia Reiner told CNNMoney.
Reiner is one of the stars of the hit Netflix (NFLX) series "Orange is the New Black." She is teaming up with film and stage actress Sarah Megan Thomas on "Equity." It's the first film from their Broad Street Pictures production company.
They felt it was time to showcase the women of Wall Street -- and not just secretaries.
Related: How many women are in the C-suite
"You're in a room and there's 30 men and you're the only woman. It's not as comfortable as it would be if there were more diversity," says Thomas. "It's a complex problem."
Women still earn less than men in many industries, and only 14% of CEOs at America's biggest publicly traded companies are women, according to a recent CNNMoney analysis.
At the same time, there are a lot of misconceptions that come with being the "token" female or minority.
"Some men we interviewed feel like women actually get promoted sooner because there is reverse discrimination," says Thomas.
Related: I told a dude how much I made. It changed my life
The new Wall Street: The film is also breaking ground by looking at Wall Street today -- after the financial crisis in the world of new regulations. JPMorgan (JPM)CEO Jamie Dimon famously said the banks are now "under assault" from all the new rules.
"There's still so much anger toward Wall Street," says Thomas.
Interviewing actors and creative teams for various roles on and off camera has been a challenge. Many artists have told Reiner and Thomas "I hate these people" and called Wall Street bankers "evil." (The Naomi Bishop character has not yet been cast.)
The "Equity" script is meant to be a thriller that starts conversations about bankers, women and power and the new tech elite.
Rising star Meera Menon has signed on to direct the film. She jokes that she doesn't even own a car, let alone stocks, but she's intrigued by the complexities of people who work on Wall Street.
"Wall Street makes the world go round," Thomas says.