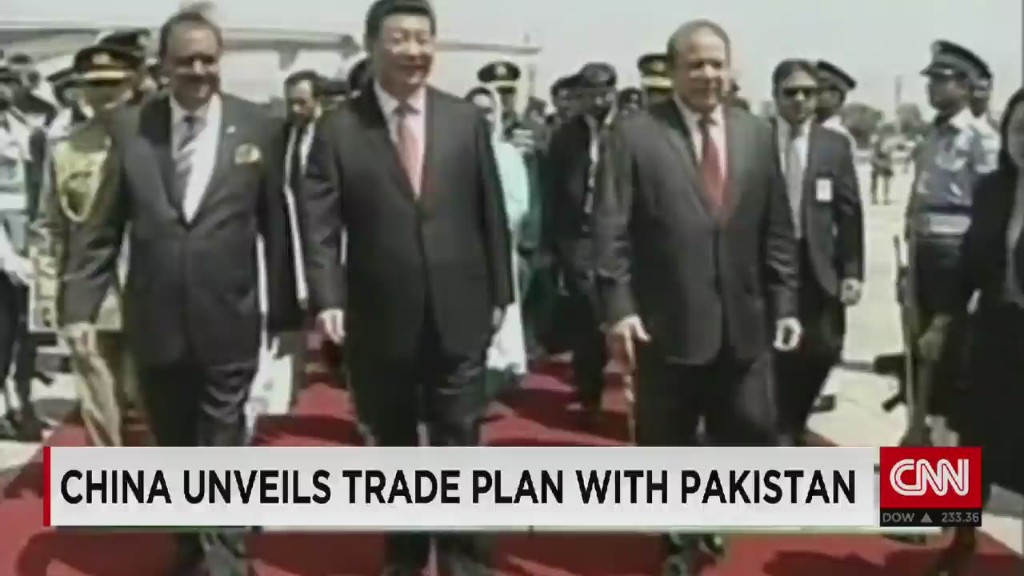 Pakistan spared no expense in rolling out the red carpet for Chinese President Xi Jinping on Monday.
That's hardly surprising given he's in town to bestow $46 billion in development deals on the cash-strapped country.
The investments -- equivalent to roughly 20% of Pakistan's annual GDP -- should fortify an already warm relationship between China and Pakistan. The alliance is built partly to offset Indian power in the region, and partly because of Islamabad's value as a gateway to the Indian ocean and beyond.
The benefits for Pakistan are obvious. China's so-called "iron brother" gets the billions it desperately needs for infrastructure.
Mushahid Hussain, chairman of the Pakistan-China Institute, calls the package a "game changer." Pakistan is largely shunned by the global investment community, and a deal like this could prove vital to its economic development.
Most projects will be in energy and transport, concentrated in the proposed "China-Pakistan Economic Corridor," which stretches 3,000 kilometers from Kashgar in far western China to Islamabad and the port cities of Karachi and Gwadar, near Pakistan's border with Iran.
Energy is critical. Blackouts in Pakistan are still common, and if the deal goes according to plan Pakistan says its power generation will double within a few years.
Related: Chinese-owned Volvo to open first U.S. car factory
But Pakistan will not be the only beneficiary. As Xi likes to say when doing deals overseas, it's a win-win.
The corridor will give China access to a deep water port close to the Persian Gulf. As the world's biggest oil importer, energy security is a key concern. It gets a pipeline that stretches virtually from the Gulf to China, cutting out thousands of kilometers of ocean travel through Southeast Asia.
It's all part of Xi's ambitious plan to build trade routes that will link China to its near neighbors in Asia and Europe.
China also sees the Pakistan package as helping tackle homegrown militants. The volatile western Chinese region of Xinjiang is home to a separatist movement made up of Uyghurs, a Turkic-speaking, predominantly Muslim ethnic group.
The frontier between Xinjiang and the ungoverned tribal regions of Pakistan is porous enough to make Beijing concerned about potential collaboration between separatists in Xinjiang and militants across the border.
The scale of aid China is offering far exceeds that of the United States, which for years has sought to influence Pakistan to improve security in Afghanistan.
The lesson that China appears to have learned is that it needs a bigger, and more focused, economic package to meet its goals in Pakistan.