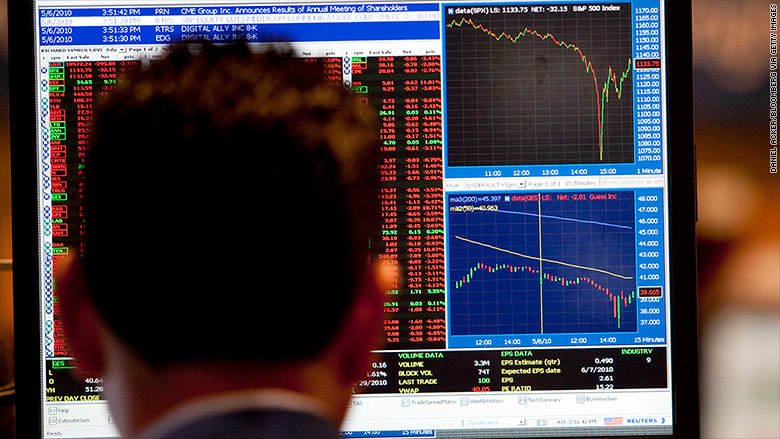 Federal law enforcement officials have charged a U.K. man with manipulating the stock market and triggering the 2010 "Flash Crash."
The Federal Bureau of Investigation said Navinder Singh Sarao, 36, was arrested Tuesday in the U.K. and charged with multiple counts of fraud.
Prosecutors say Sarao used illegal trading techniques that contributed to an abrupt stock market crash on May 6, 2010, when the Dow Jones industrial average fell 600 points in a matter of minutes before bouncing back.
The episode raised concerns about the underlying structure of the stock market and highlighted the dangers of so-called computer generated high-frequency trading.
According to the criminal complaint, Sarao flooded the market with multiple, large sell orders for futures contracts called E-Minis, which traders use to speculate on the direction of the S&P 500 index.
Related: Wall Street responds to Michael Lewis' 'Flash Boys'
This created the appearance of heavy supply in the market and drove prices down. Sarao allegedly canceled most of the orders before they were executed.
Prosecutors say Sarao then profited when the market fell and also when it rebounded by buying and selling futures contracts.
On the day of the Flash Crash, the complaint says Sarao made nearly $9 million trading E-Minis. From 2010 to 2014, he allegedly made about $40 million.
Related: Bears waving red flags about stocks
Sarao traded primarily through his own company, Nav Sarao Futures Limited, on the Chicago Mercantile Exchange.
The Commodities Futures Trading Commission also filed a civil complaint against Sarao.
Aitan Goelman, director of enforcement at the CFTC, said the "actions make clear that the CFTC, working with its partners on the criminal side, will find and prosecute manipulators of U.S. futures markets wherever they may be."
Related: Trading program sparked May 'flash crash'
Related: Waddell & Reed responds to 'flash crash' reports
Related: 'No smoking gun' in flash crash
Correction: An earlier version of this report incorrectly stated Navinder Singh Sarao's age as 37.