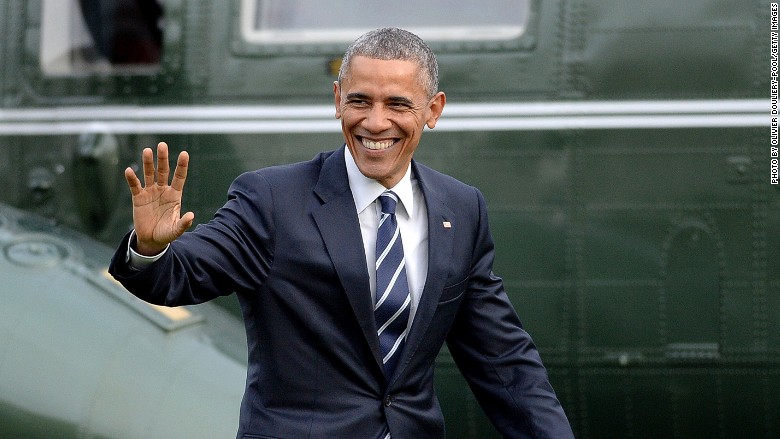 For the first time since President Obama took office, a significant majority of Americans give the economy two thumbs up.
Fifty-two percent of people surveyed in a new CNN/ORC poll describe the U.S. economy as very or somewhat good, while 48% say it's as very or somewhat poor.
Americans are the most optimistic since before the Great Recession, and it's good news for the White House and Democratic presidential candidate Hillary Clinton.
On top of that, Americans think the sunny economy will keep going. Over two-thirds of those polled believe the economy will be in good shape a year from now, compared with 38% who say it will be in poor shape.
Rising confidence can be self-reinforcing, driving stronger growth in the future as people and businesses spend more.
So what's causing the happier feelings about the Obama economy?
Related: Japan now holds more U.S. debt than China
1. Jobs, jobs, jobs: It's no secret that people feel better about the economy when they're confident they can get a job.
After years of sluggishness, more than 2.95 million jobs were created last year, making it the best year of employment growth since 1999.
To put it another way, in 2009 the unemployment rate hit as high as 10%. Now it's 5.5% -- not far from what is considered normal and healthy.
Another upbeat signal is that more Americans are voluntarily quitting their jobs. Most people only quit a job when they believe they can find something better -- or higher paying.
All of this may help explain why people in the CNN/ORC poll are feeling better about their personal situations: 42% say they are better off financially than a year ago, compared with 34% who are worse off and 23% who are in the same situation.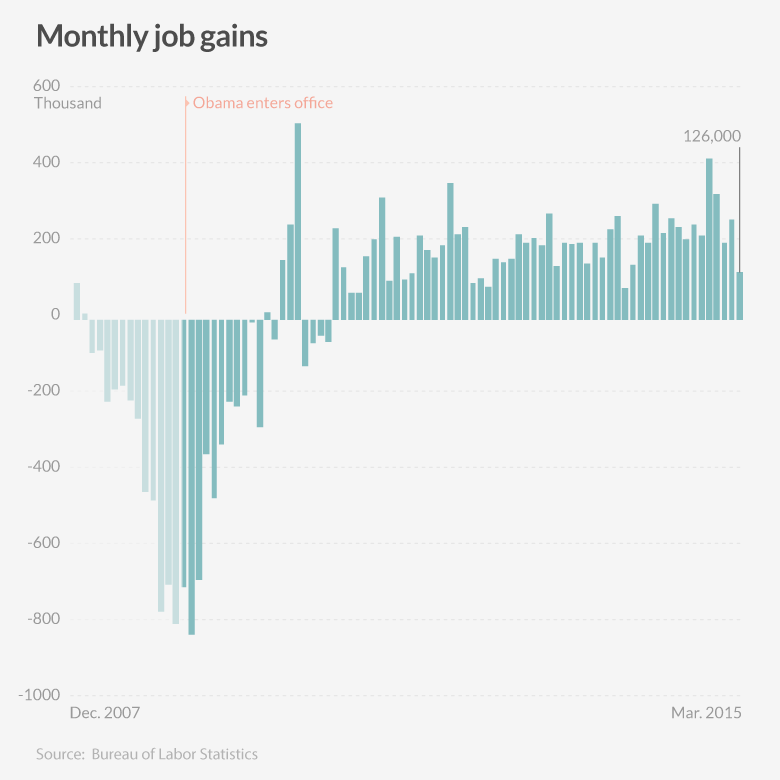 Related: good news: More workers are quitting
2. Americans love cheap gas: Everyone loves a surprise windfall -- and that's exactly what millions of drivers received when oil and gasoline prices crashed last year.
The average price of a gallon of gasoline has plunged 34% over the past year, according to Federal Reserve data.
So far consumers don't seem to be spending this extra cash, choosing instead to save it and pay down debt. But that's still making people feel better about their finances.
"It's a de-facto tax cut. Everyone has extra money in their pockets," said Greg Valliere, chief political strategist at the Potomac Research Group.
It would be tough for Obama to take credit for cheap energy prices, but he may be benefiting from it anyway. The crash in oil prices from over $100 a barrel to below $50 earlier this year was fueled by America's shale oil boom that's left the world awash in too much oil.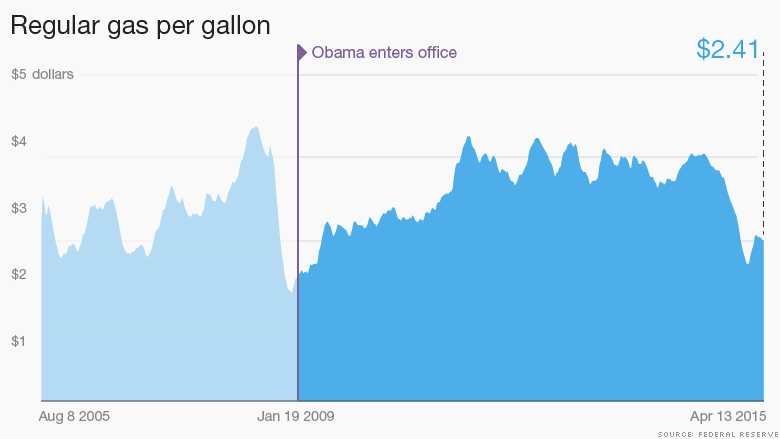 Related: Hillary channels Elizabeth Warren in campaign bid
3. Healthier growth: The U.S. economy is growing again. Yes, it could be better, but it's certainly come a long way from the financial crisis doldrums.
Gross domestic product, the broadest measure of growth, rose 2.4% in 2014. That's up from 2.2% in 2013. There's reason to believe growth will be even strong this year. During the third quarter of last year GDP soared by 5%, the fastest pace since 2003.
4. Other factors: Economic confidence has also been driven by countless other forces, including the stock market. Despite a so-so start to 2015, the Dow and S&P 500 are sitting near all-time highs. They've skyrocketed since the bull market began in March 2009.
Consumers are also benefiting from the soaring U.S. dollar. It increases people's purchasing power, especially when traveling overseas.
Thanks to the Federal Reserve's unprecedented policies, borrowing money to buy a house or car remains extremely cheap. The 30-year fixed mortgage rate is sitting at just 3.77%, down from 4.34% a year ago.
Related: U.S. economy isn't growing fast enough
Room for improvement: Of course, not even the White House would argue the economy is close to perfect shape.
One obvious area that needs to improve is wage growth, which is starting to pick up but still falling shy of healthy levels.
Consumer spending also remains tepid, despite the fall in gas prices. That's a problem because 70% of the U.S. economy is dependent on people opening their wallets and spending.
So who deserves credit for the better economy?
Valliere said it's "debatable" whether Obama, the Federal Reserve or plain old cyclical factors should take the lion's share of the praise. But it's common for presidents to enjoy bumps in their approval ratings when the economy improves -- and vice versa.
"Obama got scathing criticism when the economy was doing poorly. It's only natural when things improve he'll get some of the credit," said Valliere.