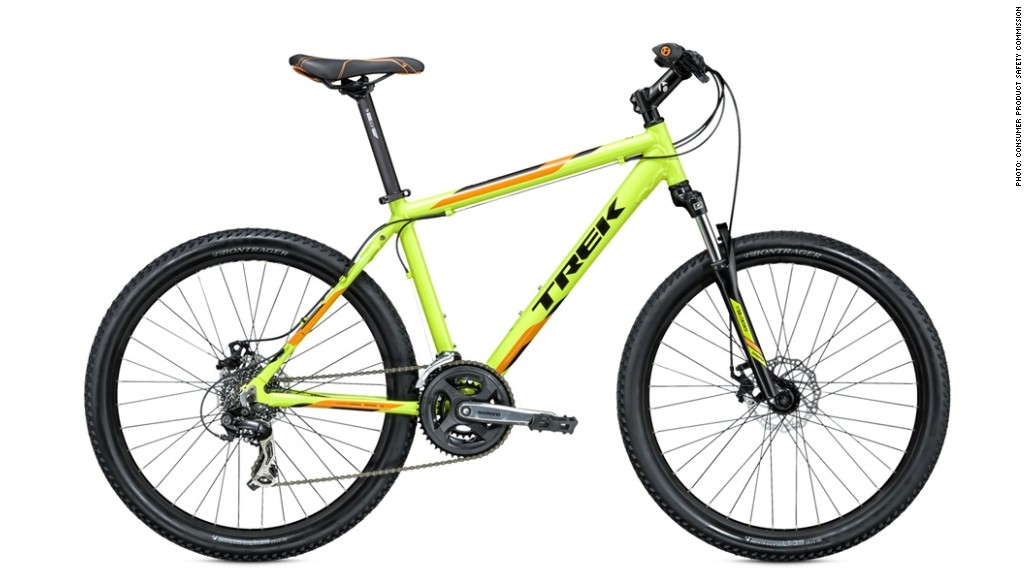 Trek Bicycles is recalling nearly 1 million bikes for a safety issue that resulted in one rider becoming paralyzed.
The recall involves bikes with a "quick release" lever on the front wheel that can interfere with the disk brakes, causing the wheel to stop turning or separate from the bike frame, according to the Consumer Product Safety Commission.
The recall covers 900,000 Trek bikes in the United States and 98,000 in Canada.
Trek said it is aware of three incidents where the problem caused riders to be injured, including one that resulted in quadriplegia. The others involved facial and wrist injuries.
Related: Blue Bell says it won't let workers go despite recall crisis
The bikes are from model years 2000 to 2015 and were sold nationwide beginning in 1999. The bikes, made in Taiwan and China, were sold at prices between $480 to $1,650.
The Wisconsin-based bike company said it will replace the quick release lever free of charge. It is also offering a $20 coupon good for bike accessories made by Bontrager.
Related: Kraft removes artificial coloring from macaroni and cheese
"We sincerely apologize for the inconvenience this has caused you," Trek says in a notice announcing the recall. "We value you as a customer and want you to safely enjoy cycling on your Trek bicycle."