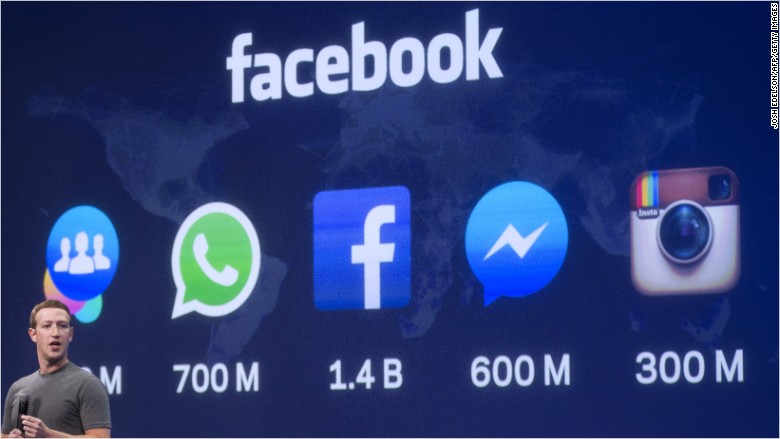 Facebook's first quarter revenue came in slightly below Wall Street expectations, but user engagement and mobile advertising were bright spots in the company's overall performance for the first three months of the year.
What's working: user engagement, mobile users and mobile advertising
The company reported making $3.54 billion, slightly below analyst expectations of $3.56 billion. Facebook stock was down 2% in after-hours trading.
Mobile continued to drive Facebook's business this quarter.
About 87% of Facebook (FB)'s monthly active users visited from mobile devices, up 24% from a year ago. That translates into 1.25 billion people out of its total monthly active users of 1.44 billion.
The mobile activity is also translating steadily into more revenue.
Mobile advertising revenue made up 73% of the social network's total advertising revenue during the first three months of the year, up from 69% at the end of the 2014.
Facebook's user retention has been steadily climbing over the past year. Facebook (FB) now sees 936 million daily active users, or 65% of its total monthly active users. A year ago the number of daily active users was 63% of its monthly active user base.
The social network is chipping away at its plan to connect everyone in the world, and mobile is key to that strategy. Many people who are accessing the Internet for the first time are doing so from a phone.
Facebook has made big strides to connect people to the Web through its Internet.org initiative. On the earnings call, Facebook CEO Mark Zuckerberg said that Internet.org is now providing three basic internet services to 800 million people in nine countries, including Ghana, India, the Philippines and Guatemala.
What still needs work: getting big marketers to spend more on Facebook
Facebook COO Sheryl Sandberg said on the call that marketers are still not spending to advertise on Facebook in proportion to the amount of time users spend on the site. Facebook works with all the big ad agencies, but "we are a very small part of their budget," she added.
One area of advertising that is growing, Sandberg said, is video ads. For the first time ever this past quarter, entertainment and media companies were among the top four marketers on its platform.
Where the company will invest
Expenses were again a significant part of Facebook's income statement in the first quarter, particularly on compensation and data centers.
Dave Wehner, Facebook's CFO, said that the company expects to invest heavily in headcount across the board, with a skew toward research and development. It is known that Facebook is investing in new technology platforms -- artificial intelligence and virtual reality.
As of the end of March, Facebook employed 10,082 people across its nearly 50 global offices.
Where Facebook sees opportunity
Instagram, WhatsApp, and Messenger are three huge platforms that have barely been tapped as sources of revenue. Combined, these "family of apps" that Facebook owns, serves over 1 billion people.
On Instagram alone, more than 200 million people use the image sharing app on a daily basis and spend an average of 21 minutes on it every day.
According to Sandberg, one out of every five minutes spent on a mobile device is spent using Facebook or Instagram.
Investors on the call were eager to hear when Facebook would launch more ads on these platforms, but Zuckerberg said the company would continue to roll ads out slowly because they want to focus on "quality" of ads first.