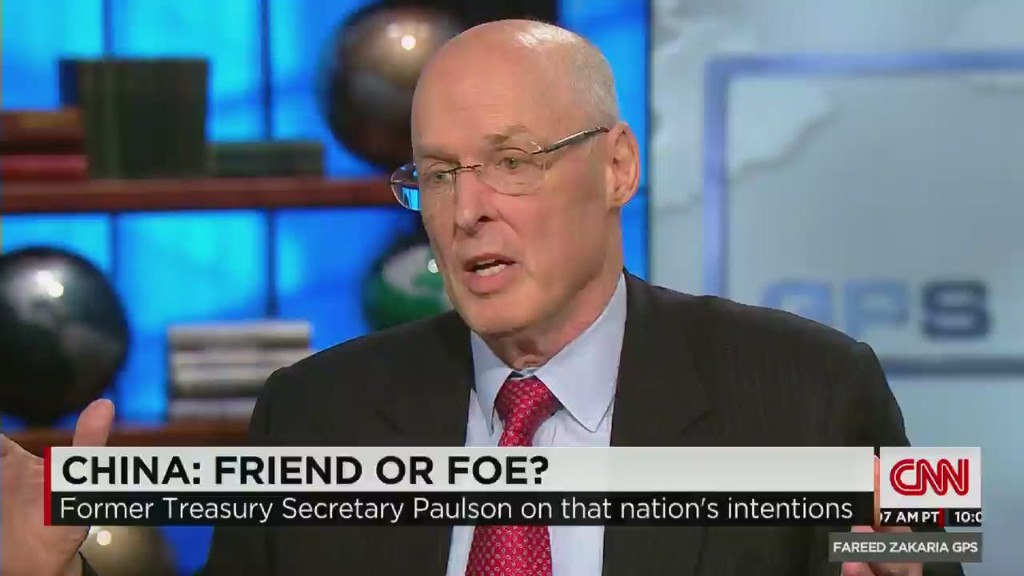 China has released a list of 100 alleged economic fugitives, the latest move in the government's wide-reaching anti-corruption crackdown.
The "most wanted" list includes photos and identification numbers of former local government officials, police officers, accountants and more, who are suspected of taking bribes, embezzling funds and laundering money. Other alleged crimes include contract fraud and issuing false tax receipts, according to details released by China's Central Commission for Discipline Inspection.
Sixty-six individuals on the list are believed to be in the U.S. and Canada. The remainder are primarily thought to be in Asia, though a handful are scattered in countries including Sudan, Ghana, Belize, and St. Kitts and Nevis.
Since coming to power, Chinese President Xi Jinping has launched a massive anti-corruption campaign that has netted hordes of government officials and company executives. Some critics say it's merely politics and that Xi is removing his opponents, but the crackdown has continued to widen.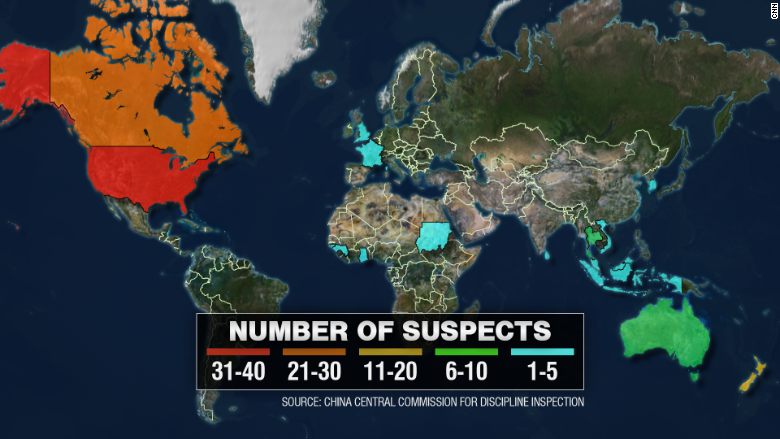 Over the past year, the government has ramped up its targeting of rich Chinese suspected of economic crimes through campaigns dubbed "Operation Foxhunt" and "Operation Skynet." Recent efforts are aimed at extraditing suspected fugitives abroad and trying to recover their illicit assets.
Related: China's anti-corruption crackdown reaches U.S.
Beijing has even sought the help of the U.S. government -- the State Department confirmed last month that China has sent a list of priority suspects to Washington.
Neither government has released details about the extent of their cooperation, but at least one suspected Chinese fugitive has already been detained on U.S. soil.
In March, Shilan Zhao, the ex-wife of a former Chinese official, was arrested in Washington state on charges of immigration fraud and money laundering, the U.S. Department of Justice said in a statement.
Zhao and her ex-husband, Jianjun Qiao -- who is on the list of names China released Wednesday -- were charged in the U.S. with fraudulently obtaining visas through a popular immigrant investor program known as EB-5.
The DOJ claims that the couple bought property in the U.S. with money laundered through a massive grain storage facility in China, where Qiao served as director for 13 years. Qiao remains at large, according to DOJ.
While the U.S. doesn't have an extradition treaty with China, the State Department can still return fugitives to China.
"We must be satisfied that an individual extradited from the United States to another country would receive a fair trial and not be subject to torture or other forms of mistreatment in that country," a department spokeswoman said last month.
Read next: Chinese snap up fine art for use in laundering schemes