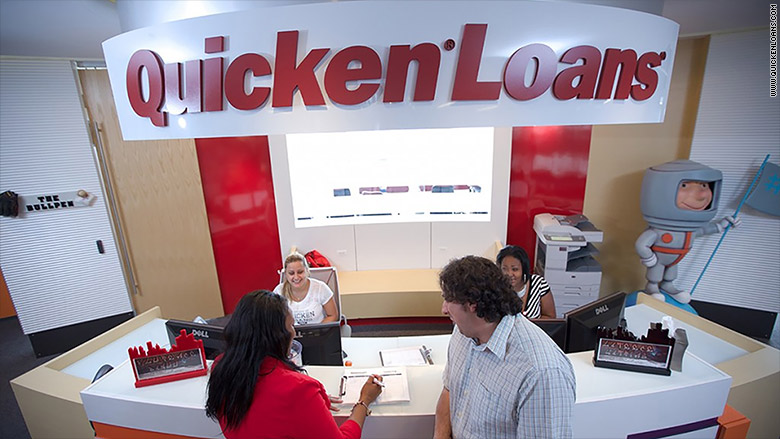 The U.S. government sued Quicken Loans Thursday alleging the company violated federal rules when it made loans backed by the Federal Housing Administration.
The Department of Justice suit claims that Quicken's culture "elevated profits over compliance." It alleges that fraud took place between 2007 and 2011.
In response to the lawsuit, Quicken Loans President Jay Farner said the company has an established process with the FHA to review any loans and he questioned the Justice Department's involvement.
"This is government run amok," Farner said.
The FHA, a government agency, insures mortgages to help banks lend to buyers who might not be able to get loans otherwise.
In turn, banks that issue FHA-backed loans must certify that the borrowers meet certain criteria to minimize the risk of default.
The Justice Department alleges, for example, that Quicken employees requested inflated appraisals and "spoke of 'fudging' a borrower's income in order to gain approval for FHA insurance."
Related: Home buyers in these markets have the upper hand
The government's suit cited one allegation in which a borrower was qualified based on income documentation that was nearly two years old. It claims that the borrowers became delinquent after one payment and the government paid a $487,010.33 insurance claim as a result. In another instance, it alleged Quicken knowingly used an old paystub to document income qualifications.
Quicken profited from these loans, even when borrowers defaulted on their mortgages. Ultimately, the suit says this resulted in millions of dollars in losses for the government.
Quicken, based in Detroit, says it's the nation's biggest FHA lender, seems ready to fight.
On April 17, Quicken sued the Justice Department and federal housing officials over their investigation into its lending.
"The company was left with no alternative but to take this action after the DOJ demanded Quicken Loans make public admissions that were blatantly false, as well as pay an inexplicable penalty or face legal action," Quicken said in a statement.
The lender said it has "the government agency's best performing loan portfolio." Quicken said it maintains the "gold-standard in quality for FHA lending."
Quicken issued another statement in response to Thursday's suit. "The complaint filed today is riddled with inaccurate and twisted conclusions from fragments of a handful of emails cherry-picked from 85,000 documents that the DOJ subpoenaed," it said, adding that email conversations were taken "out of context." The company said the conversations relate to a "miniscule number of loans out of the nearly 250,000 FHA mortgages the company has closed over the past seven years."