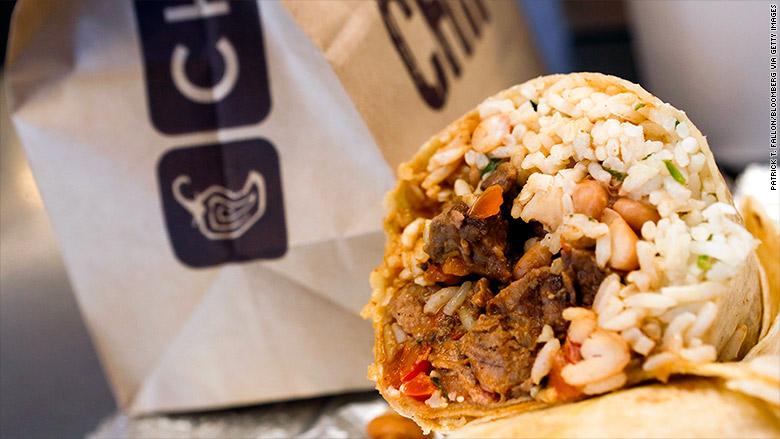 If you're craving a burrito but can't be bothered to leave the house, Chipotle has you covered.
The fast-casual burrito chain is now offering delivery of online and mobile orders in 67 cities using an app called PostMates.
PostMates, a San Francisco-based startup, works with local businesses to deliver everything from household goods and school supplies to food and beverages.
Chipotle (CMG) executive Mark Crumpacker said this week that the company had partnered with PostMates in March and is currently delivering burritos and more in all the markets where it operates.
While it's still early, Crumpacker told investment analysts in a conference call that Chipotle has seen a 30% increase in online delivery orders in April from March.
Related: Investors think Chipotle is too hot to handle
"So there's a tremendous amount of potential for individual orders but it's a little bit too early for us to predict what long-term impact that will have," said Crumpacker.
Chipotle has been on a mission to bring burritos to the masses. It has been growing rapidly, opening 192 stores last year and brought in $4 billion in revenue. The momentum continued in the first three months of 2015, with Chipotle reporting more than $1 billion in revenue.
Related: McDonald's tried to remake Chipotle in its image
The burrito maker is at the forefront of the fast-causal trend in the restaurant industry. It uses high quality ingredients and sells at prices that are more expensive than the typical fast food joint but cheaper than a sit-down restaurant.
PostMates has also been hot lately. It recently signed a deal with Starbucks (SBUX) to test delivery of coffee to homes and offices in Seattle and on a small scale in New York City.
The delivery service usually charges a fee based on how far the destination is from the point of origin. But the delivery fees for Chipotle deliveries will be capped at $7.99, according to PostMates.