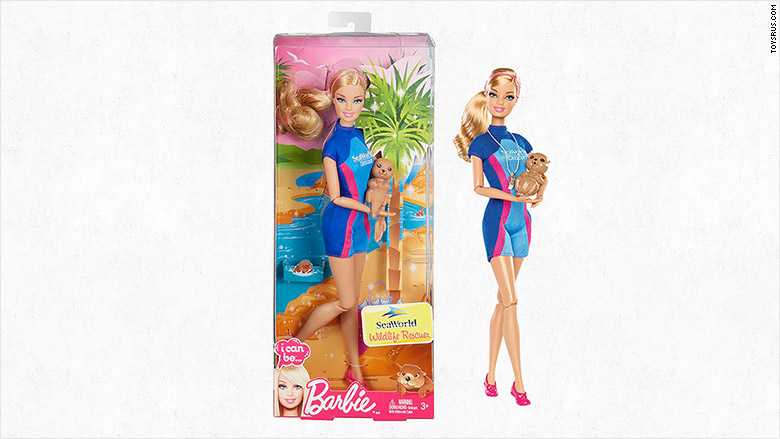 The SeaWorld Barbie doll has been tossed overboard.
Mattel (MAT) confirmed Friday that its licensing agreement with SeaWorld (SEAS) will not be extended. SeaWorld has come under fire for its treatment of killer whales, or orcas, after the sharply critical documentary "Blackfish" aired in theaters in the summer of 2013 and on CNN in the fall of that year.
The toy giant had previously made SeaWorld-branded toys, including the Barbie Baby Animal Rescuer Playset and the Barbie Antarctica Penguin Fun Playset. Both featured a Barbie doll wearing a SeaWorld outfit and were sold on the animal theme park's website.
A spokeswoman for Mattel did not elaborate on why the company decided not to renew its contract, which expired at the end of last year. But animal rights activists claimed it as a victory.
Related: 'Ask SeaWorld' marketing campaign backfires
Attendance at SeaWorld parks, which are located in Orlando, San Diego and San Antonio, has declined since Blackfish premiered, and Southwest Airlines (LUV) dissolved its 26-year-long partnership with the company. The stock price also has gone into a tailspin, falling roughly 48% since the documentary debuted.
Blackfish recounts the 2010 death of veteran SeaWorld trainer who was killed by a whale named Tilikum. It challenges the concept of keeping killer whales for entertainment and suggests that Tilikum had been driven to madness by captivity.
SeaWorld has been pushing back against its critics, namely the animal rights group People for the Ethical Treatment of Animals.
The company unveiled a new advertising campaign last month aimed at "setting the record straight on false accusations by activists who oppose whales and other animals in zoological settings."
SeaWorld has accused PETA of spreading "misinformation" and "inaccuracies" about its treatment of animals.
In a statement, SeaWorld said it was "disappointed" in Mattel's decision. "Particularly disappointing is that the decision appears to be based on complaints from PETA, an extremist organization that works to close zoos and aquariums," the company said.
Related: SeaWorld to upgrade killer whale habitats
PETA issued a statement on Friday praising Mattel for not renewing its deal with SeaWorld and calling on other companies to "drop this orca-abusing park like a hot potato."
"With people worldwide appalled by SeaWorld's cruelty, Mattel's decision to stop promoting the park is a smart one," said PETA vice president Tracy Reiman.
SeaWorld did not immediately respond to a request for comment.