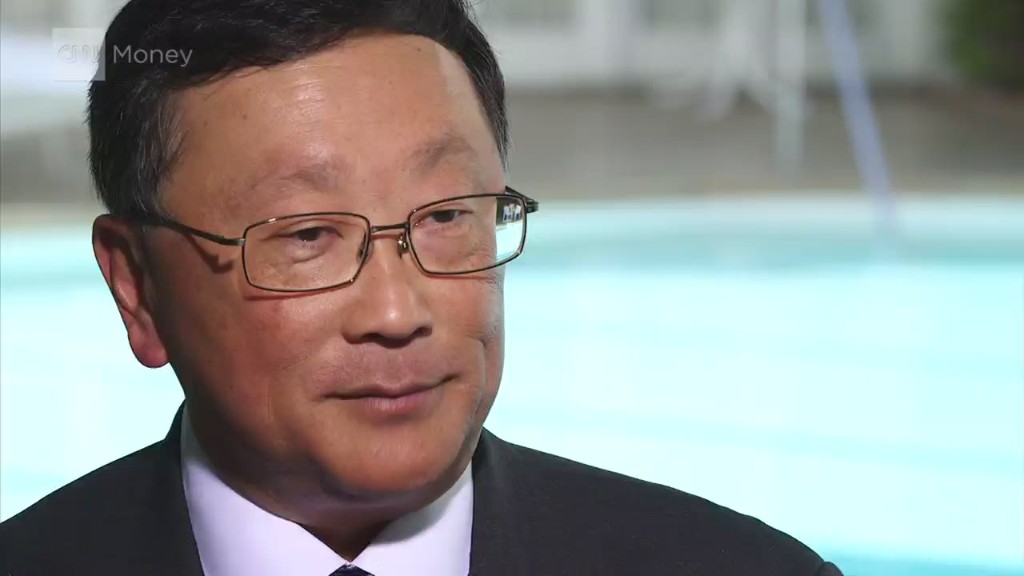 Apple dominates the smartphone world that BlackBerry helped create, but maybe the two tech rivals can safely work together in the future.
BlackBerry (BBRY) may be a shell of its former self, but one area it still wields significant sway is security. The Defense Department uses BlackBerry devices for its security advantages, and President Obama even has his own super-charged BlackBerry.
That's one area Apple (AAPL) needs to catch up with BlackBerry.
But would the smartphone competitors ever partner up?
"Yes, if Apple would ever come to us and would love to have our security, we could talk," BlackBerry CEO John Chen told CNNMoney's Cristina Alesci on Monday from the sidelines of the Milken Global Conference in Los Angeles.
Chen acknowledged "it takes two parties to dance," but said BlackBerry would make its software available "for any device operating system."
Has Apple already approached BlackBerry about collaborating on security? "I don't want to comment on that," Chen said.
Related: Booming iPhone 6 sales fuel Apple's second-best quarter ever
However, the BlackBerry chief said conversations with competitors go on all the time. The company recently announced plans to make its software available on the Apple iOS as well as Google's (GOOGL) Android and Microsoft's (MSFT) Windows devices.
"Yes, we speak to our rivals. We may be going after the same customer base, but we're not enemies. You can be friends and compete -- like athletes," Chen said.
Apple did not respond to a request for comment from CNNMoney.
Apple already reached a partnership deal last year with IBM (IBM), which is now selling business-friendly iPhone and iPads.
Related: BlackBerry plunges on Apple's IBM deal
An Apple/BlackBerry partnership may raise some eyebrows since it was the iPhone that knocked BlackBerry off its perch. "What BlackBerry didn't do early on was expand the app ecosystem. Younger people love more and new apps. Apple did a very, very good job on that," Chen said.
If anyone can pull off a security deal with Apple, it may be Chen. In recognition of the comeback he's already orchestrated at BlackBerry, CNNMoney named Chen the runner up to Apple's Tim Cook as the best CEO of 2014.
Not only has Chen stopped the bleeding at BlackBerry, but he's shifting the company's strategic focus away from the expensive smartphone war into higher-margin software and security. Investors like what he's done so far: BlackBerry shares are up 40% for the past year.